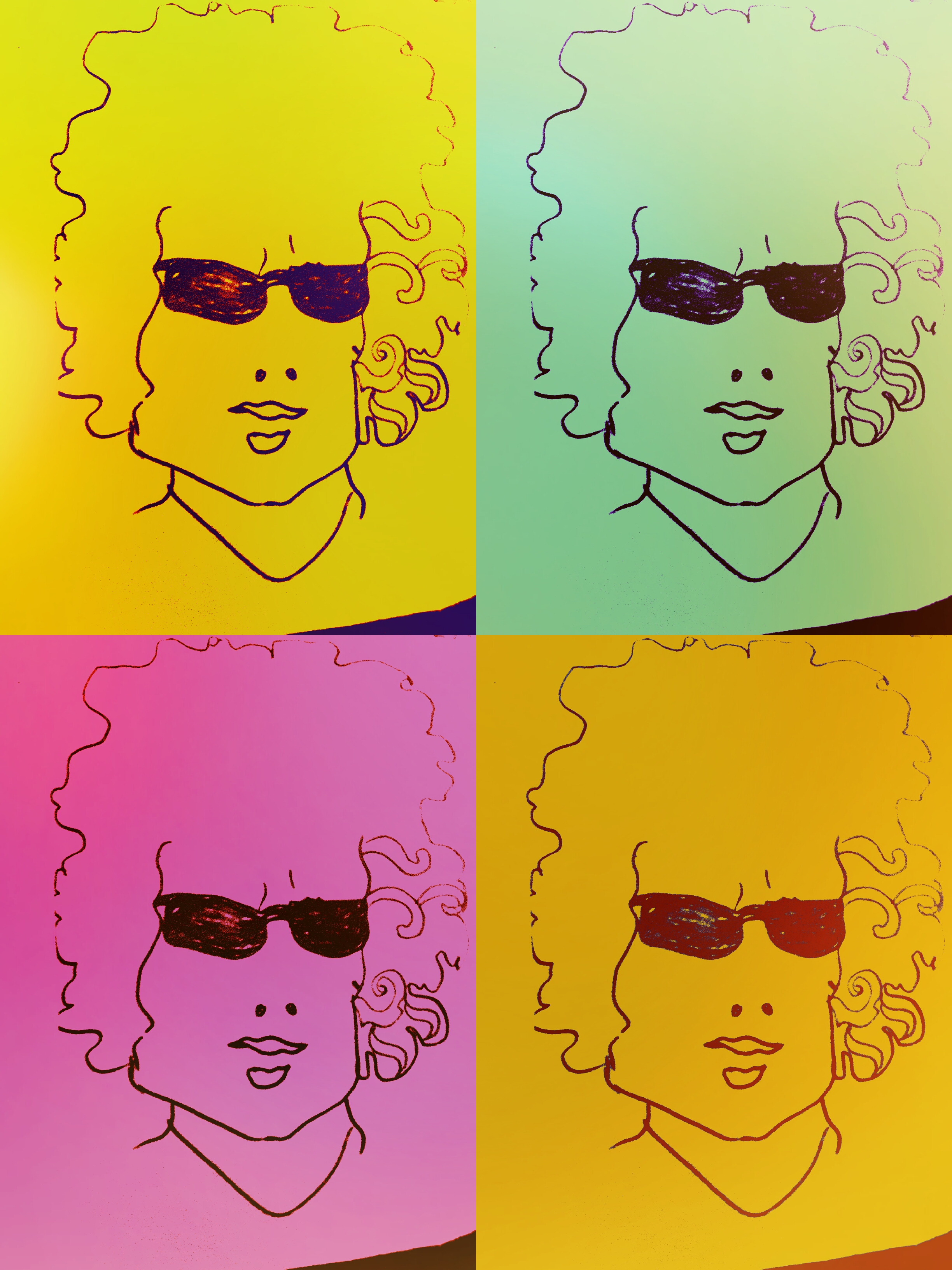 Helen Burke is a poet turned artist; her work has exhibited in the UK and France; she currently has an exhibition in Leeds, England. Her art can be seen on krazyphils.com and origamipoems.com; she designs greeting cards and fabric and likes to work in acrylic, mixed-media, collagraph, and water colour. Helen's new book, Roman Holiday, is just out this week and is available now from www.krazyphils.com. You can check out Helen's poem When I Was at Woodstock here.


List of Poets


Virginia Archer


OF BUTTERFLIES AND INKBLOTS

I am amazed
that there are still words
of you
caught in my ribs

they flutter in my gut
like trapped butterflies
becoming moths,
and once in too many whiles
I catch them sitting in my throat
with ink on their wings
determined to imprint inkblot insanity
on another page of me
and call it love

I'm too afraid
to leave it up to interpretation
and name it something
that will make it even more weighty
than it is.


Virginia Archer is the pen name of a very busy lady who has a BEng.Hons. Degree in Civil Engineering with Architecture from the University of Leeds, England. She was born in the UK, but has lived most of her life on the tropical island paradise of Saint Lucia, where she currently resides with her tween daughter. She has been writing poetry since she was 16 years old, and has always had the soul of an artist, though she didn't know it. When she isn't doing her full time jobs as Engineer and Mother, Virginia can be found writing and painting in the small moments in between and treasuring those moments immensely. You can find more of her poetry at https://allpoetry.com/Virginia_Archer.

List of Poets


Devon Balwit


WHAT WOULDN'T YOU GIVE IN RETURN?

I would give all metaphors
in return for one word
drawn out of my breast like a rib
("I Would Like to Describe," Zbigniew Herbert)

Sentimentality: not jam on the bread, but jam on the face,
he said. If only it were so easy to keep the jam where

it belongs. You plunge your hand into rushing water
hoping for an agate, but sometimes, you just get a stone.

You know you should let the stone stay a stone if that's
what it wants, but still you squeeze, demanding a word.

The word should be cut from your breast like a rib, and set
free to organize its half of Eden, but you can't help interfering,

renaming the animals and replanting trees where you think
they should go. No wonder you end up naked and sticky,

the snake flicking its long tongue in satisfaction at how it has
tricked you once again into cliché. Now you will be cast out

to wander and bring forth in pain. Fear not, this you can use.
The trick is to make your pain your own and no one else's,

the jam the bread's and no one else's, the rib the rib's and no
one else's. Skip the stone and go right to the heart of the matter,

the incision, the reaching into yourself, the hole where you are now
incomplete, the infinity which you can pack into your nothingness.


I MAY BE SOME TIME

No matter how loudly I talk, I do not inspire.
My hands flap like flags of countries taken
from the map. My pregnant pauses deliver
nothing. How naked one feels when passion
is not requited. Like a Vaudeville impresario,
I trot out act after act to a silent hall, the
audience too enervated even to heckle.
Where can I go from here? A chalked circle
on the street, upturned hat primed with a few
coins? If I darken the room, press a button
and let the simulacra dance, they awaken,
interested in inverse proportion to what is
defined by living flesh. An image of me
with a screen holding an image of me in
infinite regress would garner more attention.
Like Oates, I should say I am going outside,
and I may be some time—everyone would
understand I wouldn't be back, that they
could divvy up my rations, take my socks.
Like a madwoman, I continue to cradle
my doll-baby, suckling it at flaccid breasts.


Devon Balwit is a poet and educator from Portland, Oregon. Her poetry has found many homes, among them: 3 elements, Anti-Heroin Chic, Birds Piled Loosely, Bonk!, drylandlit, Dying Dahlia Review, Ink Sweat & Tears, Leveler, MAW, Rattle, Red Paint Hill Publishing, The Fem, The Fog Machine, The Literary Nest, The NewVerse News, The Yellow Chair, txt objx, vox poetica, and Vanilla Sex Magazine.

List of Poets


Ben Banyard


OTIS BLUE

Booker's chops
Cropper slides on in
Dunn funks the low end
Jackson shuffles the rump.
And oh, here you come
a grimace and Shake!
Your sound
Like
no
other:
Fa fa-fa fa-fa fa-fa faah-faah
Gotta gotta!
How did you
do it,
Macon boy?
1960s vox
y'alled on tape
Beale Street's dripping walls
making me nod and shiver.
You cut my soundtrack.
Can there be a good scar?
And your support
may come from
Messrs Wonder, Green, Hathaway
and Brother Toots,
but top of the bill…
please welcome…
the one and only
Mr Pitiful!


Ben Banyard lives and writes in Portishead, near Bristol, UK. His debut pamphlet, Communing, was published by Indigo Dreams in February 2016. Ben edits Clear Poetry, an online journal publishing accessible work from newcomers and old hands alike: clearpoetry.wordpress.com.

List of Poets


Ingrid Bruck


RED

Red. Small as a butterfly. But fatter. Butterflies glide on silent wing strokes. Not a butterfly. Not a single flutter. I hear a buzz. Do bees grow this big? Could this be a hummingbird moth? A red flash shoots from wild iris to wild iris, does an erratic air bounce and disappears.

Red. My mother's lipstick. She won't leave the house without it. Hurry up, dad says, and goes to wait in the car while mom gets pretty. We wait. She emerges, a ruby red smear adorns her lips. I ask her about the strange moth in the garden. She says it was a hummingbird. My first.

Red. My favorite color. Bold. Bright. Part of a Guatemalan rainbow. Fire feathers on a Quetzal bird. Hot lava burning. Primary color. No pastel. No pale pink or baby blue like mother's faded eyes. Red. Crimson moon rises out of the ocean, twin to the sunset, color of lipstick and the brilliant throat of the hummingbird.


BEFORE WINTER SOLSTICE

In the raven days before solstice,
I get out of bed,
gimp across the floor
as fast as frost forms on glass,
in step with this creaking old house.

I move as slowly as a draft,
ice in my hands and feet,
a dog bite of bone on bone in my knee,
and the weight of snow on my chest.

I will endure the discomforts of time
until winter claims me,
and they set my body aside
for spring planting.

Winter, when it ends,
spring, the beginning.
Four seasons, complete.
Repeat.

I cycle the spirals,
seeds and roots in dark earth,
push above ground to light,
time to dance and sing,
a time to begin and end.


Ingrid Bruck is a poet/storyteller/retired library director. She lives in Pennsylvania Amish country, a landscape that inhabits her poems. Recent work appears in Howl of Sorrow: A Collection of Poems Inspired by Hurricane Sandy, Yellow Chair, Unbroken Journal, RAR: Love & Ensuing Madness and Quatrain.Fish. For her published work, go to: ingridbruck.com.

List of Poets


Giuseppi Martino Buonaiuto


JACK: THE RIP RAPPER

Neighbors: they say good fences
Make good ones, unless, of course,
The Hottie next door is fucking your wife.
Or your husband. Or both? And if both,
Who the fuck are you?
Stay with me now:
A Chinese Great Wall,
A Hadrian's Wall,
A Berlin Wall,
A Mexican Border Wall,
Paid for, of course, by illegals
Who henceforth would pay Charon,
Pay the ferryman to cross the Mersey,
The wrong river but a huge hit for
Gerry & The Pacemakers!,
The key unlocking Music Box USA,
Opening it wide for Ringo & George,
Paul & John, listed in order of least pretense.
Known collectively as The Insects,
Or something like that.
Snap outta it!
The subject was Walls.
Impenetrable barriers,
Impregnable fortresses.
Built by this self-selectee
Craving a bit of privacy,
Pronounced: PRIV-acy
Here in Merry Olde England
Tonight of all nights.


CRAZY JOE REVISITED

We WOPs respect criminality,
Particularly when it's organized,
Which explains why any of us
Concerned with the purity of our bloodline
Have such a difficult time
Navigating the river of respectability.
To wit: JOEY GALLO.
WEB-BIO: (According to Bob Dylan)
"Born in Red Hook, Brooklyn in the year of who knows when,
Opened up his eyes to the tune of accordion."

"Joey" Lyrics/Send "Joey" Ringtone to your Cell

Joseph Gallo was a celebrated New York City gangster,
A made member of the Profaci crime family,
Later known as the Colombo crime family,
Also known as "Joe the Blond."
That's right, CRAZY JOE!
One time toward the end of a 10-year stretch,
At three different state prisons,
Including Attica Correctional Facility in Attica, New York,
Joey was interviewed in his prison cell
By a famous NY Daily News reporter named Joe McGinnis.
The first thing the reporter sees?
One complete wall of the cell is lined with books, a
Green leather bound wall of Harvard Classics.
After a few hours mainly listening to Joey
Wax eloquently about his life,
A narrative spiced up with elegant summaries,
Of classic Greek theory, Roman history,
Nietzsche and other 19th Century German philosophers,
McGinnis is completely blown away by Inmate Gallo,
Both Joey's erudition and the power of his intellect,
The reporter asks a question right outta
The Discrete Charm of the Bourgeoisie:
"Mr. Gallo, I must say,
The power of your erudition and intellect
Is simply overwhelming.
You are a brilliant man.
You could have been anything,
Your heart or ambition desired:
A doctor, a lawyer, an architect . . .
Yet you became a criminal. Why?"
Joey Gallo: (turning his head sideways like Peter Falk or Vincent Donofrio, with a look on his face like Go Back to Nebraska, You Fucking Momo!)
"Understand something, Sonny:
Those kids who grew up to be,
Doctors and lawyers and architects . . .
They couldn't make it on the street."

Gallo later initiated one of the bloodiest mob conflicts,
Since the 1931 Castellammare War,
And was murdered as a result of it,
While quietly enjoying,
A plate of linguini with clam sauce,
At a table, normally a serene table
At Umberto's Clam House.
Italian Restaurant Little Italy – Umbertos Clam House (www.umbertosclamhouse.com) In Little Italy New York City 132 Mulberry Street, New York City | 212-431-7545.
Whose current manager –in response to all restaurant critics–
Has this to say:
"They keep coming back, don't they?
The joint is a holy shrine, for chrissakes!
I never claimed it was the food or the service.
Gimme a fucking break, you momo!
I should ask my paisan, Joe Pesci
To put your fucking head in a vise."


Giuseppi Martino Buonaiuto is a former commissioned officer and veteran; employed later by one of the more obscure government clandestine services. He holds numerous graduate degrees including a Masters from the Kennedy School of Government, Harvard University. He is retired, splitting his time between two gated over-55 lunatic asylums, one in northern New Mexico and the other in southern California. He was born and raised in Brooklyn. His two children know him by another name. To read other work by Mr. Buonaiuto go here and here and here.

List of Poets


Wendy Taylor Carlisle


IN THE…

in the music room again—
we had a day today, my father said—
although this was a fact that altered nothing
and we always manage to cash in
some of the other grandmother's stocks
and there's almost enough hot water
as we limp forward into next week.

In the kitchen again—
we had a week this week, he said
He always chooses the one sure pain
to remark on so I concentrate
on how to get rid of my unquiet toe
and my habits of stealing 7-11 necessities
and answering on the first chime.

In the ballroom again—
We had a year this year, dad said.
we were only seldom hungry and
we danced with the devil,
a tall figure in a wool all-in-one
and every human need was just
an interrupted sneeze


BLOSSOM

"…old in a blossoming earth" Robert Creeley

In the south of my childhood, time passed
like a plate of fried chicken. Grandmamma made
lard biscuits, cooked rashers of bacon, fried
lamb chops, presided over the hugging and sassing
and eating and telling and pulling of sticker burrs.
I looked to her for solace and solutions. She delivered
axioms and injunctions and was indifferent to the one
strong chin hair that grew and then when plucked
grew back, unkillable as a cockroach. How and why
do someone's eyebrows grow both thin and wild?
In the south of my childhood we knew our place
And kept it until, like grandmamma's, our strength of hand
devolved to loss of grip as cans and silverware dropped
away from us like petals from a blossoming branch.


Wendy Taylor Carlisle lives and writes in the Arkansas Ozarks. She is the author of two books, Reading Berryman to the Dog and Discount Fireworks (both Jacaranda Books.) Her most recent publication is Persephone on the Metro (Mad Hat Books, 2014.) Her work is widely available on line and has been anthologized. For more information, check her website at wendytaylorcarlisle.com

List of Poets


Rachel Caruso-Bryant


AL-BALAD

You walk beside me in the
black and white crowd.
We keep our distance,
hands just brushing,
like a first date,
sending tingles
down my spine and beyond.
You breathe a joke into my ear
and I want to kiss you
(on your mouth, chest, back, neck, forehead, hand) –
thankful for the smile
you gave me.
So natural, instinctive,
a kiss for a smile.
Instead I give you warmth
that tingles and hums.
Your name
wet on my lips,
the stroke of my right hand
silently tracing your shoulder blade,
as I point to a date cart with my left.
We match stride and move through
thobes, sandals,
fruits, miswak,
perfumes, gum Arabic.
Clouds of oud
envelope us—
bitter smoky sweet.
My own black dress,
abaya,
billows around me,
filled with the heat
I've made for you.


Rachel Caruso-Bryant is originally from Florida and is now an English language lecturer at a university in Saudi Arabia. She lives with her husband and three cats and travels the world whenever she gets the chance. Her poems have appeared in A Lonely Riot and the Stark Poetry Journal.

List of Poets


Alan Catlin


THE MAN FROM WORLD WAR ZERO

"It's not easy to simply lose a month.
But I had experience. One way or another,
I'd been losing bits of myself all my life.
In increments…." Jack Taylor, The Emerald Lie

Slumped in the shadows of a no-license
dive, he was like an out of order jukebox,
the lights still working but the machine
not taking coins or dollar bills. Was a
magnet for opiates, always one pill from
True North. Struck blind as Milton and Bach,
without the poetry or the fugues, and granted
one last day of sight before the bombs fell,
he focused on an event horizon presaging
a nuclear winter in his mind. Reflexively
sought company among the dead souls
inside the Lower Depths, a juice bar for
addicts whose drink of choice killed mammals
twice his size with a weaker constitution.
Leaning against the counter, he did not have
to place an order; they know what he needs.


Alan Catlin has been publishing for five decades, from the mimeos to the Internet. His latest full length book is American Odyssey from Future Cycle Press. He is a two finger typist; he is fast but prone to exasperating errors.

List of Poets


Jan Chronister


ASHES TO ASHES

Morphine clouded her last days.
She bloated, lost her hair
refused to discuss an obituary
had a co-worker with a boat
agree to scatter her ashes
on Lake Superior. I wear

the pewter barrette she gave me.
It may be in my hair when
I die, melt in the heat,
fuse with gold crowns, silver fillings
form a marble-size lump
in grainy gray ash. My son

as instructed, climbs the Brule
fire tower, tosses me downwind.
He keeps the metal ball, welds it
to the backyard sculpture
cast by his friend who walked
into water at Munising
and never came out.

The sun filters through trees
behind his house
glints off bronze waves
surrounds me with sparks.


Jan Chronister lives and writes in the woods near Maple, Wisconsin. Her chapbook Target Practice was published in 2009 by Parallel Press at the University of Wisconsin.

List of Poets


Ars Cogitanda


YOUR NOW-EX-WOMAN'S BATHROOM MIRROR

So you had a woman you were too stupid to stay nice to
you end up on the couch after telling your dreams
of goth girls, black boots and eye goo, how you'd
love to hump one, and you wonder why that now
ex-woman-of-yours disparaged your nerdy IQ?

leave her alone, she don't want you back
try the furby crowd you dickless wonder
you could hide inside the skin of another
you could pretend to be something you're not
pretend to be that inbetweener you imagine

goth girls be like, with their kettle and black
doorway to wonder. jeez, you are one stupid
mutherfucker. not realizing that you only want
goth girls to ride, clomp-footed over their disdain
for you, not realizing that you only want

black leather and steel rings in noses
because you think your camus in french
is better than their attention to nerdcore.
you hate them so much? Or just what
you see in your now-ex-woman's bathroom

mirror? Grow some gonads. Get a place
of your own and hammer the glass in your own house.
Find out what you really look like. And next time
you get a woman to see you, try being in your own skin
and leave other people's the fuck alone.


Written to "goth girls" McFrontalot


Bad-tempered and well educated with a sharp-edged, dry sense of humour, this misanthrope takes offense at overt signs of many of the –isms and –ities – even in love and sex. As such, performance poetry (spoken word) delights, because so much of it is about social justice in its manifold forms – even in sex and love. Also, in spoken word there is a good deal of room for a rude joke and an honest complaint.

List of Poets


Corey D. Cook


INPATIENT

The trees outside the window
are as familiar to me now

as the lean and weathered figures
in the black and white photo

on my roommate's crowded hospital tray.
His father, mother, uncles and aunts

in the summer of 1927.
Immigrants new to the country.

Posing on a grassy knoll.
Hands behind their backs.

The sun high above them.
Shadows just starting to take root.


Corey D. Cook's most recent chapbook, White Flag Raised, was published by Kattywompus Press in 2015 and is available for purchase online at kattywompuspress.com. His work has recently appeared in Dime Show Review, Muddy River Poetry Review and Yellow Chair Review. New work is forthcoming in Chiron Review. Corey edits Red Eft Review and lives in Vermont.

List of Poets


Joe Cottonwood


RICH PEOPLE NEVER GET WET

The weather report
has one hitch:
It never rains
on the rich

Your water balloon will always miss
Their lips are dry when they kiss
In a flood they float yachts
In the nose, no snots

When huddled masses lose all
slammed by tsunami
The rich on high ground
donate salami
Point a hose at a rich woman,
she will point you to jail
(and you will go there
without fail)

Their roof never leaks
Their grass has no dew
The toilet won't clog
with their poo

The rich man is one lucky fella
A poor man like me
will hold his umbrella


POETRY WORKSHOP, NAPA STATE HOSPITAL

Me, a teacher of poetry, the idea is insane.
Yet I'm here once a week at the nuthouse. Oops. Hospital.
A lunch conversation with a nurse.
"That old guy, Russell, he seems so gentle," I say. "So normal."
Russell writes about hummingbirds.
"It's either here or prison," the nurse says.
"Oh," I say.
Actually I'm not allowed to ask about patients.

But the nurse, now she's worked up.
"Russell had custody of his granddaughter," the nurse says.
"Oh," I say.
"The mom died," the nurse says, "when the baby was six months."
I say nothing.
"To call him a 'sex offender' sounds too clinical," the nurse says.
"Um…" I say.
"He must've bought Vaseline by the bucket," the nurse says.
"He fucked that baby every day," the nurse says.
"Three hundred and sixty-four days a year," the nurse says.
"Christmas, she got a holiday," the nurse says.
"Oh," I say, and I push my plate away.

"Sorry," the nurse says, "I ruined your appetite."
"Not your fault," I say.
"I hate hummingbirds," the nurse says. "I hate poetry."
I say nothing.
"Can a poem be ugly?" the nurse asks.
I reach for a fresh napkin, slide it across the tabletop.
"If a poem could kill," the nurse says, "I'd write one."
From my pocket, I hand her a pen.


Joe Cottonwood has worked most of his life as a carpenter, plumber, electrician. Nights, he writes. Published a bunch of novels, some for adults, some for children, did all right but never hit it big. To quote a Goodreads reviewer, "His writing is not mediocre." One book of poetry: Son of a Poet. Also he's a podcaster — again, not mediocre. He lives in La Honda, California just a stone's throw from Ken Kesey's old cabin.

List of Poets


Pat Edwards


SAD TO MY DYING BONES

I did not want to become this woman
the one who always jokes about it being
easy to get down to sit on the floor but
so much harder to get back up again
(How they laughed)
I did not want to become this woman
the one who people think won't get the joke
Too many modern references for her
(How they laughed as she fell silent)
I did not want to become this woman
the one who sweats and cries and forgets
I did not want to become this woman
the one who cries and sweats (oh, and forgets)
I did not want to become this woman
the one some respect and others ignore
I did not want to become this woman
the one who dare not burst into a run
cannot climb or ski or jump or balance
(You sit this one out)
I did not want to become this woman
the one who repeats the same old tales
the one who moans about everything
the one who watches other people kiss
I did not want to become this woman


Pat Edwards is a writer, teacher and performer from Mid Wales. She has had work published on line and in anthologies, including in the Wenlock Poetry Festival Anthology 2016. Pat runs Verbatim open mic and the young writers' group Off the Page.

List of Poets


Monica Flegg


NEW COLOR

How tiresome highbrow reviews are
with their perfect bindings and
blinding white mastheads.

My mind doesn't need to
wade through rivers of thick syllabled
sentences trying to sell me

on simple ideas like:
work affects our self esteem,
and expectation breeds

success. I already have faith in
those grains of mustard seed. Sell
me truth painted a new

color, like musky tangerine. Tell
me about quirky people; naked
and brawling in murky water.


INNER STATE

Tomorrow
my son turns
16.

I sleep
fitfully.
I nightmare
I'm driving, but
my car operates
by
remote control.

Frantically
spinning the wheel,
I maneuver
nowhere.
I depress the
brake; the
car accelerates;

spasming
left, then right, lunging
over rumble strips,
grazing orange cones-
a spandexed
cyclist. It
jerks back
on the pavement,
my pulse is on crack.

I lurch awake
to the
interstate
of reality, wet
with sweat
sheets tangled
around me like a
crumple zone.


Monica Flegg lives on Nantucket Island where she walks dogs of various breeds and reads poetry of all creeds. Her passions are words and water; she spends a lot of time submerged in both. Her writing has been published in numerous publications including; Ruminate, Unbroken and the Yellow Chair Review.

List of Poets


Robert Ford


WHY WE ARE NOT BIRDS YET

It is not solely the weight of our bones,
and the seriousness of the marrow crowding
their cavities, leaving no room for air.

Nor is it the sorry failure of our shoulders,
too pre-occupied with the burdens of
reason, guilt and all those things we'd

prefer not to know, to ever operate wings.
We may grow flight feathers, and knit them with
wax strong enough for orbiting the sun, because

we are amazing, after all, especially to ourselves,
yet still we cannot circulate comfortably in
three dimensions, even through the fine skin

of our atmosphere. Our attempts to do so will
ultimately be the death of us. The only choice
we have, if any, is how quickly to fall.


SON

In my dreams last night he was cutting my hair for the first time,
as I sat bare-chested on a wooden stool at the centre of the kitchen.
He floated tight orbits around me, circling like a welterweight,

fixed with raw concentration. The insect buzz of the electric clippers
tailed my ears as divots of grey thatch tumbled over my shoulders
and rolled to the floor. Either he was trying to make me look like him,

or the other way round. I couldn't know, and didn't dare leave my
untethered hope alone – that he wouldn't simply make a fuck-up
of it all; my hair, his life, and every tiny detail in between.


Robert Ford lives on the east coast of Scotland. His poetry has appeared in both print and online publications in the UK and US, including Antiphon, Clear Poetry, Eunoia Review and Gyroscope Review. More of his work can be found at wezzlehead.wordpress.com.

List of Poets


Adele Fraser


FRESHMAN

They'll find her out soon enough,
discover she's only a kid
and should not be taken seriously,
let alone permitted to wander
through this unfamiliar city
without her parents by her side.

When the man stops her,
stepping in front of her,
blocking the pavement,
he seems like her own invention,
a projection of her imagination,
externalising something
which she cannot find a name for.

She does not see the cigarette
he's holding; she's too caught up
in how young her reflection appears
in his eyes, as he demands
her submission to interrogation,
requires a satisfactory answer
to a very pressing question:
'Have you got a right?'


Adele Fraser lives and writes in the mountains of Snowdonia, Wales, UK. Her work has been published widely, both online and in-print.

List of Poets


Bill Frayer


STRESS CONNECTION

I walk to the back of my empty classroom. I come upon a blue ball point pen, chewed at the top, carelessly forgotten on the table by some student who chomped on it to relieve the stress of returning to college despite the cold stares of an abusive husband who expects his dinner cooked every night, his life just as always, except he has lost his job working in the wire factory which closed because a Chinese woman will work for smaller wages to manufacture similar wire even though she struggles to find rice and some meat to put into the bowls for her children and her father who still remembers Mao's reeducation camps where he was not allowed to read Balzac or Tolstoy so now he is happy to live in a dry house and help his grandson, who has a learning disability and has trouble with his homework. His mother finds his pen, chewed relentlessly, on the kitchen table after he has gone to bed.


DETRITUS

Walking down the windswept street
on an early-morning walk with my little dog
he stops to smell a used condom on the sidewalk.
I wonder how it arrived at this spot.
Was it tossed from a car window
after a late-night rendezvous in the back seat?
Probably too young to have an available bedroom
but responsible enough to use protection
but careless enough to leave it here
where a child might find it.

Later I find the tissue lightly stained with blood
left in an antique dresser…

The next day, I examine the graffiti love note
left in red paint under the bridge by the river…

I remember one old shoe dangling by a lace
from the jacaranda tree
on a cobblestone street in Mexico…

Creating stories to fill the blank spaces
between the small bits of life
cluttering lonesome spaces.
So easy to ignore each piece of flotsam left
by the shipwreck of an anonymous life,
missing, perhaps,
a dim window into a vivid untold story?


Bill Frayer is a retired community college English instructor. He divides his time between Maine and Mexico. He is an active member of the Maine Poets Society and is actively involved in a number of expat writers groups in the Guadalajara area. Since 2008, he has written a regular column for the Mexican English language monthly, El Ojo del Lago. He has published four volumes of poetry and has had his poems published in Magnapoets, The Haiku News, El Ojo del Lago, the Lake Chapala Review, Stanza, and in the Spirit First anthology, Moments of the Soul.

List of Poets


Majda Gama

AVATARS
Your cat came out of the moist
Middle Eastern night, it walked
you up to my feet and sat.

I held his oil black body
arms wrapped, murmured "baby"
whispered more words.

My cat ran to the door every
morning to eat with him, to catch
the time of cool heat over tiles.

My cat listened to him call
at night, his howls scraping
the marble walls of our villa.

My cat wanted out.

My cat sought yours
in the acceptable twilight
of prayer calls and night markets.

Your cat could be found
when he wanted to be found,
my cat sprawled at his feet.


Majda Gama is a Saudi-American poet based near Washington, DC where she has roots as a DJ and activist. Her poems have appeared in Beloit Poetry Journal, Gargoyle, Hunger Mountain, Mizna and are forthcoming from Duende, The Fairy Tale Review and Rising Phoenix Press.

List of Poets


Patricia Goodman


THE HIGH PRICE OF SPERM

We saw them every day; the women
carrying water on their heads, firewood
on their backs, a child in one arm,
a child in hand and one trailing
behind. The men carried
nothing but a spear.

When I asked our Zimbabwe hunting guide,
What's up with that?
he replied, The man needs his hands free
to carry the spear—to defend his family. That's
his most important job.

I thought, Really! A man couldn't drop the damned
firewood if he needed his hands?
And the women ask nothing else of them;
don't care if they sit on their haunches
brushing their teeth with fraying sticks
instead of helping gather corn, feed dogs,
watch the kids.

This became a family joke. When my husband
sat reading, waiting for dinner,
I accused him of
carrying the spear.

And now there is a robin that all day, all season
flies at my windows, trying to scare off
imagined intruders, while his mate
builds the nest, warms the eggs,
feeds the chicks.

And I bet he leaves the seat up.


HALLELUJAH
after Leonard Cohen

I don't believe in a god
who's up there pressing
like or dislike on a computer,
but I believe in doves,
holy or not, their wings
whistling as they commute
from tree to lawn. I believe
the creek is cold and lonely
but its current will carry me
to sea, and I believe
in the power of music
to lift me through the
marble arch, to bathe me
in the beauty of moonlight,
to help me find
that secret chord.


Patricia L. Goodman is a widowed mother and grandmother and a graduate of Wells College with a degree in Biology and membership in Phi Beta Kappa. She spent her career raising, training and showing horses with her orthodontist husband, on their farm in Chadds Ford, Pennsylvania. She now lives in northern Delaware, where she enjoys writing, singing, birding, gardening and spending time with her family. Many of her poems have been published in both print and online journals, and anthologies and she was the 2013 and 2014 winner of Delaware Press Association's Communications Contest in poetry. Her first full-length book of poetry Closer to the Ground, was a finalist in the Dogfish Head Poetry Contest, and was published in August, 2014 by Main Street Rag Publishing Company. In 2015 she received her first Pushcart nomination. Much of her inspiration comes from the natural world she loves. For more of Patricia's work in Rat's Ass Review, check out the Love & Ensuing Madness collection.

List of Poets


Beverley Harvey


NIGHT FEEDING

In an airless room
she sits holding
the weight of obligation
while the burden of love
carries her through

Parasite and blessing, both
a bed that has been made
and now must be lain upon
she remembers who she used to be
but cannot be who she was before

No one else can feel the way
she feels about the tiny scrap
of mewling damp and need
her island in the dark
a jail without a key


Beverley Harvey is a corporate copywriter, aspiring author and former Public Relations professional. Living south of London, England, Beverley has written one novel; a work of contemporary fiction: Seeking Eden which will publish in June 2017. She has written numerous poems on love, sex, flora and fauna, because what else is there? Philosophy: taste every art form – it's all that separates us from ants. More about Beverley Harvey here .

List of Poets


George Held


A SIDE-ARM

After the Colt .45 and the .357 Magnum
had knocked me on my ass, and even the snub-
nosed Smith & Wesson .38 had made my hand
waver like a pussy willow in a breeze
and my shots had hit far from the bull's-eye,
my dad gave me a .22 target pistol
to practice with at the far end of the shooting
range, where his son wouldn't embarrass him.

For Christmas I received a festively-wrapped gift
heavy as a brick but big as a Whitman sampler,
and with my parents raptly watching, I unwrapped
and opened the box and felt my heart throb.
Lying there in a bed of cotton was a gorgeous
Mauser .25 automatic pistol,
its barrel gleaming, the inlaid wood handle
a rich brown contrast to the cool blued steel.

On the firing range we consummated our union:
I steadied the gun and placed the whole clip
inside the third circle. At night I slept on my left
side, my right hand enclosing the hard metal.
On hot summer nights, it cooled my touch;
in winter, my hand slowly warmed the barrel.
Years later I recalled this infatuation
after I'd found my dad dead, his snub-nosed

.38 hanging from his hand.
Though my father fumed,
my afternoons at the range gave way to
rehearsals for school plays and baseball practice.
Soon I'd abandoned the madness of target practice,
stowing the knowledge I could handily deal
death with a side-arm.
Years later, investigating
the suicide, detectives found my Mauser
in Dad's shoebox and consigned it

to the precinct gun locker. I'd need a permit
to own that faded pistol. But a simpatico
detective told me how to fill out
an application for a permit to retrieve
the Mauser, which now lies inside a box
in my lower desk drawer.


George Held's work appears regularly both online and in print, in such places as Home Planet News Online, Lummox, Spring: The Journal of the E.E. Cummings Society, and Right Hand Pointing. He's received 8 Pushcart nominations but no prizes. His recent chapbook is Bleak Splendor (Muddy River Books, 2016).

List of Poets


Robin Helweg-Larsen


HOBO

Come you young gunsel and sit by my fire of old skids.
They don't like you in school, not the teachers and not other kids.
You're different, I know it, you're wise in that body of yours
that has grown past their rules and your parents' commandments and chores.
Have a smoke, have a drink, you can tell me of pills that are new.
Here you're safe in the open, I'm staying a night, maybe two.
We can share all you want, for the sadness you know I have known,
and the paths that you fear are the strictures that I have outgrown
and the dreams in your mind I now live on the paths that I roam,
for the life that I live is a life where the world is my home.
So go home, go to school, and come back in the evening again.
I'll be here for a while, until I get on the next train
and you'll stay, more mature, and experienced in a new world –
or you'll come on that train, and you'll see the whole country unfurled –
and you'll end up like me, and your friends will be such as you were.


Robin Helweg-Larsen's poetry has mostly been published in the UK, but also in Love & Ensuing Madness, 14 by 14, The Lyric, Unsplendid, The Hypertexts, The Rotary Dial, the Phoenix Rising sonnet anthology, etc. British-born but Caribbean-raised, he is retiring from business in the US to his home town of Governor's Harbour on Eleuthera, Bahamas. For more of Robin's work in Rat's Ass Review, check out the Spring/Summer 2016 issue, and the Love & Ensuing Madness collection.

List of Poets


Justin Hilliard


ACCIDENT REPORT #649

My vision is cloudy and I can't seem to
find the words for this poem
i'm not high, nor drunk
but feel it
I'm not catatonic,
but
feel it
I do my job
and run to the bank with
a paycheck to
pay the cable bill

I'm not involved in a car accident
but
feel it

carrie cries on the phone
I understand it's awful I say

But now being asked to recount
What she said
I can't,
i can't
feel it

I probably loved her but 20 years passed
and I can't remember her face
and when they ask me to recount
what she said
that night
while she wept, and I listened
and paid the cable bill online

dad, did you actually know carrie? My son
will say
and I will respond, I think so
isn't she the girl
who took her dad's sedan
and, he said
but I stopped listening

I can't
i can't
feel it


Justin Hilliard reads and writes along the beaches of his native sunshine state, where he also edits his literary journal The Chaotic Review. You can find his recently published or forthcoming poetry in Dime Show Review, Eunoia Review, Amaryllis, among others.

List of Poets


Oliver Hutton


SIFNOS

Teresa, bare-breasted, sits over me
and peels grapes and places them on my tongue;
I lie on a chaise longue, robe spilt around my modesty,
and chew and swallow them one by one.
Teated fruit blocks my view to the sea,
but the waves are ample invitation,
Sounding with cicadas in backing symphony …
I rise and walk over to the balcony.

Terraced hillsides dotted with olive tree,
drystone walls, a crumbling watch tower,
whitewash cubes, a local donkey,
whitewash chapels belling every hour;
figs fermenting on paths with rosemary,
thyme, pine, fuchsia bougainvillea;
a boat in the deep with a wake like a comet,
and infinite blue rising up to the summit.

A cock crows. Or is it a hen?
I think it time to lie down again.


Oliver Hutton's work has also appeared in Clementine Poetry Journal and Clementine Unbound. Otherwise, he is a UK-qualified shipping lawyer living and working in Greece.

List of Poets


Nancy Iannucci


DIGGUM
You stood a fixed mountain
in Radagast's muddy coat & hat-
stone gusts struck your pockets black
& they bled, bled petals & sepals.
Kids sneered as they aimed hitting your
hands while you dug in deep, digging to
feel the flowers as sick perverts do.

They called you Diggum.

You swayed like a willow dropping
petals from your pants at the intersection
of Maple & Post, just when school let out.
You watched civilization in an Alice delirium
as cars rubbernecked to see your sideshow.
Crossing guards ushered children away
but I broke free.
I followed you walking alongside
the shadows that clawed the wood.
Did you see me, Diggum?
Did you hear tiny steps snap twigs?
O, how I wanted to know, wanted
to see & when I saw you swaying deep
in the wood I understood.

kneeling before a lone stone marker,
groping a pocket for petals,
you carried this load to your Beloved Son-
a vacant title etched & exposed- your
name lost under a moss's rug of green-
but am I any better than the stone throwers?
In telling your tale with dolor,

I call you Diggum.


Nancy Iannucci is a historian who teaches history and lives poetry in Troy, NY. Her work is forthcoming/or published in numerous publications including Bop Dead City, Gargoyle, Amaryllis, Typehouse Literary Magazine, Rose Red Review, Love & Ensuing Madness (RAR), Three Drops from a Cauldron, and her poem, HOWLING, won Yellow Chair Review's Rock the Chair Challenge.

List of Poets


Craig Knox


WORD
For Marvin Day

You make sure your two-hour friends
feel at home get something to eat
water (no lemon) coffee light and sweet

Always aim to please as you hustle
never forget a customer's face
Handle drunks and wayward souls
steady like your tray

You took your apprenticeship seriously
studied from the two legends
Harry who practically built the place
Bat who was there 50 years

Slap the calories out of chocolate pecan pie
even when it's chilly in Gentilly
Tell 'em about the chocolate freeze
Chocolate shake on steroids but that don't do it justice

Chili cheese omelette
spicy and savory and salty
you just got to try it
Might as well eat the whole thing everyone here dying anyways

Give everyone a smile
let them know you both on the same page
Word – the waiters say it to show a message is understood
Nothing written down everything spoken

After Katrina someone left
pen and Post-it pad outside
Come-back-soons covered windows exterior walls doors
Most of them for you

Word where are you
Laura says hi + word
Now the Post-its are inside the Camellia
framed in the shape of Alabama's state flower

There you are up on that wall too
painted next to Bat and Harry
bumping fists and saying hello
in art as in life

Food's been the subject of too many portraits already
Arcimboldo, Fruit Basket
Cezanne, Un Coin de Table
Aertsen, Butcher's Stall with the Flight into Egypt

All of them need more fist bumping


DAILY
for R.A.

We stand sorting for hours, side by side at long wooden tables
color-coded bags then boxes, toxic air punctuated only with
comments on genitalia or yeah, that guy's a real asshole.

All that vocabularies are good for at this hour.

Our years of experience, professional skills,
personal networks aren't worth shit. God fucks us daily.

Later tonight you will tell me about this strip club
near Paterson, how we got to go one night.

Later today or tomorrow I will drink from a 40
in gulps behind the shed, watch the sun rise or set,
my equilibrium off. If I can be honest for a while
this will happen daily. Later this summer
I will go to an Irish bar with an idiot, meet a girl
who will want only to never speak to me again.

I won't know that yet. I will cover you after your
accident, protect your route so you don't lose
money you need, your last crumb of heritage, your property.

I will circle blocks at low speed four hours daily, thirty-seven godawful days,
monotony soundtracked by hardcore, Gypsy jazz, black metal,
the occasional satisfying thwap against a garage door.

After the accident, I will visit you at home. Your recliner will be
bandages, scars, overpriced pain meds you take three times
daily. Sandi will cling to your side like a stupid blonde puppy.

You will yell at her, Get the fuck out, my buddy's here,
we're try'na watch Everybody Loves Raymond.
I will cringe and try to change the channel.

This is where I will stop now. I re-read it again,
died peacefully at home, words I will remember
until I forget. How we all want to go when our bodies
fail, done in by our bad hearts, years of strip club drinking,
overeating, bad luck, denial, the sea change of life.

Our past selves both dead a few years,
I miss us like hell but I am grateful daily.


Craig Knox is a former deliveryman and traveling pizza salesman who found poetry through Etheridge Knight's "Hard Rock Returns to Prison from the Hospital for the Criminal Insane." He is a New Jersey native and currently an MFA candidate at Rutgers-Camden.

List of Poets


Robert Krantz


AL'S OLDS AND AN AMBULANCE

i.

"When you are old
You will stretch out your hands

If anyone loves
Leaves of Grass
written on the silver foil
of the Camel's soft pack
loves the lists and tongues
draws it in entirely
and understands
that sometimes
the soft crinkled whisper
of your doctor-swiped
prescription pad
sounds like scurrying
white mice feet

ii.

and someone else
will dress you

then maybe this time your mother
won't get shitfaced on Jameson
and pig-nose her Kia
into the furrow
that runs along Saint Stephen's Drive
if we remember anything
if we can learn
or unlearn anything—there is hope

iii.

and lead you

only now I am driving Al's brown Oldsmobile
through town
past his childhood home
he's at the door
shirtless, lean and bleeding
like a Diaz brother
standing with his cut-man mother

iv.

where you do not want to go. " *

Peter's hands are
two leather catcher's mitts
but they're warm butter against
my milk toast shoulders
this makes the barely perceptible steer
towards the idling van
somehow satisfactory
even bidden

*Jesus speaking to Peter


Robert T. Krantz graduated from the University of Akron, OH with a BA in English. His individual works have appeared in Gargoyle, Wilderness House Literary Review, Pittsburgh Poetry Review and others. Bitterzoet Press recently published two chapbooks of Robert's work (Plus 4 and Hansel) and he is currently pursuing the MFA in Poetry at University of Arkansas-Monticello. He makes his living as an industrial sales engineer in the Midwest.

List of Poets


Sarah Krenicki


LEGACY

i.

He took a plane to Vegas one night when everyone was asleep,
tumbled through the bright lights and shadows of his family's secrets,
money pouring from every orifice;
worthless paper spilling onto the floors of casinos
and racetracks into people's greedy hands.

He took the elevator to the 46th floor,
where you could see the entire world
through a haze of neon and rising heat;
everything rushing and rushing
the lights the sounds the voices twisting into silence-
silence just as beautiful as he'd thought-

When they found him on the pavement
half his face wasn't recognizable-
but the other half was curved into a smile.

ii.

They told her this when she was thirteen,
and she spent the next decade of her life
sitting under the shower, thinking about that smile-
A body tumbling in slow motion
the idea of happiness.


Sarah Krenicki works in marketing by day and is a writer by late evening. She has a BA in English and a BFA in creative writing from Green Mountain College and lives in the woods with her fiance and a particularly fluffy cat. Her work has appeared in Amygdala, Barking Sycamores, and Gemini Magazine.

List of Poets


Nadja Krylov


THE CRANES ARE FLYING

The city orchestra, forced into the role of marching band for an invading army, is blaring, the music and pounding feet vibrating her chest with irregular jolts. Eugenia struggles to keep up with the bodies, hundreds of young people jostling down the broad avenue toward the cattle cars.

Eugenia is seventeen, light, fine-boned, graceful, with wavy chestnut hair. Her gray-blue eyes are concentrated on the red hair of the young man ahead. She is in the middle of the unsteady column of rows, fifteen bodies wide. The left heel of her brown lace-up shoes, what she was wearing when she was caught, is wobbling as she stumbles over the dirty ice, one shoelace beginning to loosen. With no gloves, she tries to keep her fists tucked into her sleeves.

Maria, her friend, is hanging on to Eugenia's elbow. Maria is short, pale and sickly, and pulls down so hard Eugenia fears for her shoulder, but her greater fear is slowing down, the row behind them pressing in. The gray-clad, helmeted soldiers in either side of the column shout at them over the din of the brass, waving them forward with gun barrels.

The orchestra strikes up a popular song, adding march-like extra beats to the melody to cover their subversion. The song is about the cranes, the white birds, returning from the south after a long winter. They seem to be sending the marchers a wish, a hope that their young people return to the city someday. Hot tears stream down Eugenia's numb face. She fights to keep her vision clear. She risks stumbling to throw a glance back and cries "Oh God! We're being trampled!" She means she and Maria will be trampled before they reach the cattle cars bound for mines, factories and farms of the invaders. She means that this street, with the pastry shop, the Theater Café where they danced on the lantern-ringed verandas on warm summer evenings was being trampled. She means the green rolling hills, the gracious winding streets, the fruit stands and wrought iron balconies that overlook them, with their call-and-response of complex scents – of fruits and teas, of lilacs and bougainvillea, are being trampled. She also means the meadows, the apple, pear and peach orchards, the ponds, patrolled by snow-white, tangerine-footed geese, the dogs and children chasing them are being trampled.

Reach out and comfort this child! And forgive her for trusting an old neighbor with the news that her parents had agreed, after she begged them to do this, to hide her teacher in their shed, the teacher of the wrong religion and the wrong ethnicity.


Nadja Krylov was born in Germany a DP (displaced person) of a Russian forced laborer mother and Russian prisoner of war father. Her first language is Russian, second is German, but she considers English her native language. She has worked in politics, in business, as a trainer and workshop leader (moved to Russia for seventeen years, from 1992 until 2009) and now live with her husband in Iowa City, IA. Nadja has taken a number of courses from the Writers Studio in New York and at the Iowa Writers workshop. She likes to write just about anything, but has only been paid to write non-fiction.

List of Poets


Louise Larchbourne


PETRIFIED
Written in response to a detail from a relief of the army of the Roman emperor Marcus Aurelius sacking a German village. A Roman soldier grasps at the hair of a woman fleeing, who holds a child by the wrist.

No pastoral, this, but you are stone for now.
And still unravished by the Latin brute.
Nor will the rough ground, yesterday your home,
become a weapon, bashing jaw and temples.
Did you ask,
'Can I be turned to stone, oh, all you gods?',
those German high-ups who'd deserted you,
left their posts, bored, maybe, or made a deal
with others, more grandiloquent, for whom
your people's agony was a shoulder's twitch,
grim smile as cup was drained.
Now, there you are,
immortal, yes, and fostered by what silences;
guilty, complicit, simply ennuyeux?

The time you laughed so hard the men stared round.
You sitting in the sun, the other women
laughing as well, or grinning and then later
speaking about it to their families.
Or that first night, the newness of his thighs,
skin hard as sea grass on them, between yours;
his mineral chest
pressing your breasts at last;
a solid angel.
Or the way you've run
faster as Karl's grown older; hiding, laughing from the grass;
making days heavens for your son,
until the day he'd be with you no more.

That day has come
and it is only this.
The hair the brute will never yank right back,
the blade he doesn't show.
Your child's small hands;
and that's the most, your son remains
unhurt for ever, next to you for ever.

It is this agony of dread,
the hell pit buried in a mother's mind –
all that's forever pulsing in this stone
and ricocheting at the rubberneckers
like me, remembering when my son was new,
the calculation
what I should do if I was attacked with him.
How would I save him and preserve myself?
Who could I throw him to? There were no gods
in Tufnell Park…

Your ecstasy, your stand beyond yourself,
the moment when the everything you've lived
clenches together in a fierce cold fist,
punches you down and opens empty,
grey and empty. There is just the boy –
This lyre, your heart, echoes beyond the stone.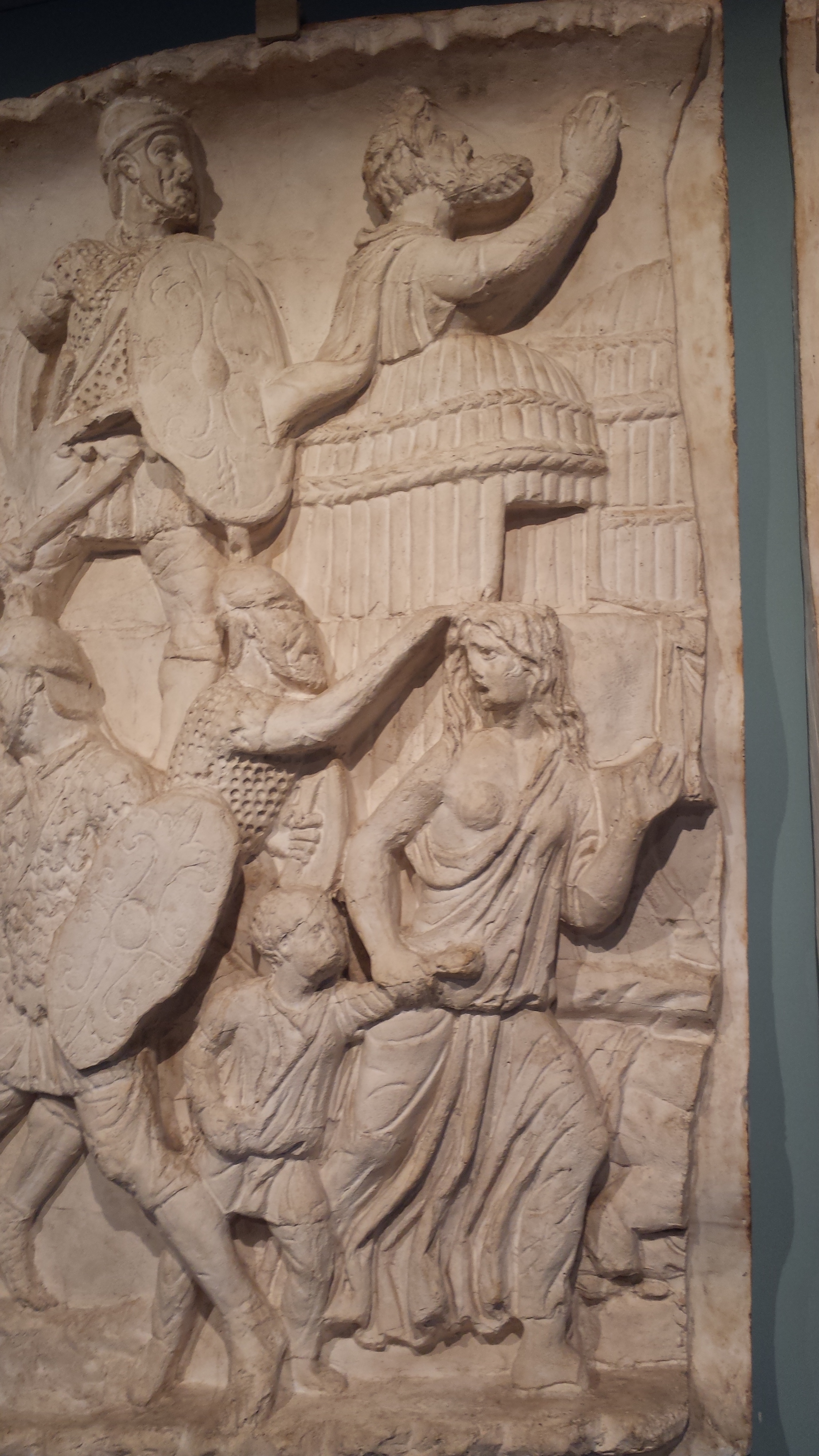 (image by Louise Larchbourne)
EARTHWASH
The family is coming through this green,
light from a copper moon, it bathes the woman,
who bends a little, watchful of the boy,
her face attentive, sensuous; she knows him
already. He's still small, but won't be held,
even by her, in earthy ways his maker.
This comes so beautifully from its maker
to me; I notice firstly all that green,
for which a poplar fell. Buonarroti held
a brush freighted with soot, to trace this woman
whose youth, intelligence, leap to us from him.
The man, much fainter, bends to restrain the boy.
But she has him, and John, the elder boy,
gripped by the wrist, watching the troublemaker,
perhaps a bit jealous – "I can't be like him."
He too, though, growing fast – not really green
in any sense – he shares with the young woman
care, pride – responsibility well held.
What sense in this quick sketch is keenly held?
Must all surrender to this tiny boy?
I keep returning to the tall sweet woman
who holds it all, no everyday homemaker,
dressed as in smoke, in Venus's colour, green –
she is the key, through her people pour to him.
Is that what the painter meant, that we reach him
through looking at these marks, an illusion held?
Was there a reason why you selected green,
this earth wash, emphasizing the brand new boy
whose energy promised a new kind of maker?
Yet whose earth pattern came straight from a woman?
I look at her and love her, sexy woman
and serious, funny too, firm holding him.
He must have known her well, this picture's maker,
for her to be so deeply, dearly held
as human, powerful, strong enough for this boy,
painted with woodsmoke on poplar wood, all green.
The family group in green, around this woman,
follows the straining boy, all focused on him,
because he held the world, really its maker.
On
The Virgin and Child with Saint Joseph and the young Saint John the Baptist, attributed to Michelangelo Buonarroti
Louise Larchbourne is also an actor, an editor, and a sometime lexicographer. First published a long time ago in the West Midlands, as a 'local poet' in Birmingham she explored the distinctions between poetry for reading and poetry for performance. She was one of the poets invited to contribute to the new anthology
For Jeremy Corbyn
. One of her poems is included in the collection
The Very Best of 52
and another in the newly published Oxford Backroom Poets' anthology,
Infinite Riches
. She is on the editorial team of
The Fat Damsel
, and runs 'Ekphrasis Poetry at the Museum', a series of themed readings in situ of selected work inspired by exhibits at the Ashmolean in Oxford. She has a trullo in Puglia.
List of Poets
Mary Leonard
ANATOMY OF BERLIN
I wander through streets of Mitte:
Oranienberg Strasse  Grosse Hamburger
Strasse and find Berlin's soul in a Vietnamese
cafe  incense and Jasmine tea
Nirvana for my angst
The young waiter tells me his life story
without speaking English. I tell mine
without speaking German. We point to maps,
to calendars on the wall, to each other
Come visit  bring lemongrass Buddha
I find the heart of Berlin in Café Oren,
next to the Neue Synagogue, the old destroyed
on Kristallnacht. Escape into my coffee mitt schlag,
stare at the German police parading up and down
Protecting the Jews today
I stroll along the River Speer, the sky grey
the city black with white towers, a mix of steel and glass
looming like replaced hips and thighs. I want to dig
under the corners of these streets, to unearth
Layers of bones
I find an art gallery in an abandoned factory,
imagine the whirr of sewing machines, see thousands
of SS uniforms sewn like steel. Hear Nazi boots
stamping like gun shots. I button my coat, pull up my hood
Shiver from fear
Wander in and out of exhibits of young
artists who swagger videos of East and West.
I trip over a sculpture of arranged chips
of the Wall on the worn wood floor
Techno sound sizzles
I hold out my hands, raise my shoulders,
"
Krautrock,
" The young artist then asks,
"
You are from?
" "Ich bin ein Berliner."
He laughs. "
Come here tonight.
"
Berghain A Weekend Party A place of Wonder
a vampire club  dystopian utopian  a sense of wildness

The guts of Berlin  not the heart soul arteries bones
Even with a blue dragon tattoo, I'm too old to be wild
I flag a cab, go home alone, to my Airbnb


Mary Leonard has published chapbooks at 2River, Pudding House, Antrim House Press and RedOchreLit. Her poetry has appeared in The Naugatuck Review, Hubbub, Cloudbank, The Chronogram and most recently in Red River and Ilya's Honey, and she just recently published "Love Letters" in the fall issue of Compose. She lives in an old school house overlooking the Rondout Creek in Kingston, NY. Away from her own personal blackboard, she teaches writing workshops for all ages through Bard College.

List of Poets


Laura Lovic-Lindsay


TROUTMAS

Spring pours across a Saturday morning creek, wind-lined
in this dandelion time of year. The tribes are restored: tents
pop up like international flags, countries and clans joined

by colors, by flames of bonfire and sunrise laughter,
pan-seared. This is the first day of Trout, hooks and lines
tossed like banners down the centre. Men, women,

older children coach the younger until distraction leads
those away. No matter. Community will guard them
as they play the banks, quietly picking clover, grasses

and learning the joke of skunk-cabbage. Joy detonates like
a firework display–"Look what my son just landed!"–for these
fishermen also hold a license to carry shooting stars.


DANCERS OF THE WILD HUNT

One summer's night, I chance on a display:
a shepherd snaking people through a town.
Clad in white shifts shoulder-to-ground, all sway
to the piping ethereal. I drown

in wanting to weave with this starlit wave.
The first few wear antlers. They speak no word
in my hearing, and he holding the stave
at back shows but scant sign of having heard

my inquiring, "Good man, why do they dance
here through the mists, in midnight's swirling breeze?
Are they celebrating comets, perchance?"
He shakes his head, gives my hand a small squeeze.

"Know, child, I am a man who speaks no boasts.
What is't you see?" He bends and whispers, "Ghosts."


Laura Lovic-Lindsay left Penn State University with a literature degree in hand in 1993, having written no more than a few poems at that point. She has won poetry and fiction contests (Pennwriters Poetry Contest, Brilliant Flash Fiction, writersweekly.com, Gemini Magazine), had pieces published both online and in print (Fireside Fiction, Fine Linen Magazine, Pittsburgh Poetry Review). Laura lives and writes in an old farmhouse in a small Western Pennsylvania town, but her heart roams realms both real and imaginary.

List of Poets


Sean Lynch


BRIDGE OF BONES

We cross the river
on a bridge of bones
each crack filled
by a sea of thoughts.
We cross the river
by forgetting grievances
each sin still recorded
on a microchip.
We cross the river
on our death day
each life remembered
by an unknowable force.
We cross the river
by and by
each according to each
on an instant flash.


Sean Lynch is a poet and editor who lives in Camden, NJ. Lynch's poetry has appeared in Hamilton Stone Review, Poetry Quarterly, the Philadelphia Inquirer, and elsewhere online and in print. His work can also be found at swlynch.com.

List of Poets


Maggie Mackay


GHAZAL

I've not been schooled in how to wait, precious mother,
to grasp your three simple words I'll be waiting, precious mother.

The grey-green of your eyes holds me fast.
The squeeze of your hand gives me strength, precious mother

My prayers return you as a swallow to the telephone wire tightrope
but you grow restless with the harvest moon, precious mother.

My wee heart is a fledgling boom under the fluff of feather.
I hear you tut-cheep at my impatience, precious mother

I might be a jilted lover, bride footsteps' echo on ancient stone
waiting for this broken heart to mend, precious mother

In my dreams you wait for me to grow like a perfumed June rose,
budding in early morning sunshine, precious mother

You plant seeds of longing on my path, cornflower and love in a mist,
as your hands dance to a jig piped from a village hall, precious mother

Your smile urges me forward, no more waiting.
You call from the edge of my bed, fly to me, Margaret.


Maggie Mackay, a lover of malt and jazz, lives on the east coast of Scotland and is enjoying life in her final year as a Masters Creative Writing student at Manchester Metropolitan University. She has work in various print and online publications, including A New Manchester Alphabet, The Everyday Poet, Bare Fiction, Ink, Sweat and Tears, The Interpreter's House, Prole. Indigo Dreams Publishing, in several Three Drops Press anthologies and forthcoming with Beautiful Dragons.

List of Poets


E.V. McLoughlin


SNOW WISH

The snow you wished for so hard,
all year, every Thursday morning
has arrived –
January the 9th, 10pm.

You are fast asleep on the top bunk
facing the window:
white flakes rushing orange
in the light of the street lamps,
blurring the motorway in the distance.

For a moment, I imagine waking you,
pointing out of the window,
how we'd hurriedly dress in the dark
run outside to catch the first flakes
with our faces, embrace in the orange glow.
Then, when we've had enough,
stumble back into the house
for wishes-come-true chocolates
and climb into bed, watching the snow fall
as you fall back asleep.

But I do the right thing –
school starts soon –
in the morning there is no trace,
as if it had never happened.


E.V. McLoughlin lives in Northern Ireland and likes coffee, books and city lights. Her poems were published in Community Arts Partnership anthologies "Making Memories" and "Connections," Shalom/Crescent writers' anthology "Between light and half light" and in Pannning for Poems micropoetry journal. One of her poems was longlisted for Seamus Heaney Award for New Writing 2016.

List of Poets


Corey Mesler


AFTER THE VANDALS SACKED ROME

Mischief! cried one man on horseback,
his tunic stained with either paint
or blood. They must be drunk,
said the priest, watching as his altar
was adorned with a Nash Rambler
grill. One woman, shirtless, reveler
or victim, kept shouting obscene slogans
in Latin, while her boyfriend decorated
the Coliseum walls with phony gang tags.
After the Vandals sacked Rome they
rode slowly home, their horses still wearing
absurdities: a nightgown, a toilet seat,
the golden crown of a Nobleman. Some
stayed behind for the wine and outdoor
copulation. Some later became Romans them-
selves. Most went home to a life too ordinary.
Everything seemed pale and lackluster. Oh, for
the days of pillage! they cried over their
beer. Had someone known to tell them that
their very names would become synonymous
with recklessness and abandonment it
probably would not have helped. The post-coital
blues are like a tapeworm, sickly and nearly eternal.


FATHER, SON

In five years you would have been
one hundred, but Father,
you barely made eighty. I
don't know about souls, but
if you could return, there is much
still to discuss. I need you
corporeal. I need the strength of your
hands and the calm of your stillness.
I am not strong or still. I am
fretful and loud sometimes, which
you never were. I brood and
I am small. Father, in five years
you will be one hundred and, if
I make it on this plane, I will be
sixty seven. My son will be older, too,
and sometimes I see you in him. In his
quiet grace and his strength and his
loyalty. Father, son, the tree grows upward
and in the dark its branches look like a
ladder. In the morning there is only bird
song, and light, and I am looking, looking up.


Corey Mesler has been published in numerous anthologies and journals including Poetry, Gargoyle, Five Points, Good Poems American Places, and Esquire/Narrative. He has published 8 novels, 4 short story collections, and 5 full-length poetry collections. His most recent novel, Memphis Movie, is from Soft Skull Press. He's been nominated for the Pushcart many times, and 2 of his poems were chosen for Garrison Keillor's Writer's Almanac. With his wife he runs a 140 year-old bookstore in Memphis. He can be found at https://coreymesler.wordpress.com.

List of Poets


JBMulligan


RIPPER

Wind has wiped the blood from the London air.
Wars have ripped the various worlds apart.
The Juwes are blamed and blameless in each bar
and flat, for need of some scrawny spirit.
The heated headlines sweat. They always have.
The poor are present, who will never leave.
The coal-eyed burn, who ever will believe
their justice… theirs. And then of course, there's love
at any price. As peace and science march
in bland belief that they must someday reach
their dim, shared goal, some bright and minor search
produces a brittle gem that we can touch
and call the truth, while blades are at their work
explaining the sky to an outstretched, pumping neck.


JBMulligan has had poems and stories in well over one hundred magazines over the past 35 years, has had two chapbooks published: The Stations of the Cross and THIS WAY TO THE EGRESS, as well as 2 e-books, The City Of Now And Then, and A Book of Psalms. He has appeared in several anthologies, including Inside/Out: A Gathering Of Poets; The Irreal Reader (Cafe Irreal); and multiple volumes of Reflections on a Blue Planet.

List of Poets


Terri Muuss


FROG SEX THROAT

we are wild
eyes, tall cliffs starved

for plunging, water
divided, surface tension licking

the junction of body, rip into
almost death. Rain comes

over stone, crackling sheets—
blue sparks. our breath burning

orange, polished and swollen.
the frog of our sex throat pulsing

the stem of jonquil, feet spread,
greener than the grass it came from.


Terri Muuss, whose poetry has appeared in numerous journals including Paterson Literary Review, Apercus Quarterly, Atticus Review, Stirring, Long Island Quarterly, and Red River Review, and three anthologies, has been nominated for two Pushcart Prizes in poetry. She is the author of Over Exposed (JB Stillwater, 2013) and the one-woman show, Anatomy of a Doll. Anatomy of a Doll was named "Best Theatre: Critics' Pick of the Week" by the New York Daily News and has been performed throughout the US and Canada since 1998. As a licensed social worker, Muuss specializes in the use of the arts as a healing mechanism for trauma survivors. She is married to writer Matt Pasca and her two ginger-haired boys, Rainer and Atticus were former Ellen Show "Presidential Experts." terrimuuss.com

List of Poets


Dion O'Reilly


LEARNING MY COLORS

I was small enough to be washed,
like a dish, in the sink.
Everything a soft yellow—
My grandmother's Orlon sweater,
the light through checkered curtains,
the plastic-marbled table top.
In the fifties, the world was yellow.
The walls, like the heart
of a daisy. Yellow Bel Airs, Ford Sunliners,
two-toned, finned. Yellow.

I loved my skin
in warm bubbles and my Mum
and Nana, happy with my splashing,
the flannel washcloth on my neck,
and around my ears. I didn't notice
my own little hand reaching
below my belly button
until my grandmother screamed
Look where she has her fingers.

My mother said, Oh my God
Now watch, she'll sniff them,
so I did, and how red the smell,
a greenhouse of begonias,
red coals in ash, the cotoneaster berries
on the backyard bush and the ruby-
breasted thrushes frenzied from eating them.

Oh my God, they roared again, my mother's lips
sickened. Her nostrils dilated.
But I liked smelling red
meant for soft tips
of fingers, for water, for air.
Redness unfurled under me.
I knew they were wrong
about it: the opposite of sweet,
but still sweet.


Dion O'Reilly has spent much of her life on a farm in the Santa Cruz Mountains. She studies with poets Ellen Bass and Danusha Leméris and attends an MFA program in Creative Writing at Pacific University. A retired high school English teacher, she workshops poetry with her ex-students. Her work appears or is forthcoming in Atlanta Review, Porter Gulch Review, Bellingham Review, Caesura, The Sun, Redwood Coast Review, Existere Journal, Marin Poetry Center Anthology, Cerise Press, and a variety of other journals. Her essay on the death of Michael Jackson was anthologized in the text Goodbye Billie Jean. She is the creator and publisher of the PMS Coloring Book and is currently working on the sequel.

List of Poets


Al Ortolani


UNDER THE DOWNSPOUT

The school building is only
a decade old, its glass and steel
a perfectly squared redoubt under
the prairie sky. The splash block
below the back downspout
is a rectangle of rough rock, sandstone
tugged out of the fill dirt
from the road cut. Someone, tired
of the mud, the jolt of the mower,
the rain hole by the rear door,
took an hour one afternoon
to correct a concrete oversight.
It's like that you know, a person
takes it upon themselves to fix
what others have ignored.
It's not an easy move
to add to a day's labor—a flat rock,
a forgotten nail, a kind word.


Al Ortolani's newest collection of poems, Paper Birds Don't Fly, was released in 2016 from New York Quarterly Books. His poetry and reviews have appeared in journals such as Rattle, Prairie Schooner, and New Letters. His poems been nominated for the Pushcart Prize and Best of the Net, and he has recently been featured on Writer's Almanac.

List of Poets


Donald Paris


POSTCARD TO OUROBOROS

I've been ripping the pages out
of my journal, folding them
in half, drawing smudged lines
down center of them. I pretend
each section is the back of a postcard
from a place I've never been.
I think about who I would write,

family or a friend, perhaps a lover
I've never met. I think about what
to write: " Paris is really something",
"There's a ton of corn in Nebraska",
"Tried alligator, not my favorite."
I close my eyes, tilt my head back,
to try to see anything in the blackness

of my eyelids. All I can ever make out
is myself standing in a gift shop, near
the beach, in the middle of December,
spinning a wire rack with shelves that curl
like a dying spider's legs, watching
the foam of the crashing surf drag
bits of beach back into the ocean.


Donald Paris graduated from Queens University of Charlotte's Creative Writing MFA program. His work has appeared in The Other Journal, Sonic Boom, and Eunoia Review.

List of Poets


Simon Perchik


TWO UNTITLED POEMS

Goes first though once airborne
your reflection changes shape
corrects for turbulence, backs off

breaking up between the mirror
and the faucet kept open
for headwinds lifting the water

to fit with what's to come
–you will never be generous again
–one hand stays wet, the other

held up to stop its likeness
before it rises to the surface
as stone longing to face you

fly into your mouth, breathe for her
say to her the word after word
she will recognize as her name

spreading out for a sea, wings
to put your hands into
and the broken teeth trying to hold on.

*
*

This battered window box
has found an opening
–with a single flower

is taking on the sun
though you use well water
fitting it into its shadow

as if madness needs a corner
for its darkness reaching out
the way your heart was filled

with river noise
that has nothing left to give
–what you hear is the sun

swallowing ice as the antidote
to flower after flower and the mist
from someone breathing.


Simon Perchik is an attorney whose poems have appeared in Partisan Review, Forge, Poetry, Osiris, The New Yorker and elsewhere. His most recent collection is Almost Rain, published by River Otter Press (2013). For more information, including free e-books, his essay titled "Magic, Illusion and Other Realities" please visit his website at www.simonperchik.com.

List of Poets


Justin Rogers


AFTER THE BENEDICTION

The congregation
floods America
like melanin.
Once you go black
you will know God
is a trap–
a bloody bando,
miles of empty lots,
sketchy saints who
use bible as ebonics.

The congregation
floods America & becomes
a bad memory; a relic–
a memorial of broken.

America is the devil,
offers a wealthy life,
a wealthy death.
Melanin is of God,
is pulverized and hung.
What passageways must
melanin underground railroad
to dodge crucifixion?
What kiss does the country need
to know it needs black,
needs congregation,
needs God
to be saved?


Justin Rogers is a poet, educator, coach and venue owner from the city of Detroit, Michigan. Rogers is an advocate for literacy among inner-city youth, and the amplification of Black voices. Still performing around the Mid-West and teaching poetry with InsideOut Literary Arts, Rogers actively shares poems surrounding living and growing as a Black man in America. Rogers most recently has work published or forthcoming in APIARY Magazine, Mobius Magazine, Radius Poetry, 3 Elements Review, and Tinderbox Poetry Journal.

List of Poets


G.B. Ryan


ON FIRST HEARING MARGARET BARRY

They slept eight hours, worked eight hours, drank four hours,
took buses in between, from rooming house

to building site to noisy Irish pub
in Camden Town, and did so every day.

They saw themselves as country lads who did
the heavy work the English could not do.

Noise in the pub died when a small woman
with a bottle of stout, an empty glass

and a banjo made her way to a chair
on a foot-high platform next to a wall.

Some exchanged words with her as she passed by,
most only smiled in anticipation.

She was a Traveler woman and might
have sung at many a rowdy camp fire.

Margaret quieted discordant men
with loud dissonant chords on the banjo.

They might once have heard a voice like hers from
a ring fort or a tumbledown graveyard.

With tattered old songs from another time
her sly rawness brought them back to the fields.


G.B. Ryan was born in Ireland and graduated from University College Dublin. He is a ghostwriter in New York City. Elkhound published his SURPRISED BY GULLS in May 2015. He has work in current or recent issues of eleven publications.

List of Poets


R.A. Samuel


I WALK NAKED

Nights like this I walk naked in darkness.
No really this is not some deep fancy metaphor
that means I'm Faust and I bare my soul for the devil.
(As if he'd take a rot like me.)

Of course not. But you see the road to my house
is a line of sand slithering between grotesque bushes
that gives asylum to mad effusive crickets.

On nights like this when the trees are consumed
in darkness and only those crickets sing; when the
only sources of light are the insects who carry
the burden of light on their backs like priggish monks;
on nights like this I pull down my drawers,
and tear off my shirt.

I scream of what you did for me,
and I, to you. I scream for—and to—you.

I walk naked in darkness,
exposing all my secrets in secret.


SHIELD FROM THE SUN

Finally he gave up his shield from the sun.
His postmortem came out – he died of goodbyes.
Or rather they made him kick the bucket,
literally at first, then figuratively in the literal process.
The poor sailor kicked the bucket!

We say kick the bucket to give the dead some power.
Life is the bucket then, I suppose?
Kicked by the bucket is more like it.
I mean, it's not like we leave on our own accord;
cruel earth, making us cruel ourselves.

Or maybe we're the bucket. So it is we who kick ourselves.
Makes more sense, I suppose.
Samuel kicked the Samuel. A soul kicked the body.
His soul kicked his senses.
Rotten soul – rotten rotten soul.

I know these walls and these walls know me.
I remember this air and this air remembers me.
Home, my brother, is where the rat is


R.A Samuel is a writer of prose and poetry from Ibadan, Nigeria. Find him on twitter @rasamuelng or @rajiasamuel.

List of Poets


E.B. Schnepp


WHERE IS THE LAMB?

I'm carving mona lisa man
into wooden benches, wanting to leave you,
your impression somewhere new.
One snowy day in April I want you to stumble
upon it, want you to know

belief won't fix bruised rope wrists
or the way I know tonight I'll see your face,
the knife in the shadows of a crescent moon curl,
wonder when spring will pop from slush piles and find you.

My tongue tastes like sacrifice,
will you question where this came from,
or will you recognize me? The unconscious signature,
the familiar scrape of metal on wood—

it's not like you haven't seen it before,
scrawls you taught me to make
in the middle of dive bars, walls held together
by sharpie marker calligraphy; but

I never asked to be a miracle,
for a stone and blade ablution—how
can I make offerings now that I've been the beast
struggling against altar ties, even
as you command me—be still.


E.B. Schnepp is a poet hailing from rural Mid Michigan who currently finds herself in the flatlands of Ohio with an MFA in Creative Writing from Bowling Green State University and a bad procrasti-baking habit. Her work can also be found in Crab Fat, the pacificREVIEW, and Paper Nautilus, among others.

List of Poets


Sharon Scholl


LOVE SONG

You speak in masks,
I in veils,
meaning, faceless
rising here between us.

You speak in silence,
I in bells.
We link in one
reverberating stillness.

You speak in stones,
I in birds,
tethered and anchored
in our coupled hovering.

You speak in darkness,
I in light,
gray washing through us
like a dawn.

You speak in someday,
I in now.
We dance upon the threshold
of tomorrow.

You speak in substance,
I in guess.
Love sprouts in the crevices
of words.


Sharon Scholl is the usual retired professor who finally has time to write. She has the usual publications (Clementine, Cahaba River Literary Journal, Heron Tree) with several collections: Message on a Branch (yellow jacket Press) All Points Bulletin (Closet Books). A practicing musician, she maintains an extensive website that gives away music free to small, financially struggling groups. Otherwise, she serves on too many committees and boards and has a growing allergy to meetings.

List of Poets


Finola Scott


MATRIX
(after Firmament by Antony Gormley)

Hold fast
get a grip
each hollow cell grasps each
fears the gaps, the confined
spaces
that can't be bridged, clutch
at top
soil
Metal filaments shine
Fragments take strength
from neighbours

All angles, different faces,
find their core
deep
Distance defines
breast to mouth to mouth
kneeling to suck
earth
connected and separate
The sum greater


MATRIX was previously published at Jupiter Artland.


Glaswegian Finola Scott's poems and short stories are widely published in anthologies and magazines including The Ofi Press, Hark, The Lake. She is pleased to be mentored this year on the Clydebuilt Scheme by Liz Lochead, Scotland's Makar. A performance poet, she is chuffed to be a slam-winning granny.

List of Poets


David Spicer


BOILERMAKERS & SQUASH

Hitchhiking, I met Charlotte Lincoln,
a blonde beautician, waitress, and owner
of the coffee shop The Blue Riddle,
who rode a Harley and yelled, Climb on,
cowboy, reminding me to bite
my lip after road bumps if I didn't
want a tickle of my ankle by her
boot. In The Blue Riddle, wearing
a black satin kimono with seashells,
giraffes, and butterflies, she joked
with truck drivers and lawyers
that she, a picky virgin of 39, wouldn't
date just any mongrel. This alcoholic
angel assigned me to the push broom
before I could loll around too much,
let me rent an upstairs room as long
as I shaved every day without cutting
myself, and each morning I emerged
without a scratch, mumble, or whine.
I hummed as I swept the sidewalk,
worked until closing time when Charlotte
and I guzzled boilermakers, collapsing
after we discussed the virtues of butternut
versus crookneck squash, the concept
of God as colored gravel, the knowledge
that we were the other's asylum.


David Spicer has had poems in The American Poetry Review, Gargoyle, Mad Swirl, Reed Magazine, Slim Volume, The Laughing Dog, In Between Hangovers, Easy Street, Ploughshares, Bad Acid Laboratories, Inc., Dead Snakes, and in the anthologies Silent Voices: Recent American Poems on Nature (Ally Press, 1978), Perfect in Their Art: Poems on Boxing From Homer to Ali (Southern Illinois University Press, 2003), and A Galaxy of Starfish: An Anthology of Modern Surrealism (Salo Press, 2016). He has been nominated for a Pushcart and a Best of the Net, is the author of one full-length collection of poems, Everybody Has a Story (St. Luke's Press, 1987), and four chapbooks. He is also the former editor of Raccoon, Outlaw, and Ion Books. He lives in Memphis, Tennessee.

List of Poets


Susan Castillo Street


TARANTELLA

We walk down to the village
and into a different world,
six ladies of a certain age,

stroll through a rainbow arch of neon light.
Crowds swirl. A circle forms.
The men and women grab our hands

and sweep us in. We whirl
in tarantella wheel,
feel the percussion in our bones,

throw caution to the winds,
bare pale white necks to grinning moon,
reach avid for bright bursts of stars.


Susan Castillo Street is Harriet Beecher Stowe Professor Emerita, King's College, University of London. She has published three collections of poems, The Candlewoman's Trade (Diehard Press, 2003), Abiding Chemistry, (Aldrich Press, 2015), and Constellations (Three Drops Press, 2016), as well as several scholarly monographs and edited anthologies. Her work has appeared in Southern Quarterly, Prole, The High Window, Ink Sweat & Tears, Messages in a Bottle, The Missing Slate, Clear Poetry, Three Drops from a Cauldron, Foliate Oak, The Yellow Chair Review, and other journals and anthologies.

List of Poets


Simona Sušec


THIS SEASON'S PARIS WEEK OF FASHION POLICE MUST HAVE A DRESS CODE

You wear your tattoos as clothes
you won't have to shower naked ever again
you have your sunburn to hide the raw
too fleshy not enough picturesque
you lose weight
but then you gain weight to hide the veins

you bodybuild just like you build your wardrobe
you wear makeup
like a lady at the counter wears an evening dress
powder is a matter of manner for a lady
just like dust is a manner of a tramp
you say you wouldn't give money to a rich classy tramp

surgery is a uniform
meaning is a clothing
race is a dress you wouldn't borrow from anyone
like a white man wearing a black skin shirt
or a black man wearing a blacker skin shirt
as elderly lady drizzles in the rain
the older she gets the more timeless her skin
a fossil in a jar of gelatinous lotions

her soul screams machines
she locks the jar on the inside
you do it too during sex to cover the sounds of flesh splashing around
remember how you stepped away from the car to avoid the crash
painfully shy
you didn't want to unveil your bones
full of dresses we dress up for you to teach us

solidarity with the afflicted
with those who prefer to speak than to show
who wear caskets
who only have one god
whose god is good but weakened
as if not fertile enough to make himself a stylist


Simona Sušec is a PhD student of philosophy in Ljubljana, Slovenia. She is taking her first steps in writing poetry in English.

List of Poets


Sharon Svendsen


I LOOK UP AND SEE RIPE RED FRUIT

As I reach up to pick
finches scatter, fly
from my mother's
dead voice:
Those are mine.

No.
I own my own roots.

My tree has more apples
than she ever dreamed of,
and songbirds pluck
hairs from my hairbrush,
weave them, crown-like,
into golden nests.


Sharon Svendsen's work has been published in Feathertale, Descap, Spank the Carp, Bellowing Ark, The Long Story, Atrocity, and many other periodicals and anthologies. In the past, she ran two reading series, and until she ran out of funds, she was publisher and poetry editor of HA! a humor magazine, and head of Writers' Haven Press which published two poetry collections and several booklets of winners from Writers' Haven contests.

List of Poets


Josette Torres


AUBADE FOR OUR ISLAND, THREE HOURS WIDE

We lie on sand of Egyptian cotton, the sea before
us lust colored. The beaches are cupped in our hands,
swells of my hips traced by our fingers slowly drying
in the air. We lie across this sand in parallel to our lives,
hovering in neutral space. Your shore leave ends
in the afternoon, while I have days to go in this storyline.
Your hands have spread apart the unexplored territory
of white space, created an archipelago of marks on my arms
and breasts. Now we're in the falling action. Arrange your driftwood
on my back. Dress me in pearls plucked from the waves.
I don't ask for souvenirs to take back with me. You rest next
to the trunks of my thighs as we return to ourselves,
as the conversation ebbs and speeds up, crashes over me
too quickly to grasp. We lie in a secret cove not on any maps
they'll ever see. We're due in the port of the daily grind soon
but not yet, not yet.

In the cab to the mainland, the dawn's radio plays melodies
of a lover's lament at separation. I ask the driver to crank it.


Josette Torres received her MFA in Creative Writing from Virginia Tech. She also holds a BA in English and Creative Writing from Purdue University. Her work has previously appeared in Star 82 Review, escarp, The New Verse News, and elsewhere, and is forthcoming in Poetry Breakfast. She is currently a doctoral student in cultural thought in the ASPECT Program at Virginia Tech.

List of Poets


Jerry Vilhotti


EAT THIS HOTDOG

One dazzling piece of revenge — among many — The Great Fornicator Zeus displayed on the Red Sockers for trading the next great fornicator "The Babe" was the day he had Buckeye "The Pentagon Denter" hit a Homer over the "little league" pop up green monster to win the game and send the Yangees to the World Serious to face the other league's winner before the owners decided to water down the great pastime; allowing many many teams to qualify for playoff positions; perpetuating the long season to almost collide with Thanksforthegiving holiday known as national turkey day as fanatics kept shelling out their meager earnings – three dollars below what they deserved and no heath care if they became sick for God loved them making so many of the dying of hunger people keeping afloat raw capitalism eating Thanksgiving day all up except for the scraps that the unwashed masses could devour with their dirty dirty fingers. END


Jerry Vilhotti [email protected] has had two collections of works accepted by a publisher: Gods Depicting Pastime which has the Greek gods discovering a game once played by people – who plastered their bodies with empire blue to be one with the sky and tried to figure out what the tic infested thing was about, and the second collection, Specs in the Eyes of Seeing that follows a little boy's journey from childhood to manhood.

List of Poets


Guinotte Wise


EMERGENCY LANDING

I waved them off, the balloonists
with their zigzag rasta colors
my horses are spooked even by
umbrellas we found out by pasture
walking in the rain. She wore yellow
boots like Christopher Robin
stamping in the puddles.

They landed anyway, laughing
and shouting, waving a bottle
and clambering over the
wicker sides, one woman
dropping her shorts and peeing
there, a man hosing down the
lespedeza and cactus weed
two others watched from
the rasta machine, the
man zipped up said I
just can't piss over the side
and he gestured back
the woman looked around
said me neither and almost
fell, laughing, squeaking
nice to meetcha she
tried to say, went to laughing
again, a man in the rastaball
said you'll pee your pants
and she went to her knees
still waving the bottle and
the other man said here?
right here? and moved
toward her and a dragon's
roar of rastafire must have
come from the basketed couple
and amid the noise the more
incontinent two climbed
awkwardly back in and rasta
rose. Shouting. Laughter.
the rastaball grew small
drifting to the quiet east.
My horses watched from
the treeline, eyeballs out
on springs no doubt, and
trembling like old motors


Guinotte Wise lives on a farm in Resume Speed, Kansas. His short story collection (Night Train, Cold Beer) won publication by a university press and not much acclaim. Two more books since. His wife has an honest job in the city and drives 100 miles a day to keep it. Books: here Art: here

List of Poets


Catherine G. Wolf


UPON MY DIAGNOSIS

The Halloween hurricane took me by surprise,
upending sturdy oaks, their angry branches
grabbing at me while I shivered on the phone.
The blue spruce surrendered without a fight.

Rivers welled up, overflowed their banks,
lapped at my furnace. Raindrops on my roof
sounded like God spitting bullets, no–
more like an army of angels with chainsaws.

The wind roared round my home like a tyrannosaurus
on a rampage, gnashing its teeth looking
for someone to eat.
Is it ironic that harm is part of harmony?

The hurricane ate up power in wide swathes,
leaving me in a midday eclipse of
the sun. My cell phone ceased its celestial
glow, and all went mute.

The air acrid with ozonic fear. The ocean
whipped into unrepentant meringue.
Mother Nature became a whore.

When the blood-shot eye of the hurricane arrived,
I almost relaxed, but in the distance,
I heard the sound of children sobbing.


BUTTERFLIES

He was 13 and did not step on cracks and sometimes
talked to cats because cats did not demand
attention like dogs. He knew everything about
butterflies, different species, what each one ate,
where they lived and their peculiar mating rituals
for he was not to mate. He could tell a Monarch from
a Painted Lady like other kids could tell Superman from
Spiderman. He would launch into long Lepidoptera
soliloquies staring at his shoes unaware of the listener's wish to
fly away. He could recite all the palindrome dates of the
century. His classmates called him "freak" and "faggot"
and he was picked last for kickball for the ball seemed
unpredictable as a mosquito. How could he kick a mosquito?
Sometimes he took his antidepressants, sometimes hid
them in his socks; thinking, thinking of a future day.
His bedroom window faced south and light bullets
were too blinding for him so he moved to the
basement, preferring moldy dark to light. There were
moans and bangs for his tongue felt too big for his mouth,
and when he bit his tongue he had to bang his head
against the wall to make the pain stop, sometimes sobbing.
I don't know how the six live Monarchs with fire-orange
wings got on his silent chest or why a painting of a
black butterfly with huge proboscis was on the ceiling.
Or what the words on the note on his desk meant:
But did it matter?


Catherine G. Wolf studied language development in graduate school, and was fascinated by this unique human ability. In 1997, when she was stricken with ALS, also known as Lou Gehrig's disease, her ability to speak was taken away by this disease. She found poetry had a special capability to express her innermost feelings. By losing her physical voice, Catherine found her poetic voice. She always enjoyed dancing, and now dances with her eyes. Catherine has twelve published or to be published poems, including six in the 2016 Rat's Ass Review edition of Love & Ensuing Madness, one published in October 2016 in Front Porch Review and one in the 2015 spring issue of the Bellevue Literary Review. She writes blogs and articles about living with Lou Gehrig's disease. Now Catherine uses assistive technology to communicate, and raises her right eyebrow to type. She is studying poetry at the writerstudio.com. For other work by Catherine in Rat's Ass Review, go here.

List of Poets


Robin Wright


WHILE EATING BREAKFAST AT CRACKER BARREL

A bald man fastens a bib
around a woman's neck, smoothes

her white hair back into place.
The long black bib covers her.

Small white dots adorn it and remind me
of rosary beads I prayed with as a child.

He sits down across the table, laces
his hands in hers, bows his head.

I practiced that kind of religious gratitude
when nuns enforced folded hands and chapel caps.

The man lifts his head but holds the woman's hands
until their server delivers food.

She reaches for the plate, but he pulls
it away, cuts the omelet into small pieces.

She nibbles without help. He watches,
wipes her face when food settles on her cheek.

He breaks off a wafer of biscuit,
holds it to her mouth, places it on her tongue.

Sister Mary Joyce would have approved
of this scene. Sister,

whose job it was to teach
first graders to be holy.


Robin Wright's work has appeared in various literary journals, including Rat's Ass Review, Quatrain.Fish, Foliate Oak Literary Magazine, and Amarillo Bay. Two of her poems were published in the University of Southern Indiana's 50th anniversary anthology, Time Present, Time Past. She has also co-written two novels with Maryanne Burkhard under the name B. W. Wrighthard, Ghost Orchid and A Needle and a Haystack. For more of Robin's work, go here.

List of Poets


Gareth Writer-Davies


YUKO'S BOOK

reading from right to left
words are flags

turning the book
characters become skyscrapers

when I saw Yuko write her name
her hand

was precise
like a bird in a holly bush

I opened the book
and out came a receipt from a supermarket

which showed in great detail
the foods that Yuko and her husband like to eat

I have made notes
on the many blank pages and sent them to Yuko

she says they are very interesting


ASH

when it is time
for my reduction, to a metal joint and a bucket

I shall be five pounds
and three ounces

this is an average
but I have small bones and fat is propulsive

not too heavy
to be scattered upon the Teifi (measured, by the eye rather than a spoon)

and what is five pounds
when thrown upon the density of water

leaves
shaken by the east wind and drowned in the river

a gesture
for those gathered (not the attenuated)

so bury me
in the roots of the ash tree (amused by the apposition)

water
is soon forgotten

but a tree
grows new, a canopy of three hundredweight


IN BED WITH GRAHAM GREENE

though I have read many of his novels
and admire his prose

I did not suppose
that I would end up in bed with Graham Greene

between the covers
he is teaching me a thing or two

short phrasing
the cogent imagery of cocktails on a termite chomped verandah

I have to hand it to him
in an almost facsimile of modern manners

he asks for nothing
then ties me to the bedstead

I did not suppose
that I would end up in bed with Graham Greene

and that
(as always) is the heart of the matter

seduction starts with words
ends on white sheets of paper


Gareth Writer-Davies was Commended in the Prole Laureate Competition in 2015, Specially Commended in the Welsh Poetry Competition and Highly Commended in the Sherborne Open Poetry Competition, shortlisted for the Bridport Prize and the Erbacce Prize in 2014. His pamphlet Bodies, was published in 2015 through Indigo Dreams and his next pamphlet Cry Baby will be published in 2017. See more by Gareth here.




The Poets


Virginia Archer
Devon Balwit
Ben Banyard
Ingrid Bruck
Giuseppe Martino Buonaiuto
Helen Burke Cover Art
Wendy Taylor Carlisle
Rachel Caruso-Bryant
Alan Catlin
Jan Chronister
Ars Cogitanda
Corey D. Cook
Joe Cottonwood
Pat Edwards
Monica Flegg
Robert Ford
Adele Fraser
Bill Frayer
Majda Gama
Patricia L. Goodman
Beverley Harvey
George Held
Robin Helweg-Larsen
Justin Hilliard
Oliver Hutton
Nancy Iannucci
Craig Knox
Robert T. Krantz
Sarah Krenicki
Nadja Krylov
Louise Larchbourne
Mary Leonard
Laura Lovic-Lindsay
Sean Lynch
Maggie Mackay
E.V. McLoughlin
Corey Mesler
JBMulligan
Terri Muuss
Dion O'Reilly
Al Ortolani
Donald Paris
Simon Perchik
Justin Rogers
G.B. Ryan
R.A. Samuel
E.B. Schnepp
Sharon Scholl
Finola Scott
David Spicer
Susan Castillo Street
Simona Sušec
Sharon Svendsen
Josette Torres
Jerry Vilhotti
Guinotte Wise
Catherine G. Wolf
Robin Wright
Gareth Writer-Davies


Back to Top


Edited by Roderick Bates
RAT'S ASS REVIEW FALL-WINTER ISSUE 2016 ALL RIGHTS RESERVED