". . . you must protest you must protest
it is your diamond duty
ah but in such an ugly time the true protest is beauty"
So wrote Phil Ochs in the liner notes on his 1967 album Pleasures of the Harbor. With that prescience which artists often display, Ochs could as easily have been speaking to us today as to those LBJ-era protestors who were making Vietnam the political issue of their time.

And following Ochs' lead, Rat's Ass Review spent the first 100 days of the Trump presidency accumulating beauty and speaking artistic truth to ugliness. Not that beauty meant smiling myopic ignorance; our poets met dark times with dark works as well as light ones. But these poems hold out the hope the arts have always offered – that the best of human effort can go on, and in fact must go on, even in such an ugly time.

Poems were posted in small groups as they came in. For a complete list of poets, go here.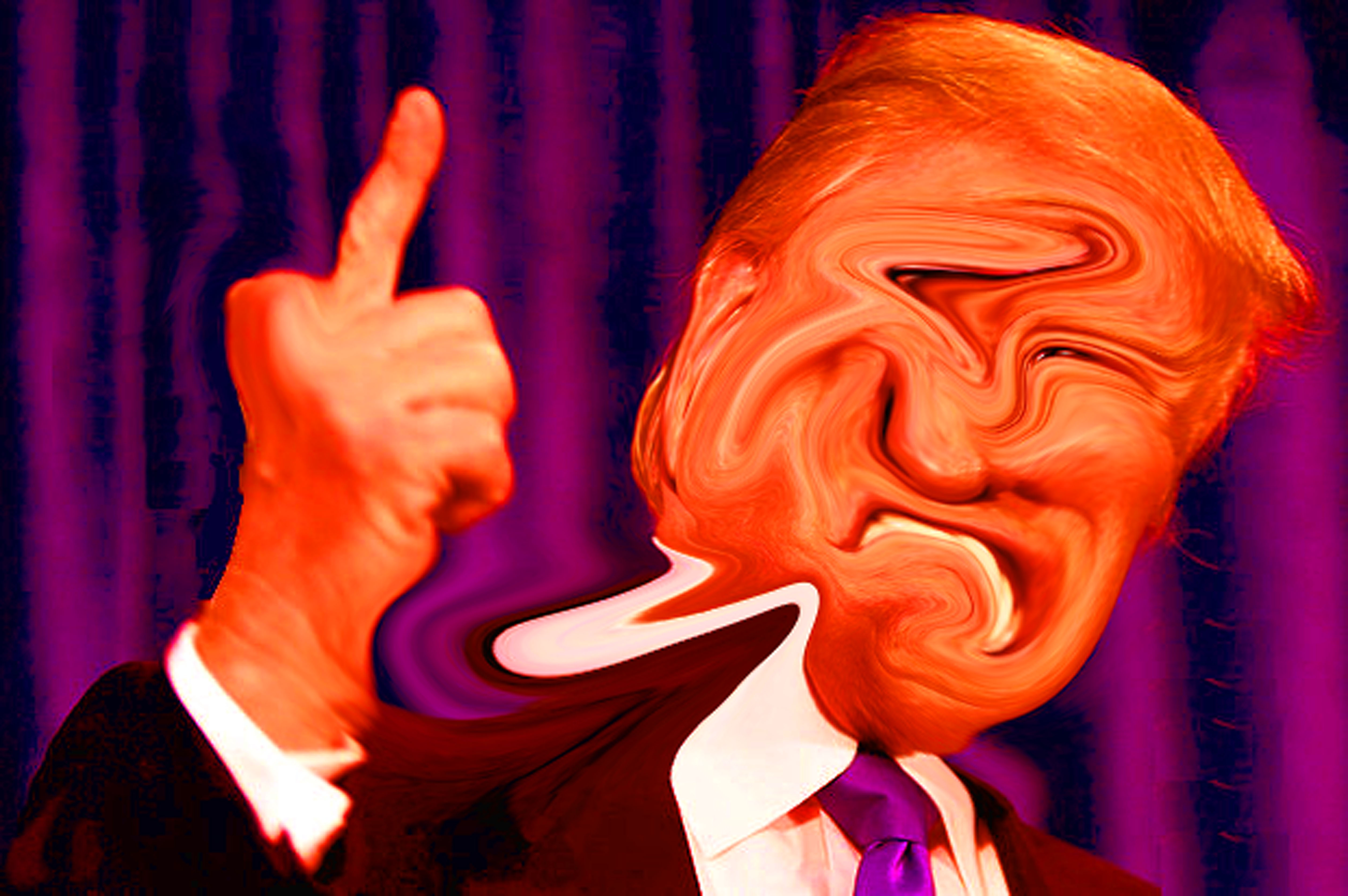 TRUMP FACE by Mark Spitzer

Cover Artist Mark Spitzer is the author of 25 books, mostly about fish. He is currently a professor of creative writing somewhere in Arkansas.


Go to List of Poets


Poems posted April 28 to May 1, 2017


Jane Attanucci


BUS STOP IN THE RAIN, JANUARY 2017

No umbrella  her head draped
loosely in a red-print scarf
hijab perhaps I don't know
she checks her app   It's coming
four more minutes
On the crowded bus   we sit
talk together   her job
search   my son teaching
in Germany   her falling
in love in France   his move
to Russia   the election
our fears   her wish to live
nearer to her elderly father


I DIDN'T WANT TO TURN AWAY

as the mother robin,
like mothers everywhere,
like my own— stole each swirling
tendril for her grey-streaked bowl.

Feathers coated in pollen, golden-
green, she sat unmoved,
Spring's wild, whistling gusts
rocking the Andromeda bush.

Yet still I wonder for her brood,
at the emptiness of her nest.
Tell me what you told me this morning …
tell me again and again.


Jane Attanucci has poems published in the Aurorean, Off the Coast, Pittsburgh Poetry Review, The Quotable and Right Hand Pointing among others. Her chapbook, First Mud, (finalist in the Blast Furnace Contest, 2014) was released by Finishing Line Press (2015). She lives in Cambridge, MA.

Go to List of Poets or Back to Top of Page


Joe Cottonwood


GO HOME: AFTER WE DRAG YOU OFF THE AIRPLANE

Because you bought this house
and because you moved in and planted a garden,
you believe that you own this house
but we were under no obligation to inform you
until now that your deed
is actually a license.
We want a more important person to live here.
Under terms of this license we will provide another
house, upgraded, that will be available in a year
or two in a neighborhood where the crime rate
is not as bad as it used to be.
You have the right to volunteer to go quietly.
We're sorry you refuse to leave voluntarily but we're sure
you will understand why it is necessary to break your legs
and throw all your possessions to the street.
Your wife will remain with us
as you have a license of marriage, not an ownership
and she will meet our needs.
It is unfortunate we had to shoot the dog
but we have a right to stand our ground
and the dog, don't forget, was licensed.
You will be pleased to know
the garden you planted will remain.
Later we will send a photo of the beans and tomatoes
your wife has prepared
before we eat them.
Good day.


By day Joe Cottonwood has worked as a carpenter, plumber, electrician for most of his life. Some jobs were pretty; some, shitwork. Nights, he writes. Same split. His most recent book is 99 Jobs: Blood, Sweat, and Houses. joecottonwood.com


Go to List of Poets or Back to Top of Page


Amy Marie D'Apice


GOP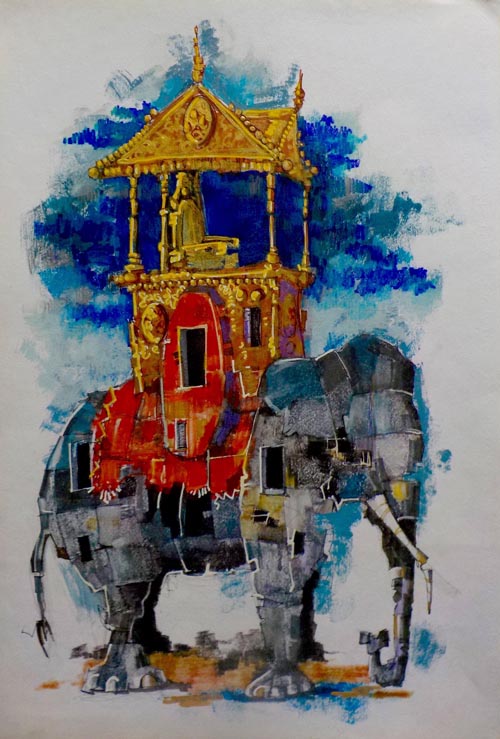 Amy Marie D'Apice is an American painter, writer, teacher, and performer, not necessarily in that order. She has an MFA from the University of Washington. She currently lives and works in Chiang Mai, Thailand.


Go to List of Poets or Back to Top of Page


Anon

THE PROMISED LAND

You began at the bottom of the death pit
born within the bones of dogs and jews
and your first breath tasted like death
and undeserved power
You climbed out as you grew older
understanding the nature of existence:
our own warfare and
how to shoot
to kill.
By sixteen,
you were an expert
in the field of charming destruction
and your lungs filled with dirty glory
that everyone believed you deserved

You unplugged from your roots and flew
higher than any drone or plane;
you grew your metallic wings and
spat out your charm onto cities and towns.
It stuck like black chewing gum
so that the others could not escape
and were buried peacefully
in the ashes of your perfect power.

You ended at the bottom of the death pit
shot in the back of your beautiful skull
with that rosy gun that had made your
mother give you life
where she did
and in return
you gave her death.
You were ended for the 'wartime atrocities'
that life entails
you were ended for killing the mother
that was heavily pregnant
with you
in the midst of the bones of dogs and
all the other jews.


When not writing, Anon enjoy reading poetry, some of her favourite poets being John Donne, Sylvia Plath, Margret Atwood and Arthur Rimbaud. This is her first publication.


Go to List of Poets or Back to Top of Page


John Dorroh


AS GOOD AS IT GETS

I saw him on the news this morning,
addressing the NRA, mentioning
Pocahontas and Elizabeth Warren,
with his sixth-grade vocabulary:

"We have a great tax plan for you
and it's going to be wonderful.
Can't tell you details yet
but you'll be the first to know.
Before I do that,
we have to start a thermo-
nuclear war with that North Korean
dictator… what's his name…
and can you believe that hair do…"

don't believe what you hear and only
half of what you see. He's playing
golf again at Key Mal-grow and no
one ever speaks of his handicap.


The verdict is still out as to whether John Dorroh taught high school science for 30 years; however, he showed up every morning at 6:30 with a plan. He thinks he lost friends when they learned he worked for Bernie Sanders. "Even Rubio looks good now," he said.


Go to List of Poets or Back to Top of Page


Marcia Eppich-Harris


CRAVINGS

I'm an emotional eater.
Sometimes I eat for the experience,
the celebration of bliss.
Sometimes I eat out of the greasy paper bag
of grief.
Today, I want to eat America –
so it will
stop
its
fucking
insanity.

America needs Liberty's womb to nurture it,
and if not a womb, then a stomach
will do just as well.
Perhaps we can solve each other's problems.
I need to be filled like America needs
a reason not to give up.
It needs someone to love it enough, hold it close,
and say, "Don't you fucking give up on me, America."

I like food in America because it's a map of flavor:
Tex-Mex, Chinese, Japanese, Sudanese,
Indian, California fusion, Italian, Armenian,
Greek, and German, hell,
I'll even eat British food
because I'll try anything – once.
Veggie, meaty, frothy, sugary, diversity
lives in America,
melts in my belly and says,
"America, you are so so so so so
goooooood."
See how we get along inside my body, America?

I cannot give up eating or I would die
in a satisfaction desert.
America, if I gave up on you,
meals would never taste like
the honey of that one-page parchment
about being created equal,
succulent
truths, self-evident,
delectable.

For years, I gobbled it up and I think you did too.
See how food equalizes in the body?
See how the combining of flavors does them justice?
We should all be in the Goldilocks zone –
Just.
Right.
But you are peanuts in an allergy-prone world, America.
If we, the people, eat the shit you're serving,
will we asphyxiate all the way to Wall Street?
Your pundits break the skin with their biting,
suck out the Dow Jones Industrial Average
from our unaffordable wounds and spit it away from the
ones who love you for your full-scale menu,
not for your billionaires, America.

America,
be the food that
nourishes me and reassure
the world that it's not over –
not like this –
you're not going out in a Cheetos haze topped with donut-shaped –
née mushroom-shaped – clouds.
No more junk food, America.
The pleasure of a real meal that you cooked yourself
trumps the high-fructose corn syrup
intoxication of power, fame, money,
and demands of
brand loyalty.
Don't betray yourself, America.
Don't fuck with me – cook with me.
There's chicken soup simmering,
enough for me, enough for you.


Marcia Eppich-Harris's writing has appeared in Johnny America, Spelk, The Avenue, So It Goes, Down in the Dirt Magazine, and Across the Margin, where her short story, 'Play Ball,' was chosen for the 'ATM Best of 2016, Fiction' list. Marcia teaches literature at Marian University. Follow her on Twitter @EppichHarris, or for more information, see: meppichharris.com/.


Go to List of Poets or Back to Top of Page


Marissa Glover


2016: THE YEAR THE MUSIC DIED
a cento

Looked through the paper—
makes you want to cry. Knee deep
in the hoopla, sinking in your fight. Hold on,
hold on, my brother. My sister, hold on tight.
February made me shiver with every paper I'd deliver:
bad news on the doorstep; insanity laughs.
Under pressure we're cracking.
Are we rolling downhill like a snowball
headed for hell? With no kind of chance
for the flag or the liberty bell?

It's hard to love—there's so much to hate;
someone's always playing corporation games.
Who counts the money underneath the bar?
Who rides the wrecking ball into our guitars?
We're face to face with the man who sold the world.
As I watched him on the stage,
my hands were clenched in fists of rage.
In the master's chambers, they gathered
for the feast. They stab it with their steely knives,
but they just can't kill the beast.

There are thieves in the temple tonight.
Magnified, sanctified be thy holy name
vilified, crucified in the human frame—
in the streets the children screamed,
the lovers cried, and the poets dreamed.
Wounded skies above say it's much too late;
maybe we should all be praying for time.

Not a word was spoken—the church bells all were broken.

When logic and proportion have fallen sloppy dead
and the White Knight is talking backwards
and the Red Queen's off with her head,
politicians brag about a paperwork solution—it's a system
of survival, future revival, greet the new arrival.
I found out there are no rules to the game.

Turned away from it all like a blind man;
I made it to the forward deck.
I blessed our remnant fleet—and then
consented to be wrecked, a thousand kisses deep.
Love, come quick. Love, come in a hurry.
Dream if you can a courtyard—an ocean of violets
in bloom. All we have to do now
is take these lies and make them true somehow.

But here I am again mixing misery and gin,
sitting with all my friends and talking to myself.
Are the good times really over for good?
Why do we scream at each other?
To the heart and mind, ignorance is kind,
but this is what it sounds like when doves cry.
The rich declare themselves poor
and most of us are not sure if we have too much.
I work very hard for all I could afford,
but I don't pretend for a single moment
that what I get is my just reward.

I'm back in the ring with my boxing gloves on—
all I wanted: something special, something sacred.
Dance me to your beauty with a burning violin.
Dance me through the panic 'til I'm gathered safely in.
I know, I know, I know times are changing—
it's time we all reach out for something new.
Strange fascination, fascinating me,
changes are taking the pace I'm going through.
Love's such an old fashioned word,
and love dares you to care for the people
on the edge of the night. How they dance
in the courtyard—sweet summer sweat.
Some dance to remember; some dance to forget.

I did my best—it wasn't much.
I couldn't feel so I tried to touch. I've told the truth:
Don't you draw the Queen of Diamonds; she'll beat you
if she's able. The Queen of Hearts is always your best bet.
When the night is slow, the wretched and the meek
gather up our hearts and go—hanging on to hope
when there is no hope to speak of.

There's a blaze of light in every word—
it doesn't matter which you heard: the holy or the broken
Hallelujah. Show me the love, the mystery;
take me back to honesty. Come down from your fences—
open the gate. In love we live. In love you breathe.
A bright sunrise will contradict the heavy fault
that weighs you down. Dusk will come with fireflies,
and whippoorwill and crickets call. Life will call
with daffodils and morning glorious blue skies.


Marissa Glover teaches and writes in Florida, but she isn't to blame for election results. Her work has appeared in The Opiate and Sandhill Review and on her parents' refrigerator.


Go to List of Poets or Back to Top of Page


Beth Gordon


FINAL EXAM

No longer able to look and know, the physicist
diagnosed with advanced dementia deconstructs
the clock into three distinct
intersections, where the longest hand is the least
important. Show him a child's picture book with instructions
for reading analog time and he will falter, consider
the circle, it has no place here. His wife
watches his lips, his tongue, resists the urge
to blurt out the answer. He says that losing his ability to tell time opened
another door, a parallel alternative, don't feel
sorry for me, I know more than I used to know. He turns
his gaze to the small-screen television, the President
he cannot identify (1970? Richard M. Nixon?), the words:
chocolate cake, build a wall, alternative
facts, destroy his hard-earned peace of mind. The paper
and pencil thrown across the room, he turns
on loved ones and examiners like a foul-mouthed, feral
child, the open door disappears.

The smallest hand is the most important, that is where
he must restart, then add a layer in parcels of 5, then add another
in parcels of 60, then he can tell you that it is one forty
P M on a Tuesday in 2017. The long skinny hand is moving too quickly
for him to keep up. The television is blank and silent. He looks
up from the golden watch face on his wife's
tiny familiar wrist.


Beth Gordon is a writer who lives in St. Louis, Missouri. She received her MFA from American University a long time ago. Her work has recently appeared in Into the Void, Calamus Journal, Slink Chunk Press, Five:2:One, Barzakh, and others.


Go to List of Poets or Back to Top of Page


Carole Hall


ON BAGHDAD STREETS

In Baghdad town please close the door,
Lay down your weapons on the floor.
Hold out your hand with palm upheld,
All thoughts of war are now repelled.
No more, no more, you all are one,
Take up the cry, this war is done.

And so we wait on Baghdad's streets,
We watch the march of sandaled feet,
The soldiers of a hundred wars,
Have been this way a thousand more.
And nothing gained but bloodied sand,
In this poor, scorched, beleaguered land.

Bring home the sons you bravely bore,
Turn back the armaments of war.
There is no torch to pass along,
No need to raise a victory song.
Too many dead on hell's foreign ground
Let my sweet child be homeward bound.


Carole Hall is the author of NAIROBI BLOODSTAR published in print and e~book by Mélange Books Inc available at Amazon, Lulu and Smashword, June 2015, and an e~book KILLING AT THE WHITE SWAN INN published by Winter Print 2011; this book will also be in print July 2017 by Melange Books.

Her novel AN INTERRUPTED LOVE STORY is due out early 2018. She has 14 short stories published in various magazines, and poems in Hot Summer Nights (2014) and in NO, ACHILLES (2015)


Go to List of Poets or Back to Top of Page


Erica Hoffmeister


YOUR MOTHER'S WOMB

I did not go through 43 hours of labor for this

My mother did not battle through 7 births without medication for this

My grandmother did not get strapped down to a sterile table in Honolulu, her legs and arms stretched over hooks for dissection as the doctors dislocated the shoulder of her eldest son to
forcibly remove him from her bruised body with a cold metal for this

My great-grandmother did not endure a homebirth in the back woods of Missouri underneath
a sweet, but incapable alcoholic who lined his pockets with tobacco and hers with fine jewels for this

Now—this is reclamation of our uteri,
our mothers' and sisters'
that have carried so much heavier loads
than our menstrual blood

Our bodies have housed more than children,
though we find our strongest battles are
fought with the children's children of stronger
women than us—strong women
like us

Who understand the difference between consent and
dissent, whose wombs are ours to retreat to
when there are no more safe spaces to occupy,
when there is no one else to struggle or fight for two days straight
hooked to machine and midwife
so my daughter could read in history books
about the year she was born
learn about the elected leader of the free world, how
even he has forgotten the
importance / beauty / safety

strength that existed
in his
mother's womb


Born and raised in Southern California, Erica Hoffmeister earned her MA in English and MFA in Creative Writing from Chapman University's dual degree program in 2015. She has had work published in So To Speak, Split Lip Magazine, Rat's Ass Review, and Shark Reef, among others. She was also a runner-up for the Janet B. McCabe Poetry Prize in 2016, and received an honorable mention for the Lorian Hemingway Award for Short Fiction in 2014. She currently writes and lives in Denver with her husband and daughter, Scout Séverine, where she teaches English and literature courses, blogs, and constantly misses the ocean.



Go to List of Poets or Back to Top of Page


Summer Jones


THE NOTORIOUS RBG

God save the queen,
someone tell Ruth, ma'am,

I am more than willing to personally donate
whatever organs she may need
to keep "full steam"

Ma'am,
we need that better day

Summer Jones is a poet, writer, and general loudmouth. Jones gleefully left Indiana to live in Seattle, WA, and is enrolled in SCC.


Go to List of Poets or Back to Top of Page


Richard Kenney


BANNON'S WHICH?

Commander is royally rich,
Rex of rococo and kitsch,
and though King of his litter
and Titan of Twitter,
in the White House, he's Steve Bannon's person.


Richard Kenney's most recent book is "The One-Strand River" (Knopf, 2007). He teaches in Seattle.


Go to List of Poets or Back to Top of Page


Robert T. Krantz


VAGRANT

these boxcar doors slide
open with great clamors
of fear and trembling
shake our cups
spilling brown coffee onto pine pallets—
we dream generous portions
of flaked biscuits and gravy
at the diner in the town up ahead
Baxter smiles when the first burst of light
peaks over the northern plain
just in case


Robert T. Krantz graduated from the University of Akron, OH with a BA in English. His individual works have appeared in Gargoyle, Wilderness House Literary Review, Pittsburgh Poetry Review and others. Bitterzoet Press recently published two chapbooks of Robert's work Plus 4 and Hansel and he is currently pursuing the MFA in Poetry at University of Arkansas-Monticello. He makes his living as an industrial sales engineer in the Midwest.


Go to List of Poets or Back to Top of Page


Diane M. Laboda


THE SKINNY

tell the truth skinny
tell the truth fat
make it whole, fair
nothing but, swear to it

find your truth
wear it naked
zipped up in candor
redress your heart

tell it random
tell it slant
puff it, plot it
down to the brass tacks

seek the gospel's
golden rule
read to the bottom line
uncover frankness and faith

curry horse sense
bridle fact
take you dogma
for a walk

on your honor
heart on your sleeve
pack your scruples
don't look back

Diane M. Laboda has published poetry, short stories and articles in Huron Winds, Watermark, Lighter Breezes, Project Grow's Community Gardener, Crash online literary magazine, Third Wednesday literary journal, Current Magazine, WCC's E-Link, Washtenaw Voice, OP/T Connection, Gallery One Colors & Voices diversity exhibit, The Huron River Review issues 1-15, Blood Orange, The Big Windows Review and Poetry Club anthologies. She has published two chapbooks: Facing the Mirror and This Poet's Journey.


Go to List of Poets


John Laue


BEING HUMAN

In spite of it all —
murders, rapes,
brutal terrorist attacks,
endless wars, exploitation
of the planet and her resources,
overpopulation, starvation—

In spite of the much discussed
progress toward human evolution
which may not be true;
and the fact that all of us endure
with great symbolic swords
perpetually above our heads —
I give thanks.

While the world situation
rolls on like a juggernaut
toward possible extinction,
I take what comfort's granted,
stretch it like a finite food supply,
strive to heal my wounds,
triumph over horror.

I have no right to satisfaction
(Nero fiddled while Rome burned),
yet rays of light can bring relief
from oppressive charcoal skies.
And sometimes when I least expect it
happiness breaks over me,
a cresting wave.


John Laue, a former teacher, editor of Transfer and Associate Editor of San Francisco Review has five published poetry books to his credit plus one of prose, The Columns of Joel Mobius, a guide for psychiatrically diagnosed people. He presently coordinates the reading series of The Monterey Bay Poetry Consortium and edits the online magazine Monterey Poetry Review. In addition to writing, he interviews artists, writers, and therapists for the local TV series Descendants of the Imagination.


Go to List of Poets or Back to Top of Page


Sherry Leonard


DAILY BRIEFINGS

FOX News
for the conservative
view of his tweets.
Then Breitbart News
to confirm how white
he is and why that's good.
Next, the National Enquirer
with stuff
that is very very true.
Breakfast with
Reinz and Kelly Ann
to confirm it all.
Look for Melania
for a worshipful peck
but she's wisely
in New York.
Not a book,
not a paper;
who needs those?
He knows more
than all his advisors,
handpicked to agree.
Mr. President,
is ready
for his day?


Sherry Leonard is a retired University Professor, 30 years in the Department of Psychiatry, University of Colorado Medical School, Denver, CO. As a molecular neuroscientist, she studied nicotine addiction at the molecular level in both normal and mentally ill smokers. She moved to Grand Pass, Oregon two years ago to be near family. Her oldest son and his family live there and her youngest son is in Chico, CA, 4 hrs away. She has published 130 scientific papers, but is writing fiction and poetry now, has completed one novel and started another, but write reams of poetry. The Trump Poems just come out; no Obama poems!


Go to List of Poets or Back to Top of Page


Michael H. Levin


AFTER DAVID

Where is my consolation
boiling sky? Your lightning lashes
while my griefs accumulate.
Your thunderheads roil outside
and within my head, a jumbled
image of confusion. The
rod is splintered, and the staff
points aimlessly in mute direction.

That table you valet'd is
littered with stale vows, gnawed
rinds pecked clean by crows.
If nourishment's to be it must
arise internally. I'll compass
up despair and hive on till

windblown horizons and fresh
harp strings ease my storm-dazed eyes.


WANNSEE (III)
(A Fable)

Adolf has a theory
he shares it with his dad:
the biome is declining fast
it's scheming Jews, infected bad;
only blood can cleanse the globe
the Volk must nail them to the mast.
His father laughs and kicks him out.

So roundabout and roundabout
and roundabout he goes: behind
the army's Prussian gray, cropped
business barons in their stone estates
odd remnants of "und zu's" and "vons"
scarred veterans who deny defeat
detesting change in any form.
He senses they'll be glad to play.

Retrench! – Inflation is resolved.
The U.S. lends firms megabucks.
Versailles defanged, the nation booms
a volkisch grace seems far away.
He heads a comic coup, dictates
a rambling book from jail. Prosperity
is poison fruit — the Party shrinks.
He packs up lederhosen, buys
a double-breasted suit.

Then roundabout and roundabout
and back around he goes — revising
planks and terms and rules; conducting
minor purges till he's sharpened all
those tools. Revisiting the barons
in a modulated tone, and churchmen
wringing hands, distressed by
godless nudie shows. He promises
all vanished things, each woman in
her place; he pledges to

de-liberalize. He shouts he'll make
each German great, restore a fearsome
glorious state. The strippers strip
the nightclubs mock. The steps he takes
just make things worse — hypocrisy
sells far less well than hate.
Frustration is a foaming beast.
It earns him café nicknames like
"that carpet-chewing freak."

So roundabout and roundabout
and round again he turns, attending
to the ashes where he hopes a coal
still burns. Depression rides to rescue
when the U.S. loans come due — as
streets fill up with misery, despair
becomes his glue. Maneuvering through outcrops
like a bottom-feeding eel, he scores
a pile of banknotes from supportive zillionaires
acquires a plane to speed campaigns,
pin-striped attire, a manufactured style.

He's featured in a Life piece
on the decorative arts
and quoted daily in the news
as pleased to do his part. A bloated S.A.
reappears. He rises to respected
heights – still never wins the vote.

So roundabout and round he goes
as governments collapse
and offers up some cobbled swill
to unify the land. Appointed
because sponsors think he can be made
to blink, he waves triumphant
from that Chancellor's sill.

The New Age is at hand.


MICHAEL H. LEVIN is a lawyer, solar-energy developer and writer based in Washington DC and Menemsha MA. He has published in Harvard Magazine, the Wall Street Journal, Adirondack Review, Poet Lore and other periodicals plus several anthologies, and has received numerous poetry and feature journalism awards. His collection Watered Colors (Poetica Publishing) was named a Best Book for May 2014 by the Washington Independent Review of Books.


Go to List of Poets or Back to Top of Page


Kyle Liang


REPEAL AND

somewhere
another child
is born
without feet
while
an expecting father
whispers
to his wife's doctor
that he wants a son
who can pitch
a baseball
one-hundred & twenty
miles per hour
& strike women down
with just one look
of his piercing
blue eyes


Kyle Liang is an Asian-American actor, playwright and poet. His play "Field of Trees" recently premiered on The Barrow Group stage in New York City for the 2017 New Play Festival. Kyle serves as Co-Editor-in-Chief of Montage and his work has appeared in Theories of HER, Spillwords Press, Cold Creek Review and the forthcoming issue of First-Gen Voices. He will be graduating with an MHS in Physician Assistant studies from Quinnipiac University in 2019.


Go to List of Poets or Back to Top of Page


Bruce Marsland


AN ANGRY LETTER THAT I'LL NEVER SEND

Outraged.
Yes I'm so outraged that I'll pen
an angry letter that I'll never send.

Ex-lover scorns me,
says bad things and leaves. To her,
an angry letter that I'll never send.

Dog poop piles outside,
it's time to write the town
an angry letter that I'll never send.

Mass protests
on my television screen,
placards decry

oil spills in rising, lapping tides of change,
wars on the poor in dusty foreign lands,
a mass extinction, or the sixth I hear,

profit on poison in my pies and beer,
cash for politicians grabbed in pussy hands,
health care reduced until we're all deranged.

I will resist,
I'll do my part right here:
an angry letter that I'll never send.


THE MYTHOLOGY OF BEASTS

Scientists lately say ostriches keep
their heads out of the sand,

though I know some pre-post-truth shrink wrote
a false diagnosis of avoidant behavior,

while superior, non-avoidant humans,
on the other hand, bury their young

in the blood-drenched
deserts of war, or

cremate them in the heavy
fire of police ammunition.

Illusion and delusion.
What world is it where words like

'black lives matter'
constitute a controversial hypothesis

and suggestions of peace
are deemed a threat to national security?

This is not the fault of the ostrich.


Bruce Marsland is the author and editor of several works on language teaching, most notably 'Lessons from Nothing,' published by Cambridge University Press. Born and raised in the United Kingdom, he has also worked in Finland and Bulgaria. Since 2012, he has been living in the USA, self-employed as an editor and writer. He has performed at 'Poetry & Jazz' in Helsinki, and was winner of the Sentinel Literary Quarterly Poetry Competition, February 2016.


Go to List of Poets or Back to Top of Page


Elizabeth Martin


SUNRISE

"No matter what happens, the sun will rise in the morning."
— President Barack Obama

When he promised the sun
would come up again,
he forgot to mention it would also set –
for every dawn there is a price to pay
in long winter nights so dark
and overcast that not even stars
break through, and the moon
is a distant dream from lovers' songs.
We want to believe in sunrises,
we look for messiahs,
but forget they demand
we join them on their crosses –
the wood where redemption meets coercion.
We are on our own here –
we must save ourselves
while we still have daylight,
while the last rays slant
across the fields, the streets,
the pages, our floors –
before the sun sets
before the dark closes in
before we are alone in the night.


Elizabeth Martin lives and works in a small city in the Rust Belt. Her poetry has appeared in The Huron River Review, The Bear River Review, American Scholar Magazine online, the anthology of winning poems of the Chelsea Poetry Contest (Laura Kasischke, judge) and in the permanent art collection of Washtenaw College.


Go to List of Poets or Back to Top of Page


Margaret Parker


WAR ON VIOLENCE

Lonely boy,
how can I talk
the bullets back
into your gun?

What white flag
will you recognize?

What would I give
in return…

I might have to
give up gun shows
and ammo shops
close down the weapons
factories, call back the
drones,
drag the bully
out of the classroom
and out of the teacher
out of the army
pull the boys and girls
back from twelve years
in Afghanistan
where they're going
suicidal
tie the congressmen
together until they
agree to lead the
NRA from town to town
on a walk of shame
across America
go up to the television
and turn off the blood
spattered cop shows
shut down the
local Cineplex
spewing the bodies of
women strangled and
always naked
cut off the rabid radio
shooter video games
plastic AK-47s
killer rap songs
gang rape hip hop
give back the cowboy
boots and holster


Margaret Parker has written poetry all her life while working in visual arts, design for theatre, opera and dance. As the poems became a serious accumulation, she self-published her first book, "Driving Music: In 2000 silver Taurus, I drive Glen Gould and J. S. Bach through 32 Goldberg Variations from parking lot to parking lot", through CreateSpace in 2015. She's discovered how much reading her poetry aloud and becoming engaged with the active poetry scene in Ann Arbor, Michigan, has encouraged her. Her poem, "The Keys," was first published in the Silver Birch Press Learning to Drive Series (March-May 2016).

Go to List of Poets or Back to Top of Page


Kathryn Paulsen


#TWEET #RE-TWEET

First named for the sweet sound
a bird sings—
what should we call these swarms
of vicious stings?


Kathryn Paulsen's poetry and prose have been published in New Letters, West Branch, et al., and are current or forthcoming in Isthmus, Stinging Fly, and Spillway, among others. For fiction and playwriting, she's been a fellow at Yaddo, the MacDowell Colony, and other retreats. She lives in New York City but, having grown up in a military family, has roots in many places. She can be found in the blogosphere at ramblesandrevels. She doesn't Tweet.


Go to List of Poets or Back to Top of Page


Penny Peyser


NEEDED

List'ning to the rabble rousing crowd
Proclaiming this and demonizing that,
Opposing views and feelings not allowed,
It hardly pays to be a diplomat.
As list'ning skills and leadership are arts
That need be nurtured, recognized and groomed,
There's fear that in our ever dark'ning hearts
The light we call democracy is doomed.
I don't accept we'll never get along
And find some compromise that fits our herd.
If love and understanding make us strong
Find for the opposition one kind word.
While people push and shove to take a stand
Ambassadors to truth are in demand.


Penny Peyser is a writer / actress / documentary filmmaker living in Los Angeles. Her sonnets have appeared in Chantwood Magazine, Lighten Up Online, White Ash Literary Magazine and Blessed Creation.


Go to List of Poets or Back to Top of Page


Katie Mazza Phillips


DEVOS'S ARK

The bears in Wyoming
are plaguing the schools.
Guns are the answer,
the best of our tools.

But what DeVos did not say,
though her warning was great,
is that we've got problems in schools
in all 50 states.

In Maine giant lobsters
are out of control.
Groundhogs in PA
pull kids into their holes.

The New York schools
are where pigeons attack.
Plains bison will get you
if you don't watch your back.

Florida flamingos
are known to steal chalk.
Moose in Alaska
knock kids out of their socks.

Down in the South
gators interrupt class.
And the cattle in Texas
won't give a hall pass.

Yes, from terriers in Boston
to armadillos in Tempe,
our kids are endangered
by an eclectic menagerie.

So call Congress today
for while these animals are bigger,
we can still save our kids
if we just pull the trigger.


Katie Mazza Phillips graduated from Bryn Mawr College with a degree in Psychology and Creative Writing and from Boston University with an MFA in Film Production. Currently she is a Copywriter at an ad agency in NY. She enjoys snarking on social media about the new President and his clown car of staffers.


Go to List of Poets or Back to Top of Page


Tala Ra


WRESTLEMANIA 77

I smell a rat . . . again.
You warn your friend
you're going to punch him
before you punch him.
It's a fake punch.
Theatrics,
while the ban prevails.
Lift the ban.
Let them in.
Give them shelter.
But you rain bombs.
Concuss.
Make things great, again.
Bombs for beautiful babies
…only those babies,
not those drowning,
not those starving,
not those buried in rubble,
in six years of fear.
Bombs because they're more impactful,
photogenic,
at night
Brian Williams says they're beautiful.
Smackdown!
The crowd erupts.
We love our freedom fireworks
phosphorescent on TV
we love our borders against terrorists
we love those beautiful babies
god bless the Military Industrial Complex
the Heavyweight Champion
the eternal victor of war.


Tala Ra lives, sleeps, and breathes in Philly, but feeds her head with travel as time and space afford. She writes wherever a cafe, subway seat, or patch of grass allow. Poetry is her form of meditation and truth, a way to honor the earth, and her method for exorcising political rage.


Go to List of Poets or Back to Top of Page


Heenal Rajani


NO WHITE MAN WILL EVER KNOW

no white man will ever know
how it feels to be a brown man
going through an airport

in the land of the free to
be detained at any moment
for any or no reason

you wear sunday best
do your hair nice make sure you
smile and look agents firmly

in the eyes thrown glances like
grenades and the oh so random
searches. don't think I don't notice

the extra second looking at
my boarding pass each time
I feel each tick

but maybe now it's immaterial
maybe I won't even get a visa
maybe it's just as well


WHAT I NEEDED

at least Trump said that something's shit
and needs to be changed. is it any surprise
that people were desperate and responded to
anyone who looked like they would shake
things up? and things sure are shaking up.
what does one ask of a fake plastic man?
what does one expect a brick wall to say?
I say thank you. you've given me exactly
what it was that I needed: motivation
to up my game.


LIGHTHOUSES

The darkest night is when you most need
a flashlight. A night like this we need
a bonfire we need a lighthouse we need

beacons to guide the unlikely troops in
the battle beginning in our minds our
doorsteps, feeds, families. I stumble

don't know where to step but the softest
ground needs the firmest step so I'll
step up, I'll try to be brave and remember

that lighthouses don't go running
all over an island looking for boats
to save. They just stand there shining.


Heenal Rajani is an Englishman who now lives in the "other" London in Ontario, Canada. He's about to have a baby.


Go to List of Poets or Back to Top of Page


Crystal Snoddon


BORDERS CROSSED BY A STRUMPET

A quaint restraint,
this fastened top-button
of a sheer shirt,
nipples erect in their nests
of blond swirling chest hair.
No combover needed here,
eh, cowboy?

Formality maintained,
we sip lemonade on dry grass,
and after debate,
I agree to be naked,
but only from the waist down –
better to twine my legs around
your hefty midsection. I'll drive
the weight of your gun on my thigh,
thank you very much.

Leverage, constraint,
hold tight to bent knees
that can't relax.
This barter, this banter withers.
I cover my breasts
by hands gloved in tax
from the lust in your eyes.
No one suckles my milky teats for free,
oh no. Especially not with pouty lips
that hide a shark-jawed grasp.
It's what I expect
from someone blown up
with bombast. So this is where
our tryst ends.
Where my geography begins.


Crystal Snoddon is a Canadian writer. Her most recent laments may be found in Slamchop, Epic Protest Poem sponsored by OVS Magazine, The Ekphrastic Review, Anti-Heroin Chic, and Tuck Magazine, among others.


Go to List of Poets or Back to Top of Page


David Spicer


BURDEN OF THE BUDDHA

The epidemic began with a virus
Clare and I found in a tunnel
worthy of Jung, its corridor full
of spider webs. She and I thought
it lunar, trading it to the highest
bidder, a barrel-chested man
with the soul of Hitler. He smelled
like jasmine, his orange hair,
blank eyes, and pursed lips
threatening us with incineration
at a gas station. He told us to leave
for the Moonflower Mountains,
stroking Clare's gold hair, leering
like a sick streetlight, whistling
when we studied the gold Buddha
he traded to us. Go, he said,
but know swapping is my favorite fetish,
and I love monsters under a slide,
so if this is a fraud, I'll gut you,
marking the transaction in a red
journal and hiding the slide in his rolltop.
Cling to each other while you can,
for only ghosts will live after I
unleash your prize. We nodded, left
for the mountains by train, the burden
of the Buddha making our bodies heavier
by the second as we peered down
at the valley, waiting for the Nirvana
we suspected would never arrive.


David Spicer has had poems in The Reed Magazine, Bad Acid Laboratories, Inc., Alcatraz, Chiron Review, Gargoyle, American Poetry Review, Ploughshares, Rat's Ass Review, The Drunken Llama, and elsewhere. He is the author of Everybody Has a Story and four chapbooks, and is the former editor of raccoon, Outlaw, and Ion Books.


Go to List of Poets or Back to Top of Page


Melinda Thomsen


A RED WOLF'S CALL FOR MERCY

Listen Little Red Riding Hood;
I've had a bad rap since those
Grimm brothers christened me
and my kind anthropomorphic
evil: big eyes, big teeth, you know.
Will you lend me a few bucks
for a bottle of "Look Like A Friendly
Endangered Species" lotion?
You would prefer panda, right?
Help me comb white paint
through my fur and add round
black ears on top of my head.
A bit of ebony paint
here and there, voila:
cuddly, sweet animal
bestseller at Toys-R-US.
Look at my before photo!
No wonder hunters shoot me,
and my kind then cut up
my guts to rescue missing
grannies, or so they said. Look
at my steady eyes, pointy ears,
and bone crushing jaws.
Let me level with you, Little Red,
you scare the bejesus out of me.
Check out the research.
Yes, Little Red, you lied.
Wolves run away from you
and grandmothers. We avoid
pigs building houses, too.
Any human behavior scares us.
Where are you now, Little Red?
Please come to North Carolina.
Protect us from hunters
who point to saving you. They shoot.
We die and go extinct while
you skip merrily home,
holding your favorite stuffed
bear in your arms.


Melinda Thomsen's poetry has appeared in Heliotrope, Poetry East, Big City Lit, New York Quarterly, Heart of the Order: Baseball Poems, Blues for Bill: A Tribute to William Matthews, and Token Entry: New York City Subway Poems. Finishing Line Press published her chapbooks Naming Rights and Field Rations.


Go to List of Poets or Back to Top of Page


Jane Travis


WAR, ALREADY

We ain't even to 100 days yet.
My husband took a course – to understand –
for a soldier, taking estrogen to be
me.
ME.
What does he know, I wonder.

We ain't even to 100 days yet.
Did someone say war?
"I do declare," his grandmamma says.
Did someone declare war?

I met a former sister of a former graduate school friend.
I said, "he."     – to be –   kind? easy?     – to be –
"This is my husband and daughter," he said.
I changed my said to "she." – to fix the mistake –
The husband is mad, now.
We ain't even to 100 days yet.

We ain't even to 100 days yet.
Read it. Written there. WAR
100 days, ain't even there yet.
And already


Jane Travis is a wanna-be poet in North Carolina. Often her poetry marries military, politics, and nature.


Go to List of Poets or Back to Top of Page


Alan Walowitz


MY MOTHER OF ALL BOMBS

My mother wouldn't let me have a gun as a toy,
which made cowboys and indians a burden
for whichever side I was on—nobody wanted
a guy with a finger but no trigger. You're shooting blanks,
my friends were heard to say, when I'd point in their direction
and holler, Gotcha. They'd also say, the hell you did!
and how could I argue except the moral right
of a guy who yells, Bang! the loudest?–
he ought to get to decide who's dead
and who gets to stay alive?

All of which is to say, I'm all in favor
of MOAB, the Mother of all Bombs,
22,000 lbs. most of it explosives,
and nothing like a cap gun,
but no civilians hurt, just some
bad guys in tunnels–but we can't be sure
cause the tunnels and caves are mostly collapsed
and the bad guys mostly got obliterated
with their faces blown off.
My mother would be so proud—
she never told me I couldn't have a bomb.


Alan Walowitz has been published in various places on the web–and off. He's a Contributing Editor at Verse-Virtual, an online journal, and teaches at Manhattanville College in Purchase, NY and St. John's University in Queens. Alan's chapbook, Exactly Like Love, was published by Osedax Press in 2016 and is now in its second printing. His poem, "The Story of the Milkman" was featured in an article in The New York Times on April 16th.


Poems posted April 14, 2017


Tiffany Lee Brown


ONE THING

Here is one thing
That is not post-truth,
That cannot hide behind
Alternative facts,
That will go naked into the streets
Even if your president ties a blindfold
Around my eyes, around my entire
Face.

I love you.

I love you.

I love you.


Tiffany Lee Brown is an unaffiliated voter living on the thin purple line between Red Oregon & Blue Oregon. Her writing has appeared in Utne, Tin House, Oregon Humanities, BoingBoing, Bookforum, & various anthologies. An interdisciplinary artist, musician, & performer, Tiffany is presently curating "_____ is the Opposite of Hate" for the next issue of PLAZM magazine, where she is an editor. Online at tiffanyleebrown.com.


Go to List of Poets or Back to Top of Page


Yuan Changming


BRIEF ANALOGIES

President Obama is to real change as
President Bush was to true peace

Republican senators are to family values as
Family values have been to domestic violence

Fire is to forest as
Hurricane is to beach

Afghanistan was to Iraq as
Iraq was to Vietnam

Brush is to a painter as
Word is to a liar


Yuan Changming, nine-time Pushcart and one-time Best of Net nominee, published monographs on translation before moving out of China. With a Canadian PhD in English, Changming currently edits Poetry Pacific with Allen Yuan in Vancouver; credits include Best Canadian Poetry, BestNewPoemsOnline, Threepenny Review and 1279 others across 38 countries.


Go to List of Poets or Back to Top of Page


Joe Cottonwood


WHAT SHITWORK IS

For a summer resort as a teen
I had the job of cleaning latrines,
three months at minimum wage.
Nobody said, "Good job, well done."
But it was.

I've repaired septic tanks from within.
Mucked in mud laying pipe.
Scraped asbestos. Hot-mopped a roof.
Shoveled bat guano.
Nobody gave me a medal.
Just cash.

Be humble. Do your share.
Society will be better. Civilization more civil,
you a stronger you, it's really true,
more worthy than those fat cats in their mansions
who I dare not name because even this lowly poem
would prick such pain
they'd send legal thugs to bury me
in lawyer manure.

Forget latrines. Think billionaires.
They bought the news. Congress. Supreme Court.
Learn about salvage, about repair.
Learn to fix rot at the foundation and work toward the top.
Zoning board. Town council. State assembly. Governor.
Step by step go higher.
Then ask what shitwork is.
And let's get busy.


HARDHAT SPLAT

Enjoying the room?
What's the echo, the boom?
Complimentary champagne?
Pink, the color of my brain.

Pay your bill, yes, but pay no heed
to those small shadows of hemoglobin
seeping from steel and concrete bones
while you sleep in this tower of gilt
I (and others) built.

Boss tells me to hurry up the ladder
hurry unsnap the safety harness get up there
time is money says Owner to Boss
time is money says Boss to me
as into a wooden form, concrete we pour.
As form collapses, 42nd floor.

Spatter and spray, that's me.
Boss pays the fine for safety violation.
More than I got.
Owner pays nada. Nada for the fine,
nada to Boss, nada to workers, stiffs them
so just as well I vanished when I did
except as smudge taking shape
like clouds on the wall,
donkey one night, elephant the next.
Sometimes people enjoy like a game
naming my blotch, my brain.

Here comes Owner to spend the night,
Secret Service wraps him tight.
Through his wall
while he sleeps,
my stain creeps.


By day Joe Cottonwood has worked as a carpenter, plumber, electrician for most of his life. Some jobs were pretty; some, shitwork. Nights, he writes. Same split. His most recent book is 99 Jobs: Blood, Sweat, and Houses. joecottonwood.com


Go to List of Poets or Back to Top of Page


Lisa DeSiro


IMMIGRANT


One of my first childhood memories:
watching the pigs be slaughtered.
We were poor, in my country.
We ate everything, even the feet.

Now I live here, making money
enough to treat myself sometimes.
Today I tried a kanga burger.
It was tasty, tasty, tasty!

But, I know. Poor kangaroo.


PUBLIC DISPLAY OF AFFECTION

this couple gets on the bus
larger than life

as if stuffed full of love
they stride down the aisle

him watching her behind from behind
blue jeans hugging her hips

their bodies snuggle together in the seat
in front of mine

they are not the same color as
me or that person I didn't vote for

who said people from where they are from
are rapists and should be walled out

the man holds a cell phone wedged
between shoulder and ear

while he chatters in Spanish
the woman peers at his forehead

then presses his brow
with her ruby thumbnails

liberating a pearl of pus
they gurgle with laughter

he strokes her lustrous hair
kisses her disregarding

the large mole like a dollop of
chocolate on her lip

and I want everyone to stand up
for them and cheer


Lisa DeSiro is the author of the chapbook Grief Dreams (White Knuckle Press, June 2017). She is featured in the anthology ThirtyDays: The Best of the Tupelo Press 30/30 Project's First Year; her poems have also appeared or are forthcoming in Friends Journal, The Hampden-Sydney Poetry Review, The Healing Muse, Mezzo Cammin, Prodigal's Chair, Rattle, The Road Not Taken, Salamander, and Sixfold. Along with her MFA in Creative Writing from Lesley University, Lisa has degrees from Binghamton University, Boston Conservatory, and Longy School of Music. She is employed as Production & Editorial Assistant for C.P.E. Bach: The Complete Works, and she is an accomplished pianist.


Go to List of Poets or Back to Top of Page


Jim Feeney


AMERICAN CARNAGE

Not the export it used to be,
nothing like the glory days –
Hiroshima, Vietnam, Cambodia;
still popular at home tho'
nearly twelve thousand gun deaths a year
the gun barrel points both ways.
This is not much of a poem, is it?
That last metaphor was a bit clumsy
and there's no music in statistics
but there is a rhyme in that last line
and there's assonance in 'American Carnage'
and there is an ass in the White House
but enough about that
stay away from the low hanging fruit
we need a rhyme
carnage, baggage, garbage, image
imagine all the people
that's what this situation needs
a protest singer, a protest song
three chords and a chorus
that we can sway and link arms to
Where are you
Josh (Ritter)
Michael (Stipe)
Bruce?


AGENT ORANGE HAS A DARK MOMENT

Do you know who I miss? Jeb Bush. I miss Jeb Bush. He was my first. When I hit him with that low energy jibe and he fell apart and all the Bush family could not put Humpty together again, I knew I was on to something. Then Little Marco and Lyin' Ted, I miss them too. But most of all, I miss Hillary, Crooked Hillary. Man, she was tough, had me on the ropes. It took Comey and Vlad, that pointy headed villain, to get me back on my feet. I was nearly out for the count, which might not have been a bad thing. Who needs this shit! I should give Vlad a call, I'm a bit worried -there's no such thing as a free hack.

Reince Priebus – what kind of fucking name is that? It sounds like bad news from the doctor. "I'm sorry, Donald, you have a Reince Priebus on your rectum and it doesn't look good". Ha, I just made myself laugh. And Bannon, I've seen sofas on the side of the road in better shape than that rumpled fucker. Spice Box? Hardest job in the world – explaining the unexplainable. That Melissa McCarthy just slays me. How come all the cool people are on the other side? Who have I got? Ryan and Pence? Bland and Blander? Where did Pence come from anyway with his brush cut and his antediluvian politics? The best surgeons in the world couldn't remove the poker from that guy's ass. Antediluvian, you didn't expect that did you?

Talking of cool, I should give Barack a call, ask him down to Florida for a game of golf; check his birth certificate again (Joking! How I miss those days). Man, I hate this fucking White House furniture, is it Friday yet?


Jim Feeney was born in Dublin and has lived in Vancouver since 1979. His wife and two daughters complain if they are not mentioned in bio's, so he would like to thank all three of them for their support.

He has published previously in Cyphers (Ireland), The sHop (Ireland), In-Flight Literary Magazine, Oddball Magazine, the Galway Review, Anti Heroin Chic and others.
He also writes lyrics for The Mitchell Feeney Project (album "Crossing Lines" available on iTunes and cdbaby)

He blogs at stopdraggingthepanda.com.


Go to List of Poets or Back to Top of Page


Ryan Forsythe


THE TRUMP ACCORDING TO WORLD (Google)

Donald Trump is the World's Greatest Troll
Donald Trump is having a Twitter Moment
Donald Trump is Fast Becoming the World's Policeman
Donald Trump is Bringing Chaos to Our Lives

Donald Trump is Finally Killing the Democratic Party
Donald Trump is a Republican
Donald Trump is no Republican
Donald Trump is the GOP's chemotherapy

Donald Trump is deleting my citations
Donald Trump is an international pariah on climate change
Donald Trump is the villain in trailer for Al Gore's 'Inconvenient Truth' sequel
Donald Trump is a Disaster for the Earth on Every Single Level

Donald Trump is the fifth straight American president to bomb Iraq
Donald Trump is Killing Record Amounts of Civilians in Middle East
Donald Trump IS an anti-Semite
(Johnny Rotten Says) Donald Trump is Not Racist

Donald Trump is Fueling ISIS
Donald Trump is a Radical Extremist
Donald Trump is actually a fascist
Donald Trump is Tearing the NFL Apart

Donald Trump is not good at fractions
Donald Trump is not an Artist of the Deal
Donald Trump is extremely bad at making deals
Donald Trump is Corrupt AF

Donald Trump is Not Your Father
Donald Trump is the world's oldest seven-year old boy
Donald Trump is dangerous when he's losing
Donald Trump is Trying to Lose

Donald Trump is Set to Undermine STEM for Young Women
Donald Trump is A Walking Billboard For Sexual Assault Awareness
Donald Trump is Making Men More Sexist
Donald Trump is TIME Person of the Year

Donald Trump is America
Donald Trump is Gaslighting America
Donald Trump is Making America Meaner
Donald Trump is Making America Crazy Again

Donald Trump is the Singularity
Donald Trump is A Harbinger of the Anti-Christ to Come
Donald Trump is the First Demogogue of the Anthropocene
Donald Trump is the first president in 130 years not to have a dog

Donald Trump is the First Brand President
Donald Trump is the First President to Turn Postmodernism Against Itself
Donald Trump is uniquely unsuited to be president
Donald Trump is President

Donald Trump is not the problem — he's the symptom


Ryan Forsythe is a school administrator, dad, designer of banana slug mandalas, and also publisher of Left Fork Books. His first novel, Dick Cheney Saves Paris, was a madcap political satire reimagining why Cheney did what he did, released the same day as Cheney's own novel—er…memoir. Ryan also serves as Contributing Editor for Fiction International, the journal of formal innovation and social activism. He lives off-grid in the woods of Southwest Oregon. Learn more at RyanForsythe.com.


Go to List of Poets or Back to Top of Page


Peter Halpin


JINGOISTS

I am looking into the front yard;
a sparrow hit the window this morning,
I buried it round back, under a lilac bush.
A faint blood stain remains on the lawn,

rather appropriately, heart shaped. Although
almost completely absorbed into the earth,
a stain remains-if you know where to look,
there is a lingering, a damp presence.

The front yard is in throes of life, coming awake
to the possibilities of spring, cherry buds
and green shoots welcoming a warm west wind.
The racist across the street is debriding flower beds,

the bigot next door is blustering away about
the exigencies of life in the suburbs as she tars
and feathers copiously with her tongue.
They see me at the window and wave.

I ignore them but still they loiter, like a damp stain-
if you know how to look. Funny how God works;
if it was me, I'd rather have the sparrow.


Peter Halpin was born some while ago in Northern Ireland, where he left as soon as he could. His life has been ordinary in the usual sense of the word –lived, loved, laughed and cried. He now settles down to the certainty of diminishing years, while not altogether displeasing, like a snail, he feels the need to leave a trail of mucus in his wake, hence, poetry.


Go to List of Poets or Back to Top of Page


Robin Helweg-Larsen


PITY THE SUICIDE BOMBER

Pity the suicide bomber
who will never see Heaven
neither the Heaven of lover and spouse, children, grandchildren,
the Heaven of here and now, of sunrises, sunsets,
nor the Heaven of Afterlife, if it exists.
Bitter, despairing, the suicide bomber consigns herself to hell.

Pity the coward who shoots up the outdoor cafe,
who has no combat skills,
no worthy adversary,
no genuine enemy,
but kills only the unarmed, defenseless and innocent.
Confused and deluded, used and betrayed, he consigns himself to hell.

But have no pity for the preachers of hate,
the preachers in churches and mosques,
the preachers in Parliament and Congress,
the preachers on TV and talk radio,
the preachers of hate who profit from fear,
the preachers of death who profit from strife,
the preachers of war who don't go to war,
the dog-shit on the walk of life.


Robin Helweg-Larsen is British-born but Bahamian-raised. His education came from good schools, hitchhiking on five continents and working all over the place. His poetry has mostly been published in the UK (Snakeskin, Ambit, etc), but also in the US (RAR, Love & Ensuing Madness, etc), and in Canada, Australia and India. He divides his time between Chapel Hill, NC, and his hometown of Governor's Harbour on Eleuthera.


Go to List of Poets or Back to Top of Page


Babo Kamel


ON MONDAY

A thunder of orange, brash against the sky
then flash after flash like a migraine.

We stood stunned as statues or dolls
in flames. This was our village.

We knew our names and the smell of earth
where we planted our dead. We made sure

that even the young knew what the days wanted.
Until that morning the stranger soared

above the roofs, riding his chariot fast and hard
like a high-jacked birthright, flirting with the sun

until metal began to melt. And we watched it all.
Stood in front of our doors and watched it all

as if a godless thing had fallen, burning into the dazzle of himself
to leave behind as souvenirs, the singed wings of horses


FLAGS

Neighbor across the street with the bumper sticker
has put out the flag for remembrance. We have, too.
but we live in different Americas. His house,
identical to ours, built by the very laborers
his president demeans, feels like enemy
territory. I stay clear away, close the shutters.

In Florida, it's like we're secret society
of mourners, drinking betrayals away.
We wake up devastated that it wasn't nightmare
tumble into sleep that gives no reprieve. Our
generation has turned its back on the past.
Even John Lennon could not imagine this.

We must become young again and join our children
Dig out the signs, relearn the old songs
Arthritic, hearts aching, it's time to return
to the streets.


REVISION

How to see him other than he is
the lost bear of a man
wearing his past like a medal he stole

It's the same story he tells
everyone, mouth twisting
into a wound unhealed

Each time he tells it, he repeats
the endings, like an echo
of an echo, of an echo

He will settle into the big chair
that will groan, not from the weight of him
but from the emptiness it will have to bear.


Babo Kamel hails from Montreal, Quebec and now resides in Florida. Her poems have appeared in the US, Australia, and Canada. Some of these include Painted Bride Quarterly, Abyss & Apex, The Greensboro Review, Alligator Juniper, The Grolier Poetry Prize, Contemporary Verse 2, Rust +Moth, Mobius, a Journal of Social Change, and 2River Review. She was a winner of the Charlotte Newberger Poetry Prize, and is a Pushcart nominee.


Go to List of Poets or Back to Top of Page


Jemshed Khan


VILLAIN(ELLE)

Witches seethe @ his spells.
HeTweets: Make Murika Great Again―
goads the villainelle.

POTUS squats the stall,
#mansplains nasty women barking:
Casts a smartphone spell.

―Threadjack: [email protected]
Back-alleys unberth #bloodypain.
Bump is villain or villainelle?―

Tweets-up an Über-wall
2 banish migrant gain
(b4 breeds swell).

JobsAWOL. Gone. @Global.
Rust belt stopped up like a drain.
What stinks is the smell.

Under bruise and pain:
Snowflakes melt @ rednecks gain.
We settle 4 long & toothy spell
and argue Villain v. Villainelle.


Jemshed Khan has published poems in Number One Magazine, Wittenberg Review, Unlikely Stories (#BlackArtMatters September, 2016), Read Local (2016), Rigorous (Jan 2017) and the chapbook Paean for Billy Collins (Calliope Club Press, 2017). The author is slated for publication in Clockwise Cat, Issue 36 (2017), I-70 Review (September 2017), and NanoText (Medusa's Laugh Press, February 2017).


Go to List of Poets or Back to Top of Page


Jim King


GOOD SPLASH!

"Little Bush … says we are at war on terror, but that is a metaphor, though I doubt if he knows what that means. It's like having a war on dandruff, it's endless and pointless."
―Gore Vidal, The Independent, 23 June 2006

White flakes fall in Paradise, "somewhat livable" neighborhood of south-central Las Vegas, ranked 78th in Nevada by latest Livability Index data, where median selling price of one-fifty-one thousand five will secure an SFR such as 3945 Clear View Drive, 1743 square feet two baths en-suite, wherein revenge is sweet for First Lieutenant Rudy who, roused at dusk from a snatch of flashback, hair a husk of itch-and-scratch, declares war on dandruff, splashes on the Scalp 18 Coal Tar Shampoo, re-clothes himself in his rightful worldview, tiger-pattern fatigues, gray and slate blue, hues worn semi-pixellated—like porn

Rudy bids "Smell you later!" to his 2.4 kids enrapt on simulator—his Marathon Navigator (standard issue watch to the aviator) reads 2221—Hedy shadows him air kissing down the hall, calls homespun from the porch "Give 'em Hellfire, Hun!"—Rudy tramps the rampant yard (corner of earth he's yet to scorch), elopes with doxy—his '69 Pontiac GTO "Judge", proxy love, post-Iraq—shifts T-handled Hurst into first, gives the gas a burst, spins up the Rally II wheels (without trim rings), burns rubber takes off with a screech, joining the 95 northwest to Creech, Indian Springs, Nevada, to claim his seat with the sedentary Chair-Force armada

V8 skirts strips of Vegas glitz, shrugs off last of burgeoning burbs, hits the Mojave—wind-blown tropes of tumbleweed, bleached bones gleam in lights full-beam—back in the desert Rudy feels the need, the need for speed: pedal to the metal, 370 horses loosed from corral, kick in the pants, boost to morale, precious hour's hooky as Steve McQueen—scant consolation, no F-16

February 10 2016, night like any other, Rudy swings by Coolbeans Café in Building 1003, grabbing a latte Venti (brewed 24-7 at Starbucks concession, 240 calories, 225 milligrams of caffeine, go-to drug of his profession), reports for duty at 432nd Air Expeditionary Wing, freezing 2 ticks at the turnstile to prime his Battlemind, before punching in for graveyard shift at the UAV Battlelab, unnatural habitat of the "Hunters", who jostle and josh, garbed in last vestige of drab. "Listen up!" breezes the Colonel, "Let's cut us some grass 'fore it gets out of control. Grab your lattes two-by-two, let's do it to them before they do it to you." Seated in his ergonomic chair in the compound at Creech, Rudy the Reaper has one helluva reach: his touch can be felt—with critical 2-second delay—seven thousand seven hundred and eighteen miles away—

—in Khas Kunar District,
Kandahar
arid Afghan warzone
where two young boys deploy
sheep knucklebones
marbles in their game of
bujul-bazi
oblivious of the approaching
Reaper drone
piloted remotely by a no-risk
kamikaze
ergonomically seated with skinny latte
seven thousand seven hundred and eighteen miles away—

—in Nevada, where it's once more unto the breach for the displaced Hunters of Creech, time to forge a "signature strike" against virtual insurgents, black smudges on a screen, while smaller shadows spell kids on the scene. Rudy incants Master Arm—On, Weapons—Hot, 3-2-1-Rifle! Missiles Away to unleash laser-guided Hellfire, chants 1 Mississippi 2 Mississippi in hide-and-seek pastiche, unaware that acronyms conspire SNAFU to TARFU until, framed in his display, two artless youths dart into the fray. Master Arm—Off, Weapons—Safe. Re Rudy's bad hair day: "Collateral damage proportionate" accent the Bookkeepers of AFCENT in Strike Report AFG102 memo, while in Creech-speak argot insubordinates dissent "Fun-sized terrorists, good splash!"

—white flakes of ash fall in Khas Kunar
shaken Snow Globe scene of shattered sheep knucklebones,
Desert Storm of pulverized stone
settling like dandruff on the corpses of Aimal and Fardeen
blood brothers in their teens
hand-in-hand forever in Kandahar

0803 upon the dot The Judge's windshield blinks uniquely across the lot, end of a hard day's night, hand on Hurst shifter, Rudy's in overdrive, taking flight, Tom Cruise-controlled dash down the 95, cast adrift in 2.7 billion year Mojave hiatus, cache of waking dreams ♫ mid the sagebrush and the cactus / I'll watch the fellas practice / dropping bombs through the clear desert breeze, Yahoo! ♫ Afghanis they hate us Scalp 18 Coal Tar Shampoo Here come de Judge jury and executioner all rolled into one Top Gun Grim Reaper peacekeeper setting phasers to stun "Give 'em hell, Hun!" Goddam Intell! losing marbles 'neath the Joshua tree PTSD shrinks can't ground me I'm grounded already in my skinny ergonomic latte chair—but what's the point in self-flagellation when there'll be no formal investigation into Scalp 18

—white flakes fall in Khas Kunar

The Judge burbles back through the burbs to 3945, set in his thousand-yard stare Rudy trudges up the drive, trips on the step (still in disrepair), slips inside feeling the need for—I and I, Creech-speak for R and R, tea and sympathy with his little chickadee. "Hi hun," says Hedy, "How was your day?" "—Daddy, Daddy!" Rudy's two sons dart into the fray, antsy at pop's two-second delay, "Can't we get the new Drone Strike flight simliation app? Y'know, that one where, like, zombies've taken over a big desert an' stuff—" Rudy, speechless, scratches the bejesus out of his scalp—scant consolation as white flakes fall in Paradise.

Born in Wales and raised in England, Jim King now lives in happy exile in Chiang Mai, Thailand, where he washed up after visiting some 60 other countries. The publication of satirical letters in The Times newspaper and The Spectator magazine attests to his success in passing himself off as a bona fide Anglo Saxon; however, during extreme crises of identity, he reverts to pretending to be of Celtic origin. Apart from landfalls, he's also been known to count footsteps, ruminants in fields, earth tremors and publications, Cornflakes and rejection slips. Before writing poetry, Jim used to be convinced his tallying helped him maintain dominion over body and soul, and other such hostile environments; now he's enlisted words to do his counting. Jim has acted as MC and been the featured reader at Magic Theatre Poetry in Chiang Mai.


Go to List of Poets or Back to Top of Page


Craig Kurtz & Anni Wilson

Anni Wilson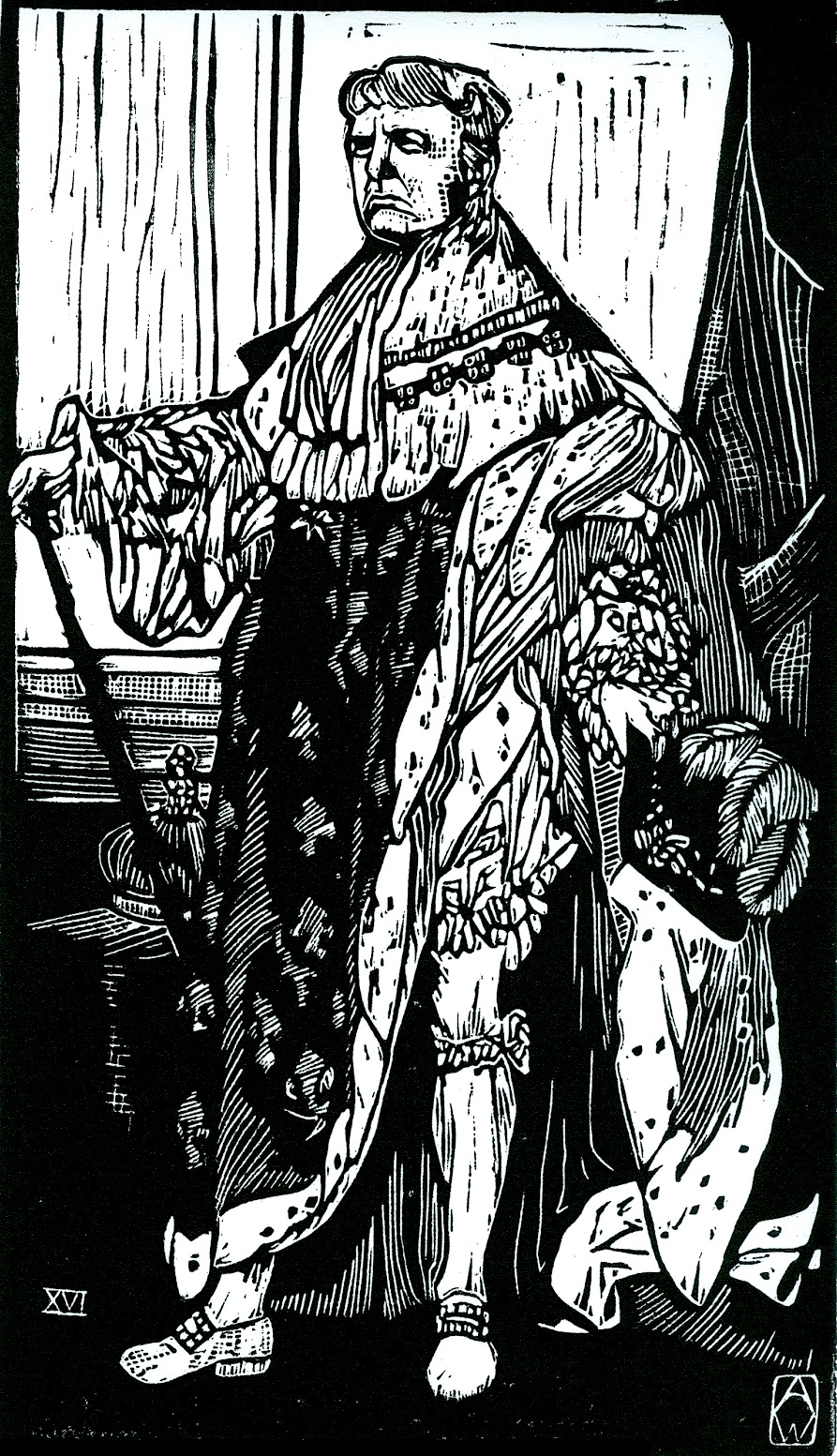 Craig Kurtz

DEMOCRACY'S A DAMNED NUISANCE

"For Thou shalt was from of the old condition of man's being,
and his weal and blessedness was in obeying that. Woe for him
when, were it on the hest of the clearest necessity, rebellion,
disloyal isolation, and mere I will, becomes his rule!"
— Thomas Carlyle.

Democracy's a damned nuisance,
my votes's straight-up no confidence;
the riffraff and the menials
should leave it up to us nobles;
aristocrats, we'll make the law
and you peasants may thank us all;
affairs of state are too high-toned
for low-bred vassals drunk and stoned;
why bother with democracy
if you can't vote yourself money?;
the average chuff's illiterate,
he'd hurt himself with a ballot;
the bourgeoisie controls their thoughts,
I'd rather a Court drawn by lots;
the Fourth Estate has grown too large,
let's keep the idle rich in charge;
it matters not who's elected,
just keep the taxes collected;
the commoners' place is just to
support the royal revenue;
what's this? complaints from starving hordes?
they're lucky they've a House of Lords;
I ask you how low can they stoop
to call the King a nincompoop?;
sure, sovereigns make a few boo-boos
but aren't those famines now old news?;
these knaves who want equality
deserve naught but the pillory;
muck-rakers' heads should be on blocks,
utopia's a scurvy pox;
who needs their tedious "fair play,"
they'd end up despots anyway;
it's "liberty!" 'til they prevail
then they'll, too, oppress the canaille;
we'll not have mobs or street dissent,
their politics are feculent;
who cares what the great unwashed likes,
it's their or our heads up on pikes;
democracy's a damned nuisance,
suffrage, an inconvenience;
down with these lib'ral acolytes
and up their arse with human rights!


Craig Kurtz & Anni Wilson are currently finishing a folio of reversified Restoration plays; information at antickcomedies.blogspot.com. Their work appears together in the spring '17 issue of Penn Review. They both reside at Twin Oaks Intentional Community.


Go to List of Poets or Back to Top of Page

Nancy Smiler Levinson


I HEAR AMERICA WEEPING
–After Walt Whitman 157 years later

I hear America weeping, the sundry laments I hear,
Those of fearful souls, each weeping as it should be
struggling and bewildered
The automaker weeping into his idle hands
The farmworker ill and weakened from pesticides,
weeping as he writhes upon his sickbed,
The Inuit weeping afloat her life's close as her village
drowns in a flood of melted glacier,
rising ocean waters
The paralyzed young man slumped in a wheelchair,
eyes glazed over,
a lawman's bullet in his back
his mother's tears
his brother's tears
his neighbors' fears at sundown
The children weeping, their father dragged off to a distant place
The pregnant woman collapsed at graffiti-marked doors
that lock out care
The special needs child with no path to school
Each weeping what belongs to him or her and no one else
enduring by day
streaks of yellow blinding
At night the wild cries against the strongman's shout
America first!


Nancy Smiler Levinson is the author of MOMENTS OF DAWN: A Poetic Memoir
of Love & Family, Affliction & Affirmation, as well as stories, essays, and poems that have appeared in publications, including Confrontation, Phantasmagoria, Poetica, Drunk Monkey, The Lost Country, Burningword Review, and three nonfiction anthologies. She is a one-time Pushcart nominee.


Go to List of Poets or Back to Top of Page


Billy Malanga

IF THEY'RE HUNGRY LET THEM EAT GRASS OR THEIR OWN DUNG
—Attributed to Andrew J. Myrick

A male zebra killed a newborn in the herd.
Josef Mengele anxiously tried to turn the eyes of victims blue.
A mountain lion killed two ranchers in the northwest.
President Lincoln authorized the hanging of 38 Dakota men at Mankato.

A Kodiak bear killed a fisherman in Alberta.
Eleven Italian immigrants were lynched in New Orleans.
A bull gored a spectator in Mexico City.
Two African American couples were hanged at Moore's Ford.

A female mosquito sucked blood from a baby's temple.
Andrei Chikatilo murdered 52 in Russia.
Porphyria's lover strangled her then sat quietly, waiting
for God to say something to the reptile in his mind.

And still we dream of peace.


Billy Malanga (M.S. in Criminal Justice) is a first generation college graduate, U.S. Marine Corps veteran, and the grandson of Italian immigrants. He played college football and worked for many years in a state prison system. All of these influences have undeniably shaped his way of thinking about his art. His poetry reveals his small victories and also his struggles in redefining masculinity in an effort to better understand the beauty as well as the brutality of the world around him. His upcoming poetry will be published online at The Naga and in Spindrift (Shoreline Community College's Art and Literary Journal). He currently lives in Urbana, IL.


Go to List of Poets or Back to Top of Page


Randy Mazie


SHAKESPEARE NEVER WROTE THESE WORDS: LOVE TRUMPS ALL

My love is for no feathered office: high.
Whose shallow birds' shrill cries perform high jinx.
That voice who warbles us to follow: (sigh).
Whose twitters bring us to the brink of drinks.

Slowly, me hopes, methinks, these birds will molt.
So gently as the planet's warbling spin,
we'll treat these birds, so they won't think to bolt.
And then we'll clip their wings, perchance to win.

We'll dangle threads of millets, strands of love,
and call them all like pigeons to this crumb
They'll chatter, oh so scornfully, above.
But down they'll swoop to eat; watch each succumb!

And while this cult of self-conceit ensues,
We'll laugh while reading tweets of bogus news.


Writing has always been like an itch inside of Randy Mazie's head: a sneeze exploding into words, words scribbled frantically onto a page, then crossed out and "thesaurus-ed" for the exact felt sense desiring creation. Randy scratches and sneezes most every day. Now that he's now retired, he's preparing to backpack the Appalachian Trail with his wife, Debbie, and is "hiked up" to journal the journey.


Go to List of Poets or Back to Top of Page


Christopher Moylan


IN PRAISE OF DUST

Dirt swarm, spawn of sloughed
skin and desert winds, of dried
cadavers and extinct stars, even
Christ and the apostles spurned this,
kicking off the least trace on leaving
some shriveled outpost of despair
in Galilee; take nothing, leave
nothing, not even the dust
from your sandals. Welcome
nowhere, tolerated nowhere,
yet how easily it drifts from place
to place, respecting no borders
or boundaries, no limits or laws,
nothing safe from it, nothing sacred.
Ever the opportunist, it permeates
the least give or opening; enters
and wanders like dreams, like lust,
no sooner evident than wiped away
in shame, in disgust, a gauze slip
more naked than bare skin.
For all that, who has ever held
one mere speck for interrogation,
put a finger on one rogue mote
to make it spill its story: where
it's been, what or who it touched,
what it suffered to become dust…
There is no baptism for the dirt
beneath the nail—and yet, how
well I remember tap water,
and abrasive—lava soap, Boraxo—
rinsing, scraping day's work,
the stain that wouldn't wash
become the print across the page.

This too will fade, and yet is not
dust angelic, airy, co-eternal with
all that is and was and will be.
Is it not us? Do we not carry
our graves within us, will the dirt
dropped on our caskets someday
not comprise the same minerals
we despise on the hands of the alien,
the undocumented field laborer,
house cleaner, dish washer?
If we rise at the end of time,
pale croci pushing from the mud,
the same slick grime will suckle
everyone alike. Meantime, the desert
stalks shepherd and herd across
the globe. Gulf cities wake
to an orange sky, sand dunes
stranded miles from the bay, lay
their veils on shop signs and display
windows. Nation after nation,
the hourglass tips to an open grave
while the U.S. stockpiles weapons
for the end of times rainy day.
The dust is coming.


Christopher Moylan is an English professor at NYIT where he publishes short fiction, poetry and literary criticism. He is also an activist involved in food security issues, resistance to the Trump catastrophe, and various forms of anti-capitalist organization and experimentation.


Go to List of Poets or Back to Top of Page


Emma Paling


JANUARY 21, 2017

So what? he asked.
I would be that scared
if she had won.

My mouth shut. I swallowed
my whole sentence,
my whole body.

I saw the boy
I sat in class with
for four years
after he raped me.

The one who took my friends
and took my home
and told the world
I was a liar.

So what?
The words rang.

He would be that scared
if I
had
anything.


Emma Paling is a writer and journalist in Toronto. Find her @emmapaling.


Go to List of Poets or Back to Top of Page


Karlee Patton


TRUMP DEMONS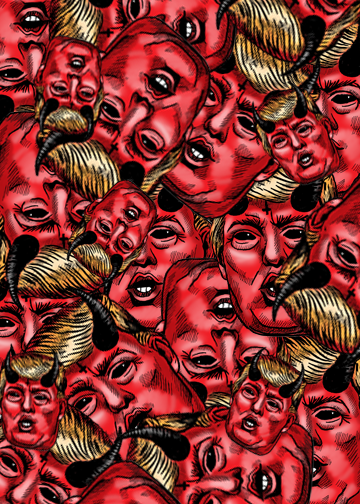 Karlee Patton is an artist and poet from northeastern Pennsylvania. She received her BA in Visual Art from Keystone College. She was a two-year recipient of Keystone College's Art Program's Jo Ann M Donahue Memorial Fund award, was a recipient of the Edward M. Cameron IV Poetry Contest award, was a Keystone College Honors Scholar, and was a Keystone College Presidential Fellow.


Go to List of Poets or Back to Top of Page


Jeanette Quick


NORMALIZING IN SAN FRANCISCO

first January in San Francisco: slushy,
gray, more than sweater weather. They say
it rained for days before we got here. People
stare down from white-bordered windows
and think about the drought. What about global
warming, local warming, the personal is political:
watering a lawn is a political act. Our car repair
shop has a sign that says it has suspended car
washes until it rains "a lot." The inverse of a rain
check: people will resume work only if it floods.
Businesses opened and closed while we were
inside unpacking, one Pilates studio was replaced
by another. Locavores grew tomatoes on concrete
rooftops in December, and sold the stems to new
New American restaurants. People brunched

until 7 PM while we were gone. Others declared
dinner was best at half past dawn. This was known
as the dinner reclamation project, as innovation
from clock to table, the cleansing of sleep microbes.

While we were away, people
elected a maniac to lead our country.

People wrote Facebook words against Trump, posted
signs in store windows that love trumps hate. But
when hate trumped reason, people went home
and curled into bed. Sometimes people prepared
for a storm, but mostly people just thought about drought.
Paper, rock, scissors works only if we all agree on rules;
we'll cross the Golden Gate when we get there.


Jeanette Quick is a writer and policy professional living in Vienna, Austria and San Francisco. Her work has been published in The Bright Line, Penumbra, The Tax Lawyer, District Lines, and the American Banker. She has earned residencies from OBRAS Portugal, Elsewhere Studios, Art Farm, and Sundress Academy for the Arts. She was a finalist in the ARDOR Flash Fiction Contest and the 39th and 41st New Millennium Writings contests for flash fiction. She holds a Jurisdoctorate from Georgetown University Law Center and a bachelor of arts from University of California, Berkeley. She regularly contributes theater reviews to DC Metro Theater Arts.


Go to List of Poets or Back to Top of Page


Cindy Stewart-Rinier


TO REMAIN UNBROKEN

We must turn the horses of their apocalypse
out to pasture, then plunge our hands
deep into the earth in order to feel the way
unseen dendrites connect and feed
whole living systems, delivering
water and nourishment to the individual
trees that need them at any given time.
We must enact the way intertwined roots
serve to anchor and hold each other up,
and when one of us falls, we must give
reverence to that life by planting love
like a thousand seeds in its decaying husk.


UNDER TRUMP, NO GOOD DEED

goes unpunished, I think, approaching
the rat feasting in the bird feeder
again. At the sound of my foot steps,
its scurry and drop from the hanging
bowl, metaphor announcing itself
like the soft plop of excrement.
Aftermath of yellow millet, red
dari, and oily black sunflower seeds—
all meant to fuel the thing with feathers—
are strewn across the winter-dead ground.
How familiar now, this plundered
feeling. How familiar, the scattering
caused by appetites that know no bounds.

The metaphor might have been simple,
tidy, complete, were it not for that
encounter days before when, peering
into the bowl, I saw what weighted
the thin branch and rat nose met my nose,
rat eyes, my eyes, our gazes held
for a long moment before fight
or flight jolted its plump body
from bowl to air to bench to hidey-hole,
the feeder swaying like a wobbly scythe.
Only now, the difference between us
blooms shame from my belly to my head:

just one of our species manifests pathological
appetite, would wish the other dead.
We both know which.


Cindy Stewart-Rinier holds an MFA in Creative Writing from PLU's Rainier Writing Workshop. Her manuscript, A Desire for Color, for Wings was selected as one of two finalists in January of this year for the 2016 Philip Levine Poetry Prize First Book of Poetry contest. Her work has appeared in publications such as Calyx, The Smoking Poet, Crab Creek Review, Ascent, Naugatuck River Review, Women's Voices for Change, New American Voices, and VoiceCatcher, as well as the anthologies, Siblings: Our First Macrocosm, and the VoiceCatcher's 10th Anniversary Anthology, She Holds the Face of the World. She lives in Portland, Oregon and teaches ongoing poetry workshops in Silverton, Oregon.


Go to List of Poets or Back to Top of Page


Larry D. Thacker


FAKE-ASS GOLD ELEVATOR IN THE BACKDROP

Aleppo gets their house-to-house shots,
but that's all Kanye really wants, too, y'all,

with those arms crossed, next to that shot-op,
his sometimes estranged mouth restrained
for a change, not shot off, now ain't that odd?

Hold on, hold on, imma let you speak, Mr. T,
since maybe I ain't runnin in twenty-twenty,
see, but all I want right now is this mystery
of why in the hell I'm in this tower of power,
seen and not heard, all Ike and Eisenhower.

Some journalist asked, "Did you discuss
possible cabinet positions?" Some "journalist"
actually asked that. You fucking kidding me?
Naw, I just want to take a picture right now.

Good answer, buddy. Just smile and don't talk.


Larry D. Thacker's poetry can be found in more than ninety publications including The Still Journal, Poetry South, Mad River Review, The Southern Poetry Anthology, Mojave River Review, Mannequin Haus, Ghost City Press, Jazz Cigarette, and Appalachian Heritage. His books include Mountain Mysteries: The Mystic Traditions of Appalachia and the poetry books, Voice Hunting and Memory Train, as well as the forthcoming, Drifting in Awe. He's presently working on his MFA in both poetry and fiction. Visit his website at: larrydthacker.com.


Go to List of Poets or Back to Top of Page


Pamela Murray Winters


THE DAY AFTER THE ELECTION

I'm not Jesus,
but I'm learning that part
where the stone is rolled away.

Waking up at nightfall.
Remembering my love is coming home.
I rise and turn

the lights on.
One at a time. Envisioning
the light in his eyes

as he enters,
as he walks through this messy house
in this wrecked world.


INTROVERTS AGAINST TRUMP

I can be happy with not seeing
spies, anarchists, the stars' houses.
We have our private places.
I close myself as if the shell couldn't crack.
My house understands when I rot a little.

I have waited for the answer, the map
to being people. The legend is broken.
When fear knocks, we make houses of ourselves.

Some people are bent
on tearing down, rebuilding.
Look how planned everything is.
Don't step out of line. Keep your roof shiny.
Keep out the runaways. Let in the cops.

A bag-end I snuggle down. When I wake,
I will learn not to answer fear.
I will admit one, I will admit many.
I will go down to the intersection

wearing a sign.
Love let me in.


Born two blocks from the White House, Pamela Murray Winters lives in Maryland, where she works with the Green Moon Poets Society to organize poetry readings. Her poems have been published in the Gettysburg Review, Gargoyle, Opossum, and other journals and anthologies. She is seeking a publisher for her first book-length poetry manuscript.


Go to List of Poets or Back to Top of Page


Sally Weston Ziph


AFTER THE INAUGURATION
January 2017

the 12:33 train rumbles past on the track outside the window
the dark trees with solid trunks
and spidery branches
the old man reads Twitter and Mein Kampf
dried grass, ice-white sky, blackened water
against a white shore
he signs the executive order
dark silhouettes of birds burst
across the empty sky
families held in airports
barred from coming home
the crows are loud and getting closer
why can't we just get over it?


Sally Weston Ziph is a University of Michigan Hopwood Award winner whose work has appeared in Third Wednesday, Open Palm Print and others. She has two grown daughters, works as a librarian, and runs a writing group for women that just celebrated its fifth anniversary.


Go to List of Poets or Back to Top of Page


Poems posted March 31, 2017


Jonel Abellanosa


MOMUS

Zeus expelled me from Mount Olympus after my
yakking improvisatory mimicry and onomatopoeic
expressions of syllabic cooing mooing bang buzz and
whippoorwill baby sounds made other gods suspect
variations of my sadistic humor alluding. My cryptic
ululations, blabbering with animal grunts, mirrored
tyrannical Zeus' 140-character drivel. He would
send his audiences head-spinning into confusions,
ricocheting slurs and non sequiturs like silver bullets,
quick-tempered King of Heavenly Yes-Beings, parodic
pet peeve. This lecher rants like he has all the answers,
ordering sycophants whimsically, contemporary
Nero, onion-skinned sign-of-the-times psychopath,
mouthing the unprintable, showing off ignorance. I
love his colorful language – pluperfect for mockeries,
keen-eyed satires. Power is comedy-prone, politics the
juiciest jabberwocky. I pleasure in praising with
insults, throwing blames like bonuses to the corrupt, my
harlequin heart hula hooping. I delight in poeticizing
gobbledygook, aping iconoclasts, living among
Filipinos – the stormy planet's most resilient people,
easily the happiest and the most welcoming. I'm
delving in the written word's itch for annoying fun,
caricaturing the rich, speechwriting for the popular
bipolar bigotry granddaddy, perfecting on page his
anger's arrhythmia, his full moon glossolalia


PENGUIN

Anger hanging low like a rotting jackfruit,
bounty of curses for befuddled audiences.
Craftiness is silver as my walking cane,
deviltry a day-long lure and I'm helpless.
Entertainer with lavender lipstick, I'm master
feigner, falconer of pretensions, jack who
graduated from all tirades to all-out tyranny,
hippopotamus driven crazy by sounds and
insects honing the control freak mentality.
Jeopardy, if double, is a doppelganger,
knavery like a bowtie. I'm smacked with
loquacity, my heart wearing dancing shoes.
making it to the not quite female shortlist
nectarine as night. I'm not divulging the
Oswald Cobblepot teaser, the Gotham
pulchritude. I need no reasons to cry,
quarantining my desires en plein air. I
ruminate more when gazing if the moon
slice hints of watermelon, my paintbrush
tamer than starry soliloquies. Gray shades
understate the glossolalia I alone hear,
velvet the color I can't escape when
wishing for a new savior to be nailed.
Xenomania crowds my canvases with
yellows, nothing more laughable than a
zoo of caricatures – painted with insults


SUPERMOON IN THE TIME OF DONALD TRUMP

Vision is made
of bamboo sticks
and origami paper,
attached to the heart's string

The sign of the times
at perigee glows like a dilating eye,
the kite like a protest poem
in the sky


Jonel Abellanosa resides in Cebu City, the Philippines. His poetry has appeared in numerous journals and anthologies including, Anglican Theological Review, Rattle, Poetry Kanto, Spirit Fire Review, Episteme Literary Journal, The McNeese Review, The Literary Hatchet, GNU Journal and Pedestal Magazine. He has two chapbooks, "Pictures of the Floating World" (Kind of a Hurricane Press) and "The Freeflowing All" (Black Poppy Review). He is a Pushcart Prize nominee.


Go to List of Poets or Back to Top of Page


C L Baran


PUSSYFOOTING

as 1984 tops the bestseller list
alternative facts are the new
fake news

as google searches for
the definition of "fact" trend
searches for facts
trend

search
re
search
research

or

doublespeak
doublethink
don't think

don't think about
the unreal or the surreal
the dubious, doubtful, unverified, debunked, distorted, misquoted, misstated, fabricated

this pussyfooting, side stepping, song and dance


C L Baran is a Canadian multidisciplinary artist/designer and writer. Baran's art work has exhibited in galleries and museums in eleven countries and been published in a few more. Her text based work has been published in the magazines Front, Kiss Machine, Eat Your Friends and Homonumos.


Go to List of Poets or Back to Top of Page


Darrell Barnes


LOVE AT FIRST SIGHT

Hand in hand in the garden my lover and I did meet;
my dalliance startled the Press Corps and my darling was ready to tweet.
Our relationship, already special, grew deeper with each passing hour
and now I'm his inamorata, a fragrant and full English flower.
I'm the first to have sought his attention (my boldness paid off, don't you know?)
so a trade deal between us is settled – but wait! There's much more to show:
Her Maj has invited him over for a visit of glitter and gold
(who cares if nobody wants it? The voters will do as they're told).
I'll never say words that will hurt him, I'm only too eager to please:
so, of course, build a wall on the border and close it to poor refugees.
I'll admit to a frisson of pleasure as I pity Frau Merkel (the frump)
for I'll be remembered for ever as the harlot of Donald J Trump.


Darrell Barnes lives in London, UK and is actively involved in the voluntary sector which he finds much more rewarding than being a down-trodden member of the salariat. After leaving university he worked in banking (when it was a respectable profession) in Africa and Europe. His other interests include art and opera, neither of which he claims to understand.


Go to List of Poets or Back to Top of Page


Michael Brownstein


DEREGULATING STRIP MINING, KENTUCKY

Gather in cinder blocks! Storm roiling in!

Ash speckled cotton bales,
stacked straw damp with fever,
the end of the hollow storm:
creeks into streams into rivers
rich with black loam, tar dust,
carcasses, the stench so great
the water filtration plant can't.
Intakes blocked. Outtakes fouled.
If we make our children stupid—
lead in the drinking water—
are they easier for us to control?


Michael H. Brownstein has been widely published throughout the small and literary presses. His work has appeared in The Café Review, American Letters and Commentary, Skidrow Penthouse, Xavier Review, Hotel Amerika, Free Lunch, Meridian Anthology of Contemporary Poetry, The Pacific Review, Poetrysuperhighway.com and others. In addition, he has nine poetry chapbooks including The Shooting Gallery (Samidat Press, 1987), Poems from the Body Bag (Ommation Press, 1988), A Period of Trees (Snark Press, 2004), What Stone Is (Fractal Edge Press, 2005), I Was a Teacher Once (Ten Page Press, 2011), Firestorm: A Rendering of Torah (Camel Saloon Press, 2012), The Possibility of Sky and Hell: From My Suicide Book (White Knuckle Press, 2013) and The Katy Trail, Mid-Missouri, 100 Degrees Outside and Other Poems (Kind of Hurricane Press, 2013). He is the editor of First Poems from Viet Nam (2011).


Go to List of Poets or Back to Top of Page


Judy Catterton


MARCH MADNESS

March is the month
of madness
I watch the dribble
bracket the wins
and losses
hear the cries of foul
and wonder if my country
will ever rebound


IRONY

I listen to the radio announcer say the next show
will explore the problem of the transgendered
in public bathrooms and I think

people can carry a concealed weapon into a toilet
but not a concealed penis?

I marvel at the hubbub over a dead lion
when 9 children are slaughtered every day by gun violence.

I wonder why we struggle to fix unemployment
when decrepit bridges and roads need fixing.

I question how you can be both pro-life and pro death   penalty?
And isn't the opposite of planned parenthood random parenthood?

I am mystified when 16 million American kids go hungry every day
while Congress cuts food benefits   SNAP!

And then there's clean coal,
what the Hell is that?


Judy Catterton is a retired lawyer who teaches essay and memoir for the Rehoboth Beach Writers Guild. She is the 2015 recipient of a fellowship from the Delaware Division of the Arts for an emerging writer in the creative non-fiction category. Her essays and poems have been published in several literary journals.


Go to List of Poets or Back to Top of Page


Cathy Clay


HISS

I am neither winged nor hoofed; but small
tan, dappled, and lacking venom. Though
my kind comes in manifold colors, the
faintest glimpse of me conjures the huge
black serpent of nightmares and lore.
My motley skin I shed to become anew,
but I can never eclipse the curse.

I tend to keep to myself. Sometimes I crawl
into the vexatious pit of my kin; though I
prefer adding mystique to the garden.

I slither on my belly in search of some
small pulsating prey then a cool shadowy
place to rest. Most things are grand from
my vantage point since I seldom rise above
the heel. Occasionally, when I inch up a
tree, I wonder what it must be like to roar
or soar from there.

Progress licensed Adam to slay me.
Eve avoids my presence unless I am
couture. Children are taught to fear me
yet some appreciate my beguiling charm.
While too naïve to know that fertility, eternity,
and wisdom I symbolize, the innocent quickly
learn that I am delicate, playful, and necessary.

Camouflaged by nature, I creep to my fate.
Should trouble happen my way, I will rear
my tiny head, and launch my best defense.
I will hiss.


Cathy Clay is a Houston, Texas native. She earned a bachelor's degree in Creative Writing from the University of Houston (1997) and a master's in English from Texas Southern University (2008). Her scholarly reviews have been published in the Facts on File: Companion to the World Novel published by Columbia University Press (2007). Currently her short story "Cecil "appears in Eclectically Criminal, an Inklings Publication.


Go to List of Poets or Back to Top of Page


Jade Gibson


WITHOUT WALLS

This brink
of a year

Is the taste of pomegranates
about to burst,

The touch of life's beauty,
amidst the curved edge
of sharp swords.

The drums
of victory
and defeat.

Too many walls
springing up.

Too much to fight about,

Remember this –
how diversity
makes the world beautiful,

The curve of arms
in their first embrace,

That the first drum
is another's heartbeat,

And the innocence
of swallows
and whales
and other creatures

Who cross this earth
without walls.

Jade Gibson (PhD) is a British Half-Scottish, half-Filipino anthropologist living and working in South Africa. She is an artist and her novel 'Glowfly Dance' (Penguin Random House Umuzi 2015, SA, world rights avail.) was longlisted in the Barry Ronge Sunday Times 2016 Prize and shortlisted in international Dundee and Virginia Prizes. Jade is a regular guest poet at Off the Wall, Cape Town, and has read as a guest poet in Battersea, London. She was 2nd Prizewinner of Inglis House poetry 'Bone and Tissue' international competition, US, and is a fellow co-ordinator of the Cape Town Writer's Network. She grew up without walls and is sad when they go up.


Go to List of Poets or Back to Top of Page


Byron Haskins


UNREQUITED POLITICS

There is no love in politics.

Want prevails
ubiquitously,
insidiously,
insatiably falling out of love,
we can only observe
the black hole of avarice,
the white lie of manipulation,
the color of hatred,
the chill of horror.

On stage, I can pretend to love you
but the wretched political platform leaves me wanting
to dive off, away from your waiting armies,
the steps drawing down my strength.
the surging mosh aborting my feet,
frozen in dead space,
rocketed by a stupid tweet,
no love lost there, only
finding myself adrift on a sound bite.


REAL PARANOIA

Your paranoia ain't my paranoia
don't ever think you can ride in my car
when I'm trying to get to my low paying gig
and I know that my rig's got a headlight gone blind
and an unpaid ticket sitting on my seat
waiting for me to have enough green.
I'm looking for red flashers
and all you got is some crazy bad dream
about a G-man coming to take your AR-15
or some jack-booted nigger bitch fuckin' your son.
I'm just trying to make it to work
without your stupid-assed nephew Beau
pulling me over and pointing a gun at my fro
because I am reacting to losing my job
with your uncle Ned for being late
one last time
cause I can't drive down the street
without somebody thinking I'm there
for no good
cause I have to get to my gig
by driving through your neighborhood.


Byron Haskins was born in Detroit, Michigan, and is a retired career civil servant. Byron's publishing credits include: "Paulo Freire's Nightmare" originally "Lost Yesterday", Expression Magazine (1975), "Senseless Love", Cedar Gallery www.cedargallery.nl ( 2015), "The Goodness of Winter", Three Drops from a Cauldron, Issue 10, (2016) www.threedropspoetry.co.uk, "Charity Knows", Yellow Chair Review yellowchairreview.com, accepted for Issue 9 (2017), and "Joyists" accepted for the Poetry Leaves Exhibition, May 2-31, 2017 at the Waterford Public Library, waterfordmi.gov.


Go to List of Poets or Back to Top of Page


Jemshed Khan


TWITTERSOME JITTERS

Hillary pantsuit abortion refugees gay rights leaks foundation Trump MAKE America great Wall jobs tariffs NATO grope pussy Dare to Hope Audacity Donald The Donald White House toupee CNN Ivanka vs Hillary blues Leaks & fake leaks FBI news & fake news AND fake facts Pizza gate Deep State hard to see what destiny

Weiner hard drive full kiddie pron Podesta email WaPo So much mud Snowflakes melting KKK rising wall building nasty woman borders closing jobs coming hard times too The beginning or the blues CNNnNYT truth lying too. Tweeting 2 am bully pulpit smartphone China Iran Oz in a twitter.

Brits Brexit EU@Nexit Cali on fire or drought or flood immigrants need vetted Putin bromance lower taxes less regs cut 2 old for ea. new just business or passion populism rust belt religion gone red feel the Bern bring back factories jobs Country

divided. Soro$ behind every pussy hat #black lives matter droning Yemen An orange or a lemon? Everything upended Social justice or jobs #rich get richer quicker #bring back jobs Globalism help our own the world our home when-now where-across the land protesting you billionaire talk show host boast coast-to-coast You're Fired

Jemshed Khan has published poems in Number One Magazine, Wittenberg Review, Unlikely Stories (#BlackArtMatters September, 2016), Read Local (2016), Rigorous (Jan 2017) and the chapbook Paean for Billy Collins (Calliope Club Press, 2017). The author is slated for publication in Clockwise Cat, Issue 36 (2017), I-70 Review (September 2017), and NanoText (Medusa's Laugh Press, February 2017).


Go to List of Poets or Back to Top of Page


Phyllis Klein


LEONARD COHEN AND I WRITE THIS POEM TOGETHER
from Welcome to These Lines, in Stranger Music, 1993

Welcome to these lines
There is a war on
but I'll try to make you comfortable

while we watch the Rose Parade
as if everything were fine
Ten thousand hot pink fluorescent

roses floating by
Dogs on surf boards
I don't want to ruin the parade

But what is everyone so happy about?
The Arcadia band got brand new
uniforms in strawberry red

but all I can think of is his leer
his sickening groping hands grappling
for power Grand Marshall of hate

My village will be taken soon
I'll remove whatever
might give comfort to the enemy

which leaves me starving and homeless
but I'll try to make you comfortable
since you are not my enemy

I don't know what I'm feeling
under the dread as white button mums
go by in the form of a dove

surrounded by fifty thousand double rainbow
yellow roses to symbolize resilience
in the face of the horror of a mass shooting

Survivors smile and wave to the camera
and those who have been betrayed
come back like pilgrims to this moment

when we did not yield
when we took no comfort in our victories
because there is destruction ahead

but we can still laugh and smile
buy gifts say Happy New Year
and welcome these lines as pilgrims

when we did not yield
when we steadfastly refused
to call the darkness poetry

Welcome these lines
and hope they are true.


Phyllis Klein believes in poetry. Her work has appeared in the Pharos of Alpha Omega Medical Society Journal, Qarrtsiluni online literary magazine, Silver Birch Press, New Verse News, Crosswinds Poetry Journal, Chiron Review, The American Journal of Nursing and forthcoming in Dovetails, an International Journal of the Arts. She is very interested in the conversation between poets and readers of poetry. She sees artistic dialogue as an intimate relationship-building process that fosters healing on many levels. She lives and works in the San Francisco Bay area as a psychotherapist and poetry therapist. You can learn more at her website, phyllisklein.com.


Go to List of Poets or Back to Top of Page


Michael H. Levin


CLOAKED LAMPS
[It's] a Republic, Madam – if you can keep it.
— Benjamin Franklin, 1787

What could I tell my mother,
that driven orphan who for all
her years refused to ride the
VWs that were
family business cars. She said
they made her gorge rise at the
thought. When friends went underground
she joined World Federalists.
I have still in a drawer
the olive-wreathed gold globe
she pinned to her lapels.

How outline on her webbed
Depression scars the ways
we mirror what brought Weimar down.
They claimed she could not grasp
how indirection may attain one's ends
but something tigerish infused her space.
She would not bear the easy
ways in which submission creeps
and secret places are where
life subsists. Do not abide,
she'd say, though fearful of the

cost. Uncloak the Lady's lamp.
Stride forth. Persist.


MICHAEL H. LEVIN is a lawyer, solar-energy developer and writer based in Washington DC and Menemsha MA. He has published in Harvard Magazine, the Wall Street Journal, Adirondack Review, Poet Lore and other periodicals plus several anthologies, and has received numerous poetry and feature journalism awards. His collection Watered Colors (Poetica Publishing) was named a Best Book for May 2014 by the Washington Independent Review of Books.


Go to List of Poets or Back to Top of Page


Elizabeth Martin


UNFRIENDS

So you have unfriended me on Facebook
whatever the hell that is supposed to mean.
We certainly couldn't have been friends in any reality
where you believe white men alone
decide what color brown is an acceptable shade,
what is worth anything about a woman fades
when she is less than 10
and love is constrained
by your rules that sound less about love than about slaves
who will bend to men in bed and do their bidding
in a 1950s kitchen —
and you will not even speak about pain
or fear, dismissing it as overwrought —
silly woman wringing her hands
as the acid-laced clouds form
and you chirp on Facebook
about the weather being a light rain,
when a quick look at the sky
would tell you it's Armageddon's storm.


GOOD NIGHT

Will there ever be another good night?
A night of steady sleep til dawn,
when my heart is quiet
as the snow falling on the lawn, the streets,
soft as your breath beside me on the sheets —
a night without waking at three with a trumpet blast
of terror, wondering what new tragedy
is being crafted as we lie here —
what new lies will be here
when we rise, when morning thunders toward us
like the apocalypse
and we rise up to dawn
to gather the sunlight that's been rent asunder,
wield truth like a weapon
resist.


Elizabeth Martin lives and works in a small city in the Rust Belt. Her poetry has appeared in The Huron River Review, The Bear River Review, American Scholar Magazine online, the anthology of winning poems of the Chelsea Poetry Contest (Laura Kasischke, judge) and in the permanent art collection of Washtenaw College.


Go to List of Poets or Back to Top of Page


John Meyers


UNDER THE WORLD

Beneath a crumbling overpass the unwanted hide
in steel gray half light, dreading morning's arrival
shivering inside damp tents shared with rats
The rising sun forcibly defines objects:
dirty boots on grass, cherry red lemon ice
pieces of a shattered taillight in the gutter,
a plastic Walmart bag tangled in the witches' fingers
of a half-dead tree, tugged by the wind
which just might float it away
to a better spot, someplace less gray
Overturned grocery carts bent and broken
city-stained clothing heaped in piles,
an unending tracking shot of misery
attended by cars creeping at low speed,
fresh off the exit ramp
belching toxic exhaust that flavors the air
enriches the grays and blacks
There is movement, a hint of greasy gray hair
at a tent opening followed by the tip of a nose
sniffing rabbit-like, furtive glances left and right
a cloud of frozen breath, the only white
then back into the tent to put time on hold
stave off the inevitable beginning
another day filled with searching
for a way into the world above


John Meyers' poems, stories, and essays have appeared or are forthcoming in The Louisville Review, Fiction Southeast, The Washington Post, The Baltimore Sun and elsewhere. John has a degree in Journalism from the University of Maryland and he once worked for Ringling Bros. Circus. More on John at hammeredinmetal.blogspot.com.


Go to List of Poets or Back to Top of Page


Marsha Warren Mittman


CARNIVAL #45

on the eve before the carnival's
arrival i asked god
what shall i do tomorrow?
and god said
it doesn't matter
no one will notice you
no one has any interest in you
the performers are only
interested in themselves
he thundered
beware the side show –
the flame throwers and knife
throwers enjoy missing.
they deliberately hurt bystanders
and the juggler, well,
the juggler is blind so his act
is completely deplorable
undeterred i asked
what about the games?
i love the games
god looked sad, and sighed
that's all the performers
are excited about;
they'll kill to win. and
dear child, don't eat the
cotton candy – it looks sweet
but it's been poisoned
i implored
the animals?
i love the animals…
god shook his head
the animals have left.
all remaining beasts
ARE the performers
then god warned
one last thing –
after the side show
the performers are going
to take you for a ride . . .


Originally editor of an international company's in-house magazine, Marsha Warren Mittman has had numerous poems, essays, and short stories published in American and British journals, magazines, and anthologies – most recently Novelty (London) and her fourth Chicken Soup for the Soul tale in Angels and Miracles. Her chapbook, Patriarchal Chronicles – A Global Tour of Female Injustice, was accepted by Finishing Line Press. You Know You Moved to South Dakota from New York City WHEN… is forthcoming from Scurfpea. An earlier chapbook, Message from a Goldfish, was used in meditation/human potential programs in twelve states. Mittman is a recipient of eight poetry awards (mid-west, Atlanta), and distinctions in three short story competitions (U.S., Ireland). An avid traveller, she's visited over 125 countries on six continents and forty-six American states.


Go to List of Poets or Back to Top of Page


Alice Morris


AN ACROSTIC

Terror, in waves
ripped through me
unrelentingly that
morning I learned a pussy grabber had won the election – extremely
painful for me, a woman.

I guess now we will
see – what Our Mess of a democratic process has wrought

Not that our fast descent into
oblivion has not already began. Now, from arts to education there is
tragedy. Now haters wave flags and banners of Klan & Nazi. Now

Muslims and migrants are defined as Other, and
Yes to more massive defunding, and No to sanctuary cities as

Peace, chip by chip, is chiseled from our land
reversing the tide of compassion––
each new tweet and executive order puts me to
shame.
I would rather take
direction from Mother Theresa who
entreats us to
not forget
that peace is to be found in knowing we belong to each other.


Alice Morris, a Minnesota native, earned her BS from Towson State University, and MS from Johns Hopkins. She comes to writing with a background in art– published in a West Virginia textbook and The New York Art Review. Her poetry appears or is forthcoming in The Broadkill Review, Delaware Beach Life, The Avocet, The Weekly Avocet, Silver Birch Press, and the chapbook, The White Space– Selected Poems. Her work can also be found or is forthcoming in themed poetry collections and anthologies, most recently, Bared: Contemporary Poetry and Art on Bras and Breasts by Les Femmes Folles Books.


Go to List of Poets or Back to Top of Page


Robert Okaji


SENSING MY DISMAY AT THE ELECTION RESULTS,
MY WIFE'S DOG PRESSES AGAINST ME

And when I roll over, my toe finds a hole in the not
inexpensive 400 thread count percale sheet and rips

down its length, and I wonder if I should extend this
metaphor to include walls and the unbearable weight

of societal collapse, or hatred with small hands and
minds or faces like pale disks of whitewashed emptiness

glaring at my friends, or, well, my wife and me, across
the restaurant's laminate booths or the potholed street

by the bus stop. I recall the woman's sneer and hushed
commentary that afternoon, and though I wanted to

correct her mistaken assumption (hey, lady, I'm not
Hispanic) and redirect her bigotry to the correct ethnicity,

I chose instead to smile and wave goodbye, to drive to
the polls and cast my ballot, one drop in that dark bucket

of nothingness, floating alone, perhaps to coalesce with
others and attain some sense of parity and belonging,

or to remain outcast, bewildered, wondering how this
could be, what's happened to us, my home, our country.


Robert Okaji lives in Texas with his wife, two dogs and some books. His work has appeared or is forthcoming in Panoply, Taos Journal of International Poetry & Art, Posit, Into the Void, and elsewhere.


Go to List of Poets or Back to Top of Page


Yamini Pathak


NOWHERE, EVERYWHERE

To aspire to belong is to walk a tight-rope of opinion
swaying in the wind.

Not waiting for answers, they question –
Why don't you exchange
your blue jeans for a saree, submit yourself
to its graceful, feminine folds?
Make hot rotis for family dinner every night?
What sort of Indian woman are you?

Didn't keep the fast for your husband to outlive you?
Or take your kids to temple?
No shrine at home to light the lamp at sunset?
You gave your sons Islamic names just because
they sound like music to your ears?
What sort of Hindu are you?

You dare walk out after dark, wearing skin
of an unfashionable color though you quake
at the thought of the next rage-filled man
who might approach and scream
Go back to your country in your face?
What sort of foolhardy citizen are you?

At times, drifting in that delicate space
between tears and laughter of fellow story-tellers,
or when I brush by a weeping willow in spring,
or walk to market on a street shared
with cows and crows and stray mongrel curs,
I ask myself, what sort of pilgrim are you?


Yamini Pathak is a former software engineer who has recently turned to writing poetry, and short fiction. Publications of her poems are forthcoming in the spring 2017 issues of the Journal of New Jersey Poets and the Kelsey Review. She writes a monthly children's column on world art/artists in a nationally circulated Indian newspaper, The Hindu. She was born in India, and lives in West Windsor, New Jersey.


Go to List of Poets or Back to Top of Page


Marc Pietrzykowski


RAGS TO RICHES TO RAGS IN THE AGE OF SOCIAL MEDIA

Once he failed the physical, the Army
did not want him anymore,
so he drank three pints of Smirnoff
and cut off his brother's ear
with a Ka-Bar Becker BK2 hunting knife,
the one he got for Christmas.

The ear sat there on the kitchen table
while his brother pressed a dish towel
to his grinning, leaking skull
and Mom tried to hold her phone steady
so the video would be decent.

She put it up on YouTube
and shared it with her sister,
who posted it to Facebook
where it got ten thousand likes
and a spot on Tosh-O.

While the resident sewed the ear back on
his brother kept trying to sing
the theme to Bob's Burgers,
because they'd fed him too many hydros
while waiting in the ER,

and so the ear healed crooked
which they all thought was funny,
and they recorded it, uploaded it,
and no one gave a shit
except for Grandma.


Marc Pietrzykowski lives and works and writes in Niagara County, NY, USA. He has published various and sundry poems, stories, and essays, as well as 8 books of poetry and 2 novels. His most recent book of poems, So Much Noise, and book of short stories, Monarchs of the Undertow, are available now. You can visit Marc virtually at
www.marcpski.com.


Go to List of Poets or Back to Top of Page


Kiara Smith


CODE 3

Bang, bang
comes the rap on the window.
Hands
where I can see them.
License
and registration.
Reach,
but don't budge.
Give me
one
good
reason
to use this gun.

Bang, bang
comes the knock on the door.
It doesn't matter
how long
you've been here,
you
do not
belong
here.
We'll keep
your kids
but you
will be shipped
Out.
We no longer need
your services.

Bang, bang
comes the pounding of the gavel.
Tears stream down
your face.
Your eyes
red
with fury
with betrayal
because
It's he said, she said.
He's a good boy
in a bad situation,
and you're
just a party girl who
drank
too
much.

Bang, bang
comes the death of liberty,
the death of freedom
and justice
For all.
As the borders close in on us,
as we deny marital rights,
as women stare at glass ceilings,
as education is drenched in white,
as we argue about bathrooms,
as black and brown blood floods this country,
and we justify our actions
as we stand idly by.

The gun is in our hands.

Bang, bang!
Shots fired.


MIXED CHILD

Torn
between
the desire to blend
and the call to be pure.
How pure?
Pure like blood-
stained cotton fields?
Or the hearts
of the masters who
owned them?

If I cram
myself
into the cookie cutter,
frost myself in white,
does it matter?
Would you rather
I straighten my hair
and talk right
talk "white"
as
preppy blonde girls
slide lipsticks in pockets
unseen
because the salesman watches me?

Me! Well-spoken,
light-skinned girl
from the suburbs.
Never been in a fight in her life.
But I fight for the rights
that some people swear have
already
been
given.

Whose rights?
Who is right?
Someone must be right…
And yet my brother has to learn
how not to spook a white person
because we
must
fear
white man's fear.

Battle lines drawn,
there in black
and white,
written into one-liners
now saved on the Internet
and plastered on poster boards
in protest
as speeches are screeched
out on the streets.
And I fight
for our rights
despite my privilege
because I may not be black
enough
for all,
but I've had my struggles.
And in their eyes we're all one color.

When sirens wail,
they scream
for you,
for me.


Kiara Smith started writing poetry in middle school; she won third place in the poetry segment of a Reflections competition and has never looked back. While completing her BA in English- Creative Writing and Spanish, Kiara published three poems in Pacific Union College's literary magazine, Quicksilver. Currently, Kiara is a Master's of Education student at Vanderbilt University studying learning, diversity, and urban studies with an emphasis in language, literacy, and culture. As an aspiring high school teacher and poet, she has been researching how poetry may be utilized to improve English acquisition amongst English language learners.


Go to List of Poets or Back to Top of Page


Tayler Smith


POETICAL POLITICAL

8 years ago I came out to my parents as bisexual
because having two options
was better than one,
but embracing two breasts in my palms
was more arousing than a prick between my thighs
yet I was never questioned why I wasn't picky that I've never had a thigh gap
because my legs touch when I walk
like a barrier to the pathway men think they can invade
No Trespassing used to tangle up in the bushes outside my garden
but when I decided to trim them down for her
to delicately water my flowers
the next 4 years will feel like the coming out story I had to lie behind
with a president that wants to tear down my signs
to build up his walls.


Tayler (23) is an English Major from the University of Northern Colorado. Her passion derives from poetry about life's struggles. Such as: the ways in which losing Wi-Fi halfway through an online manuscript is irritating, how the world is saturated in global warming but we enjoy the hot weather as the earth is dying, and the ways in which food, coffee, and sarcastic literature can complete a human heart.


Go to List of Poets or Back to Top of Page


Katie Staten


ANOTHER NEW COLOSSUS

Not like the harbor-dwelling whore they built,
With flaming torch o'er paper-tinder land,
Here at the crevice of this nation grand
A rising leader from his palace gilt
To lead us from the white-washed home of jilt,
His name a reckless lightning, burning brand.
To huddled masses anxious with demand
Cries he, "Our nation's gutted to the hilt!
With brick and mortar, Greatness we restore.
Declare the homeless, tempest-tost our foes.
Erect this wall; melt down our golden door.
These so-called 'refugees' that seek repose–
Indeed, such wretched refuse are the poor,
I rest my boot across the necks of those!"


Katie Staten is a writer and cat lady who grew up in small town Minnesota about ten miles from the nearest traffic light and now lives in Minneapolis. She maintains "Poetry (For the Time Being)," a blog which features her original poetry as well as posts about reading, writing, and life through a literary perspective, at krstaten.wordpress.com/blog.


Go to List of Poets or Back to Top of Page


Ferral Willcox


NOCTURNE

I dreamt of a child. It was not mine.
It was color bound in a cotton swaddle
curled in a Sufi prayer, beads of peace
woven around it in the sleeping air
a singing darkness, warm and story
spangled with dancing monkeys swinging
by their tails, a world of colloidal gold
fire moths glowing in the bloom
of a dry season moon. And then, thunder
too soon, but welcome, though the rain
was strange, and something cooking –
mutton for the dream of a stew, cinnamon
cumin, cardamom, no. It was her mother
burning in a nearby room.
I did not remember the dream
and missed the news – a line item
in a budget contained the mother's end.
I was having coffee with a friend.


ALL BIRDS WITH YELLOW FEET

all birds with yellow feet
all rare white squirrels disappearing
all who carry three bags on foot
What are the soft words for falling?

What are the soft words for falling?
all feather green trees
all spills of all oils
all tight curls of ticker tapes, spent

all silver green ripples of wakes
all loss of plankton, diatoms, and the like
all lakes of iridescent pleasure
What are the slow words for speeding?

What are the soft words for breaking?
all who wear white hats in the sun
all who traffic in silverfish
all who bring two tons of metal with them dancing

all fine cuts in shimmering banks
all stone twins standing
all electric peace
all grace, all grease, all pan-fried manners
Tell us, what are the elegant words for slaughter

What are the reasons again, for war?
all helmet hair leaders
all duckspeak gilded
all who move again, when home is taken
all who guide tractors
all who sweep and rake
What are the kind words for hate?
What are the soft words for falling?


Ferral Willcox is a U.S. born poet and musician currently living in Chiang Mai, Thailand whose work can be found in Per Contra, Concis, Peacock Journal, Calamaro, and elsewhere. Ferral collaborated with visual artist Lane Clark on a thirty-minute poetry performance piece that was featured at the Philadelphia Fringe Festival in the Q-Street venue.


Go to List of Poets or Back to Top of Page


Pamela Murray Winters


9 OCTOBER 2016: WANDERING AROUND THE DEBATE STAGE LIKE AN ANGRY GHOST

he wonders when the sled went up in flames. The ride
used to be so easy, everyone knew the dance, no need

to press 1 for English or change the names of crayons.
You just did your thing. You lived. And kings and princes

lived the hardest. And the hardest was the best. He looks
at the woman whose back is turned to him. Soon

the Hollywood reporters will ask the president Who
are you wearing? Soon he'll find his toys won't play.

(This poem was inspired by an article by Ellie Shechet published at jezebel.com.


Born two blocks from the White House, Pamela Murray Winters lives in Maryland, where she works with the Green Moon Poets Society to organize poetry readings. Her poems have been published in the Gettysburg Review, Gargoyle, Opossum, and other journals and anthologies. She is seeking a publisher for her first book-length poetry manuscript.


Go to List of Poets or Back to Top of Page


Kit Zak


GENERATION ILLEGAL

not just the bursting pimples in first bloom
the darker skin/ shorter stature
the minimum wage past/ present/ future
not just your ridiculed music

you and those like you
who stoop in the noonday heat picking beans at dizzying speeds
who balance on scaffold while pounding nails
who trench yard upon yard of dirt

furled in the flag politicians will declare
you and your kind the new enemy
and though you feel as ordinary as the next guy
and though your brothers and cousins die on Arab soil
you have known
you know, you know
that you have no home
in the only place


Kit Zak, a native West Virginian, has spent most of her life at sea level, far from her beloved hills. Kit spent her adult years teaching and raising a family with her husband. After she retired they moved to Lewes, DE and became committed to cleaning up an old a coal plant. Kit is active in a writing community and committed to issues of justice and the environment. Kit fell in love with poetry in a college class, but waited 27 years before she tried to write her first poem. She has published poems in national and regional journals. Her chap book Once Honeysuckle will be available this summer.


Poems posted March 18, 2017


Rose Anderson


TRUMP

Donald Trump farted,
farted long and loud:
a blast that went resounding forth
to greet the expectant crowd.

Donald Trump farted
and all who were in range
nodded their heads and, smiling, murmured,
"Ah, the wind of change!"


Rose Anderson lives in Leeds, England, with her husband, Phil, their cat, Cal, and a rubber octopus called Dave. Her poems have appeared in various publications including Aireings and Obsessed With Pipework.


Go to List of Poets or Back to Top of Page


Antigoni Dimopoulos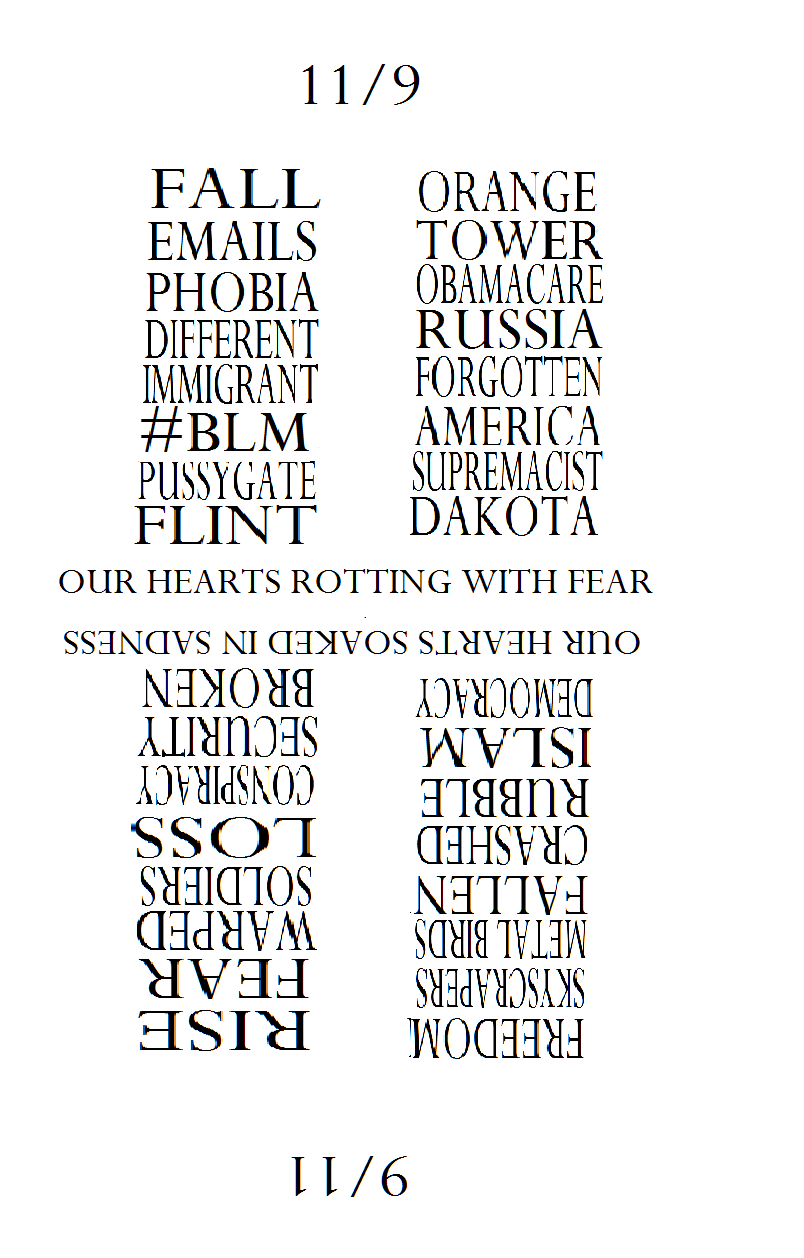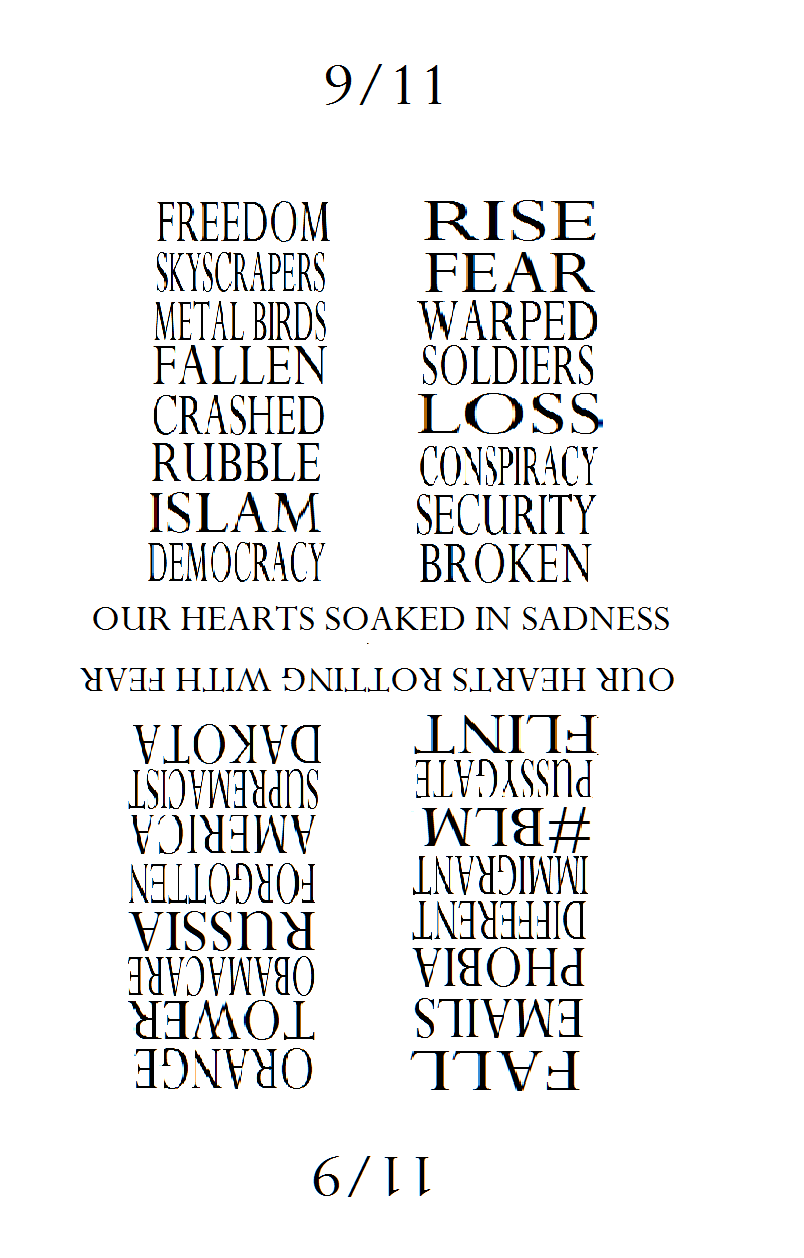 Antigoni Dimopoulos is a Greek-Canadian University student living in Montreal. She has always been interested in writing, although she is currently focusing on poetry and visual poetry. American politics has become one of her 'guilty pleasures' and the subject of a lot of her writing. Antigoni has also been very involved in the subject of mental health, working with her university and organizations like Jack.Org to promote the importance of creativity and expression and its links to mental health. You can find most of her works on her website: Antigoni.ca or reach her on Twitter @iantigoni.


Go to List of Poets or Back to Top of Page


Irene Fick


DON'T PEE IN INDIANA

Ah, this is no Song of the Open Road,
and we are not Walt Whitman scribes. No,

today we are wretched riders motoring west
along the broken roads of the Indiana Turnpike,

dodging cracks, pot-holes and warning signs
corralling our Subaru to a single lane

(road work ahead! but nary a worker in sight).
And oh! how we tire of the rest stops –

their soiled and noxious bathrooms with stalls
that do not lock and soap that does not flow

and those greasy, unkempt food courts
and weedy, seedy picnic plots where dog doo

awaits the unsuspecting shoe. Only thirty miles
remain of this concrete abyss, and so we resolve

to hold our bladders tight, endure this domain
of religious freedom, where pious bigots fret more

about baking wedding cakes for gays
than the shameful state of their roads.

Our bladders about to burst, we cross the line
into blissful Illinois, where the ills of Indiana

will dissolve. We envision roads buffed
and burnished, rest stops nourished by Panera,

bathrooms clean, soapy and sweetly-scented.
Surely, we will find relief in Illinois.


Irene Fick's first collection of poetry, The Stories We Tell, was published in 2014 by The Broadkill Press. The book received first place award from the National Federation of Press Women (NFPW) and first place from the Delaware Press Association (DPA). In 2016, Irene's poem, Asunder, received first place from DPA and second place from NFPW. Irene's poetry has been published in such journals as Poet Lore; Gargoyle; The Broadkill Review; Philadelphia Stories; Adanna; Mojave River Review; and Delaware Beach Life. Her poetry has been nominated for a Pushcart Prize.

Irene lives in Lewes with her husband, Ed, and is active in the Rehoboth Beach Writers' Guild and Coastal Writers. When not writing, she sings in the CAMP Rehoboth Chorus, and supports many animal welfare organizations.

Go to List of Poets or Back to Top of Page


Ryan Quinn Flanagan


ABOUT AS POLITICAL AS I WILL EVER GET

All those Canadian university professors
being turned away at the border
into the States
without explanation.

Finding out later
that they had been put on a communist
dissident watch list
almost twenty years earlier
during the Cold War
and put under police
surveillance.

And their old friends began opening up.
About how CSIS officers came to their door
trying to intimidate them into saying
something incriminating.

Something that would stick.
Promised that the source would remain anonymous
and be buried in the report.

But we're the good guys,
never forget that.

Our shit don't stink
unless you smell
it.


Ryan Quinn Flanagan is a Canadian-born author residing in Elliot Lake, Ontario, Canada with his other half and mounds of snow. His work can be found both in print and online in such places as: Evergreen Review, The New York Quarterly, Word Riot, In Between Hangovers, Red Fez, and The Oklahoma Review.


Go to List of Poets or Back to Top of Page


Sheri Gabbert
\
BLOWIN' IN BOB DYLAN'S WIND

Resistance races legislation,
tries to stifle executive orders.
Fascism runs in the background,
buffoonery captures headlines
while most of We, the People,
of We, the Sheep,
cheer the end of days.

War wafts through midnight days,
violence swells over tattered flags
of surrender. Where will this battle
of worlds ignite? What graveyard
buries this collateral damage –
LGBT, Muslims, women of color,
the brave who fight in name of god
and country fed on orange lies
and measured cups of alt-facts?

What signs stop escalation?
Halt inequality and silenced voices?
Impeach rotten apples and madmen?
What mountains crumble tomorrow
that seemed flattened yesterday?
Where do answers dwell
if not in the whirlwind of protest?


THE WHORE OF THE UNITED STATES

Uncle Sam pole dancing,
sells himself in broad daylight,
no longer hiding in inky street corners.
How many johns a day?
Enough to sit on the faces
of 100 senators, 430 representatives,
countless appointees, the orange cuckoo
at the helm, tweet, tweet, tweet!

Lap dancing Koch brothers waggle
huge breasts in Congressional faces,
while stuffing cash in Congressional
g-strings, not the usual order of things
but the most effective if you want to destroy
the EPA, all business regulations,
and the health care system.

Big Pharma Delilah strokes
the bald head of America,
locks of freedom, equal rights,
in rings around her feet.
There is no strength left
in the dusty Constitution.

The Whore brings us to our knees,
suckles the collective snatch,
brings all thoughts to dick
and leaves us begging for more.


MR. KGB MAN

Hey, Mr. KGB Man, hack the Dems for me
I'm not winning and there ain't no way I'm going to
Hey, Mr. KGB Man, hack the DEMS for me
In the tweety time of morning I'll come following you

Miss Universe in Russia. Hey, will Putin be my friend?
I'm creamin' in my jeans,
I am winning in my dreams, and still I'm dealing
My big bright brain amazes me, I'm lyin' as I speak
Putin I had to meet
Yeah, the guy has a broad chest, he's fuckin' awesome

Hey, Mr. KGB Man, hack the Dems for me
I'm not winning and there ain't no way I'm going to
Hey, Mr. KGB Man, hack the DEMS for me
In the tweety time of morning I'll come following you

I've done a lot of biz, my money makin' speels
Deal with Russia is sealed, new towers be revealed
Putin is the guy for me, wait only for his okay
To go wandering
Into pres'dential politics, I'm ready now to win
Let the race begin, cast your influence my way,
I promise to go under it

Hey, Mr. KGB Man, hack the DEMS for me
I'm thinkin' I might win and there's a way I'm going to
Hey, Mr. KGB Man, hack the DEMS for me
In the tweety time of morning I'll come following you

Though you might hear allegations, 12 mil for Manafort
Weapons for Ukraine abort, favor with the Russian court
Page, Gordon, Phares, Flynn, Sessions meet with the Russians
And if you hear vague traces of dirt on Mr. Trump
It is all a fake news dump, no, I am not a baboon's rump
Hilary is in a slump, it's just a presidential landslide
I am chasing

Hey, Mr. KGB Man, hack the DEMS for me
I'm thinkin' I might win and there's a way I'm going to
Hey, Mr. KGB Man, hack the DEMS for me
In the tweety time of morning I'll come following you

I'm the president, all hail the chief, Putin is my friend
For him over I will bend, no sanctions will there be
A smile's on my orange face, my voice a gnarly screetch,
It is the twisted reach of hatred spewing
I won the electoral vote and Hilary got the sack
Regulations rolled back, the CIA has been hacked
With all memory of truth driven deep between my teeth
Just forget about today and the Constitution

Hey, Mr. KGB Man, hack some more for me
I am the president and bad things I'm gonna do
Hey, Mr. KGB Man, hack some more for me
In the tweety time of morning I'll come following you


Sheri Gabbert lives and works in the Missouri Ozarks where she is a substitute teacher. Her work has been published in Moon City Review (2011/2017), new graffiti, Rat's Ass Review, 417Magazine, Street Buzz, and The Lawrence County Record.


Go to List of Poets or Back to Top of Page


J. H. Johns


THE PARTY OF LINCOLN

How strange.
We know, of course,
this didn't happen overnight;

no, no-
they've been at it
for a long time;

so,
what do we have now?

I suppose, actually,
we thought the Civil War was over;

hmm-
what was that all about-
slavery?

Well, that's what we were taught-
but maybe,
it was about
what this is about-

it's just nowadays we call them
"blue states" and "red states;"

and, today,
it's the one percent
that is oppressing the rest;

yesteryear,
slavery and race;
now,
jobs and money;

apparent nothingness
and
obvious privilege.
So,
are the campaigns,
the debates-
is the contest-

is it what it's been all about-

the new
Fort Sumter?

And if it is,
where is it;
who are the parties?

Yet,
looking back,
we know the first shots have been fired;

and, so,

who was Beauregard-
who was Anderson-

and
who
and what-
will survive what's about to happen?

And, how?


J. H. Johns grew up in Knoxville, Tennessee and Milledgeville, Georgia. Most recently he has appeared in Former People Journal, Torrid Literature Journal, The Five-Two, The Bitchin' Kitsch, Parody Poetry (2), Syndic Literary Journal (8), Ygdrasil (Canada), The Poetry Super Highway E-Book (Chapbook) Free-For-All, The Rain, Party & Disaster Society, Poetry Super Highway (2), Pour Vida Zine, The Potomac (2), Foam:e (Australia), Literary Juice, The Lost Coast Review, Syndic Literary Journal- Publisher's Favorites, Fishfood Magazine, ken*again, The East Coast Literary Review, Exercise Bowler, Four and Twenty, Commonline, Danse Macabre Du Jour (2), The West Wind Review, Smokebox, Word Slaw, Wizards of the Wind, Alura, and is forthcoming in The Ibis Head Review, Fishfood Magazine, and The Five-Two.


Go to List of Poets or Back to Top of Page


Shelley Kahn


WHAT I HEARD LAST NIGHT

Blue notes highlight our pain.
Red ties amplify our rage.
And still, we barely understand
the obvious point
in this unending race
of distraction
and implosion.
When he first said it,
1935 peered at us
beyond the thinly barred curtain-
waiting in a side room.
Online polls and television
did not fully capture
that slowly realized fear
ramping up and up
with every new bulletin appearing
on watch, device or phone.
An ever murmuring hum resounds
beneath the hello
from the still polite civil servants
we pass on the street.
Feeling more like a wasp, than a butterfly.
Fluttering in the gut.
Reaching for the bedside water glass at 3:00 am,
we now wonder whether we will end up:
informing on our neighbor?
building that wall?
Silencing our enemies?
Joseph Stalin would be proud.


Shelley Kahn lives most of the time in the suburbs of Washington, D.C., but her heart is pulled in the direction of the Delaware coast. One of her many passions in life has been to write poetry about everything she has observed in nature, in people and animals. Her poems have been featured in various publications, such as Melancholy Hyperbole, Dove Tales, The Path, and From the Depths, Haunted Water's Press. She is currently a member of the Rehoboth Beach Writer's Guild.


Go to List of Poets or Back to Top of Page


Margaret Farrell Kirby


ALL THE KING'S MEN

Alice, what alternative world
have we slipped into?

Where colors take on odd tones in a dreamscape of jumbled words… threatening twittering jabberwocky…distorted images that make no sense.

Clocks paralyzed in nonsensical time, and a tea party
without tea—magic tricks have infiltrated our land.

An elected emperor
spewing lies spliced with a mean spirit and
sterilized as facts
fogging mirrors with twisted clouds and
ominous labels. Branding outsiders:

Criminals    Illegals    Aliens
Off with them!

With the sounds of doors slamming
decrees and edicts are delivered
a weak smile slightly askew
courtiers of his Kingdom—cogs
in the wheel of a Grimm tale.

With a straight face
they weave falsehoods and counterfeit threads

As if they were spun of gold.

Who will listen, Alice?
Afraid, alert, the onlookers blurt

No clothes!   Naked!   Lies!
A chorus pleads: don't you see?

How long Alice, before
someone will switch on the lights, expose the nakedness

banish the sycophants?
Maybe, like you, we will awake.

We must remember:
Pendulums swing.
Tyrants
Tumble.
Empires
Fall

and cannot be put together again, not even by
all the King's men

Then
words will mean what they mean…
facts will be true…
mirrors will clear…
the clock will tick again
sycophants will vanish…
clothes will be spun of truth
the torch will be re-lit…
doors will open

The sky will turn blue again.


Margaret Farrell Kirby is a member of the Rehoboth Beach Writers' Guild and the Eastern Shore Writers' Association. Since retiring in 2012, She has written in different genres. She has three published pieces: "Carolina Street "in The Beach House (2013); "Untethered" in The Boardwalk (2014); "Beach Daze" in Beach Days (2016).


Go to List of Poets or Back to Top of Page


James Kowalczyk


IT HAS BEGUN

America is already great thank you, president Tru . . . sorry, I just threw up in my mouth . . .

When I hear "again" I think of a time when chinks build the railroad, niggers build the White House, and the queers knew their place, a time when foreigners were wops, polocks, micks, kikes, spics, and wetbacks that were not quite human and political cartoons had illustrations to match the terms . . .

When I hear "again" I think of a time when women knew their place and children knew their role- in the kitchen and seen but not heard . . . herd mentality, that's what I think of when I hear "again", a time when if you said that right thing or pointed a finger maybe, just maybe, you'd be invited into the flock . . . led by Jesus, not some pack of animals led by a fucking sand-nigger . . .

When I hear "again" I think of some cops doing whatever the hell they want behind closed doors . . . but then again, today they do whatever the hell they want in the streets . . .
When I hear "again" I think of hominid animals preying on the other, blood dripping from a castle window where heroes of horror with twisted smirks and jaundiced eyes chew on the poor . . . their mouths open with carnage pate riding on galloping tongues greased with bullshit . . .

while miss highly manipulative prances to the beat of the goose stepping alternative boys who under a dark sky spew turds of venom… but all strike out when they face Sandy Koufax, a Brooklyn Jew, known as the Left Arm of God . . . and

they all run from Jimmy Cagney and Angels with Dirty Faces who scream in horror as Liberty levels her torch as a flamethrower aimed at the other . . . who, to paraphrase Shakespeare, have

eyes, hands, organs, dimensions, senses, affections, passions like us . . . is not the "other" subject to the same diseases, healed by the same means, warmed and cooled by the same winter and summer as everyone else? If they are cut, do they not bleed? If they are tickled, do they not laugh?

at the perverse circus of drooling monkeys surfing the minds of misbegotten mental midgets, who, like wretched worms slither through the stifling stench of slime at the bottom of the political porta potty

where your kind live, inhaling the other's death fumes like the box jellyfish-brainless and lethal, a nobody trying to convince anybody that you're somebody, but perhaps one day light will splash on mighty whitey's wall, transforming the strifestyles of the oppressed and ignored,

but until that happens…resist

James Kowalczyk was born and raised in Brooklyn and now lives in Northern California with his wife, two daughters, and four cats. He teaches English at both a high school and college level. His poetry and fiction has appeared in numerous online and print publications.


Go to List of Poets or Back to Top of Page


David Lohrey


CONFESSIONS OF A TRUMP SUPPORTER

I am a man, too.
Listen up.
I've given up.
I'm one of those guys who never wins.
I have no backing.
I've never been in the right place at the right time.
I've never been elected.
I've never been called to the microphone.
My shoes are often left untied.
I forget to zip my fly.
No one has ever said to me, "I love you."

I missed out on disco-mania.
I still use too much salt.
I smoke.
I hit my children.
I ate canned ravioli as a kid.
My life is almost over.
I won't let my wife serve instant rice.
I often forget to lift the seat.
I don't know how to tie a tie.
I never take down my Christmas lights.
My mother called me stupid.

I bite my nails.
I have a pimply ass.
I forget to flush.
I voted for Richard Nixon.
I make my wife take out the garbage.
I can't catch a ball.
My wife makes me sleep in the den.
She says I smell like a dead mouse.
My first grade teacher said I should be ashamed of myself.
My high school coach said I was full of shit.
My father beat my ass.

I have no friends.
I hate the snow.
I used to eat Lucky Charms.
I love baseball.
I've changed a lot of flat tires.
I never look at porno.
I used to like cutting the grass.
I joined the boycott against Coca Cola.
I've never been out of state.
I voted for Ronald Reagan.
I voted for Bush.

I once hated the Soviet Union.
I hated communists like Jane Fonda.
I hated the Viet Cong.
Now I love the Taliban.
I'm not into hate.
I didn't take Watergate seriously.
I didn't vote for Obama.
I always order broccoli beef and spring rolls at the Chink's.
I drive a Chevy.
I'd like to retire to Panama.
I laughed when my brother got hit in the head by a fly ball.

I'm a goner.
I won't let my wife shave her pussy.
I prefer sunflowers to roses.
I am an alcoholic.
My wife had her left tit removed.
I've always wanted to see the Pyramids.
I think Pete Rose got shafted.
I voted for Trump.
I've never been to a French restaurant.
I never go to church.
I think Margaret Thatcher had balls.

God bless America.


David Lohrey grew up in Memphis. He graduated from U.C., Berkeley. His plays have appeared in the UK, Switzerland, India and, most recently, in Croatia. In a Newark Minute and Sperm Counts were translated and produced in Estonia (2016). His poetry can be found in Rat's Ass Review, The Blue Mountain Review, Otoliths, Cecile's Writers and Quarterday. In addition, recent poems have been accepted as part of anthologies published by the University of Alabama (Dewpoint), Illinois State University (Obsidian) and Michigan State University (The Offbeat). David is a member of the Sudden Denouement Literary Collective in Houston. Recent fiction can be read in Crack the Spine and at inshadesmag.com. The Other Is Oneself, a study of 20th century literature, was published this year in Germany. He teaches in Tokyo.


Go to List of Poets or Back to Top of Page


Steven Mayoff


TROMPE L'OEIL

Believing is not seeing
what lies before us
or which lies
reach our ears before
our eyes
can penetrate
the depth of a flat
surface.

The dimensions of a wall
stretch beyond
all the unseen corners
isolated
from those images
that seem
to step out of
nowhere.

Reality appears in
the distance
we put between
us and the bigger
picture
even as our inner
lives continue
to shrink
out of existence.

Perception is an act
of trust
that sometimes
falls between
the bricks
where the straight
lines are
painted
just beyond
reach.


Steven Mayoff was born and raised in Montreal, later on lived in Toronto and moved to the bucolic splendor of Prince Edward Island, Canada in 2001. His fiction and poetry have appeared in literary journals across Canada and the U.S. as well as in Ireland, Algeria, France, Wales and Croatia. He published two books of fiction: the story collection Fatted Calf Blues (Turnstone Press, 2009), which won a PEI Book Award, and the novel Our Lady Of Steerage (Bunim & Bannigan, 2015). Upcoming is a poetry collection Swinging Between Water And Stone to be published by Guernica Editions in 2019.


Go to List of Poets or Back to Top of Page


Connie McKenna


IMMIGRATION

Bring us your tired, your weary . . .
That was way back when, Dearie.

But with a Visa? Green card?
From a Muslim 7? You're barred!

What? Really stop them at the gate?
Yeah. Trump's 1938.

U.S. values smashed! Kerpow!
Yeah. Commies then, Muslims now.

Saner GOP heads will prevail.
Not while riding Donnie's tail.

And folks who voted for him?
They applaud. Let freedom dim.

Ye gods! How can this be true . . .
He does what he said he'd do.

The world shudders. Protests abound.
DT for real? Or a real clown?

Power, values – in collision.
Let's force change through opposition,

DT's vindictive. Stokes fear.
Standing still gets us nowhere.

All one can really do is hope.
No! Push back! Do more than cope!


Connie McKenna's experiences span from plebeian to professional. She
feels a bit like a kaleidoscope – the people, phases, and events
integral to her life create intricate patterns which shift with each
circumstantial nudge and jangle. Poetry is a world apart and she likes
it that way.


Go to List of Poets or Back to Top of Page


Jack Moody


DOWNTOWN DIVE BAR AT ONE IN THE AFTERNOON

global warming my ass,
he says.
you see the snow outside?
weather man says it's the
coldest winter in ten years!
global warming my ass.

hey speak for yourself,
yells the bartender.

fuck you,
he says.
global warming's about as real
as the god damn
loch ness monster.

which is real,
says the bartender.

fuck it,
he says,
shit ain't real.
now how about Champ?
I spent a summer on a boat
combing through lake champlain
high on mushrooms,
and I didn't find a fuckin' thing!
not a god damn dorsal fin.

the mushrooms weren't
good enough then,
says the bartender.

chemtrails motherfucker,
that's what's going on here,
he says.
fluoride in the water.
global warming, shiiiit.
that ain't real.
they're just trying to
dumb us all down.
mind control!

well shit, motherfucker,
says the bartender,
you just cracked open
the whole damn case,
didn't you?

fuck you,
he says,
and orders
another beer.


Jack Moody is a short story writer, poet and freelance journalist from wherever he happens to be at the time. He has had work published in Down in the Dirt Magazine, Tipton Poetry Journal, The Round Up, CC&D Magazine and Southern Pacific Review, with work forthcoming in Brick Moon Fiction. He didn't go to college. He likes his privacy. He doesn't have a social media account. Don't ask him to make one. Contact him at [email protected].

Go to List of Poets or Back to Top of Page


David Morgan O'Connor


CONTROL

What chain, what metal of justice?

What turn of key? What wrist, ankle,
decision built this chained nation?

I cannot talk of bullet.
There are too many.


David Morgan O'Connor is from a small village on Lake Huron. After many nomadic years, he is based in Albuquerque, where a short story collection progresses. He contributors monthly to: The Review Review and New Pages. His writing has appeared in: Barcelona Metropolitan, Collective Exiles, Across the Margin, Headland, Cecile's Writers, The Great American Lit Mag, Bohemia, Beechwood, Fiction Magazine, After the Pause, The Great American Lit Mag (Pushcart nomination), The New Quarterly and The Guardian. Tweeting @dmoconnorwrites davidmorganoconnor.com.


Go to List of Poets or Back to Top of Page


Sergio Ortiz

TOILETS

I'm in love
with a homeless man.

Now listen,
we've got a lot in common,
H.U.D., lawyers,
politicians.

We have heated discussions
about the face fucking
activity in the toilets
at the Whitehouse

but when he stares
at my dick
and licks my nipples

it's just me
and him.


GRAY AND DEAD

I've thought about dinner parties,
the theatre, things no longer
in my budget. Sex. Doctors.

About cohesion,
Clairol, Herbal Essence
and Eyeliner.

About outreach groups,
raisins, peaches, and kiwis.
Still-life paintings in my city.

About The Voice,
and meals on wheels.
Slam competitions,

and another twenty years of owning
less and less of a line
that does not disappear on its own.

I've thought about mangrove crabs
living in mud holes, pushed
back into the closet.


MY FIRST SIN

was to ridicule a mocker,
and hate him

with clear adoration.
For in so doing,
I became the beggar

and he the overlord
of my will.

Now I know the devil,
I know Rome in its last hour.


Sergio A. Ortiz is a gay Puerto Rican poet and the founding editor of Undertow Tanka Review. He is a two-time Pushcart nominee, a four time Best of the Web nominee, and a 2016 Best of the Net nominee. He is currently working on his first full length collection of poems, Elephant Graveyard.


Go to List of Poets or Back to Top of Page


Marsha Owens


LIKE, SHARE, DELETE

share if you think schools should teach children to write in cursive
Facebook asks. Of course, that's the problem,
the great fear of lesser than hovers
around the corner, waits for cursive
to stomp out lower case.

inaugurate cursive to rule
teach it in the schools

should Facebook also ask schools to teach kindness?
what matter is kindness, without cursive?
if children only print, they write
nothing golden about towers to worship,

about our glorious country controlled
by cursive, letters straight on each line,
upper case and lower case separated
like our neighbors, mostly lower case.

surely cursive will save us.
no need to worry about water or clean air, just write
stories everywhere about melting ice caps, charred forests,
choking cities, and leaded children dead from dirty water
and bullets

how beautiful the story shines in cursive.


Marsha Owens is a retired educator who is sick that our nation's children have been sold to the highest bidder. Having taught English for many years, she has returned to school as a student and to writing poetry for her own pleasure. She is available to help Betsy find "education policy" on Google.


Go to List of Poets or Back to Top of Page


Darrell Petska


THE NEW RED

In those days waking from her long winter's nap,
god spied Columbia defaced with orange:
orange soil, orange water and air, orange White House
and tenant spewing orange hate.

"First Midas," god sighed to her daughter, "now Donald.
Enough of his orange touch! Go tell him
tolerance is the ticket, mercy the way."
Too soon, god's daughter returned: "No luck,
and talk about nerve! He tried to paw me!"

Saddened, god turned to her archangels:
"Amp up the pressure. Play for his ears
your trumpets of judgment." They went—to no avail:
an orange ban on angels met them at the border.

To Columbia then, god herself sped.
Across cities and farmland, into Congressional halls
and the orange Oval Office she took account.
Hope? Diminished. Love? Devalued. Shared purpose?
The casualty of lies, divisiveness and mistrust.

Awaiting neither verdict nor judgment,
the orange pretender fled. His parting tweet:
"Mother Russia's amazing. My Moscow flat? Classy.
Huge. Shames the one that loser Snowden got."

As haze at last surrenders to brilliant sun,
so again shone Columbia, true and indivisible—

God's in her heaven. I dreamed the one who napped
while orange banners rose could make things right.
Amen. So say we all. God bless us, everyone.


Darrell Petska's writing has appeared in Whirlwind, Mobius: The Journal of Social Change, Plainsongs, The Missing Slate, HEArt Online, frequently in TheNewVerse.News, and elsewhere. Communications editor for many years with the University of Wisconsin-Madison, Darrell left academia to be the arbiter of his own words. He lives in Middleton, Wisconsin.


Go to List of Poets or Back to Top of Page


Alec Solomita


WORRIED

My wife's in a nursing home.
What if he gets rid of Medicaid?
I'll be rolling her around in
a shopping cart looking for
lost change and public restrooms.
But they say he likes entitlements.
Maybe he does, maybe he likes
the word "entitlement." Some say
he'll get rid of insurance for pre-
existing conditions. That worries me,
too. I am a pre-existing condition.
But then he says, no I like that part,
the pre-existing condition part. I like
that one, like a child picking out a tricycle.
I can see him bumping down the
Trump Tower escalator on his
enormous tricked-out trike.


WHAT ELSE IS GONE?

What else is gone? Charm.
Not 'Dahlink' charm,
the welcome mat for
gangbanger bling.
Twerking, tweeting,
and boorish Tarantino —
have filled its sacred space.
America the tasteless,
Reddleman at the helm.
Ginsberg saw you were ugly
way back when. If he could
see you now. Of course he was
an 'enabler': Incontinent Ginsberg
and the Gabor sisters, choking
on chokers and other accoutrements,
gabby Quentin, Lil Him,
Lil Her, assassins of charm.
What a team. Too late now
to round up a posse. Jimmy Stewart
had charm but why did he have to
take his shirt off in Rear Window?


Alec Solomita's fiction has appeared in, among other publications, The Mississippi Review, Southwest Review, and Litbreak. He's published poetry in Literary Orphans, MockingHeart Review, Algebra of Owls, Rat's Ass Review, MadHatLit, and many other venues. His poetry chapbook, DO NOT FORSAKE ME, is forthcoming, to be published by Finishing Line Press.


Go to List of Poets or Back to Top of Page


Andrew Wallace


DEAR STATESMAN,

"Awake, Governor! Awake!

Your household,
your daughter, your purse!

Thieves in our midst, sir! Thieves!

Ring stains in the parlour;
spoiled meat in the kitchen!
Oh your daughter, Governor!
Your daughter!

Thieves, sir! Awake!

Your wallet, your whiskey;
spills on the carpet!
Oh your daughter, Governor!
Your daughter!

Awake, Governor! Awake!"


Andrew Wallace holds a BA in Religious Traditions and is currently pursuing an MA in East Asian Studies. His work has most recently appeared in Generation Magazine, Thrice Fiction, IN MY BED Magazine, Pulp Poems, Mindscape, and In Medias Res.


Go to List of Poets or Back to Top of Page


Catherine G. Wolf


REALITY/ALTERNATE REALITY
"Reality is merely an illusion" Albert Einstein

President Tweeter wakes up before sunrise,
his cerebellum twitching wildly with his latest dream.
President Tweeter grabs his cell from the pillow
with his right hand, tweets Obama wiretapped
Trump Tower "bad man (or sick)."
His left hand autonomously jacking off his diminutive dick.
With furious frenzy, President Tweeter tweets off five
more obsessive-aggressive tweets without a twit of evidence,
"Nixon Watergate," "McCarthyism" (did he pass high school history?).
Obama denounces the accusation, painstakingly explaining
the separation of the three branches of government.
But the president's tweeting is reality;
reality is the president's Twitter.
QED


Catherine G. Wolf was an undergraduate and a graduate student in the Vietnam war era, and a graduate student during Watergate. She was an activist during these times. She participated in many protest marches and wrote for a paper committed to ending the Vietnam war. Now with Trump, she does what she can to resist his bigotry and lies. But she is limited by ALS. Catherine has published in Front Porch Review, Verse-Virtual, Cacti Fur, Rat's Ass Review, and Bellevue Literary Review. She uses assistive technology to communicate, and raises her right eyebrow to type.


Go to List of Poets or Back to Top of Page


Sherri Wright


THE DAY AFTER THE ELECTION

Turn off CNN cancel
the Washington Post
no more polls no more platforms
no more campaigns no more
candidates knocking on your door
take down the lawn signs
blank out the slogans and promises
erase the threats
no more analysis no more NPR
not even Diane Rehm who tries
to look at both sides

"Un-friend" Face-book throw
the cell phone over the bridge
drown the tweets the texts
the breaking news

Stay inside close the doors
drape the windows in black
block the spiraling
world you cannot bear to see

Soothe your mother
who waited
her whole life
to vote for a woman
but can't tell Hillary Clinton
from the lady next door or
remember her own name
hug her be thankful
she'll never know
what happened
last night


Sherri Wright lives in Rehoboth Beach, Delaware, after a career in education at universities and the Federal government in Washington, DC. Running, yoga, and volunteering at a center for homeless, all figure into her writing. Her work has been published in the Hill Rag, Letters from Camp Rehoboth, Inspired by the Poet, Aspiring to Inspire, Words of Fire and Ice, The White Space, Clementine, Panoply, Rat's Ass Review, and recently in two books: Our Last Walk, and What I Didn't Know.


Go to List of Poets or Back to Top of Page


Sally Zakariya


MUSLIM WIFE

Don't marry a Muslim, they told me.
He'll make you cover your head
and walk ten paces behind.

That never happened, though
once in Istanbul I felt a tug,
an invitation, in the call to prayer
first one mosque, then another
a beat later, and then another
in a kind of devout round.

Outside, flowing calligraphy
wrote itself on my eyes
as we passed by fountains
and walked among among tall
top-knotted Ottoman gravestones.

Lapsed Episcopalian and convert
to Islam, we manage to maintain
a peaceful coexistence between
faith and doubt. But if they start
to register the Muslims here,
I'll add my name to the list.


WORDS FOR DARK TIMES

The light is gone or going
like water slowly seeping
from a cracked vase

The dove mobile in my room
swirls slightly this way and that
its olive branch vacillating
like the wavering chance of peace
between warring factions
in ravaged lands abroad

Weary travelers at the airport
hover between the horrors
of home and the hope of freedom
while protesters march
and officials try to work out
whose orders to follow today

The poet at her keyboard
thinks of her Muslim husband
and his friends downstairs scribing
words of worship in flowing lines
thinks if the White House starts a list
she'll put a scarf on her Christian
head and sign her name

The light is going but not gone
not while anyone's left to stand up
and say no


DARK FEELINGS

My husband's deaf –
he has creative hearing

I'm having Darjeeling, I say
as I put the tea kettle on

Dark feelings? he asks
Well, now that I think about it …

We turn on the morning news
What's all this about wealth care? he asks
aren't the one percenters rich enough?

And this Muslim band – what
kind of music do they play?

The music of despair, of discrimination,
of being deceived

I'm kidding, he says with the wry smile
he's adopted since his hearing's failed

I know, I say, but it's enough
to give anyone dark feelings


Sally Zakariya's poems have appeared in more than 60 print and online journals and won prizes from Poetry Virginia and the Virginia Writers Club. She is the author, most recently, of When You Escape (Five Oaks Press, 2016), as well as Insectomania (2013) and Arithmetic and other verses (2011), and the editor of a poetry anthology, Joys of the Table (2015). Zakariya blogs at www.butdoesitrhyme.com.


Go to List of Poets or Back to Top of Page


Poems posted March 3, 2017


Isobel Cunningham


CLOSE NEIGHBORS

Someone there is who loves too well a wall.
Walls are for neighbors. That's a fact.
No! Old Robert would have none of that.
He noticed as he stacked a stone upon a stone
how frost and cold
might hide between rough boulders.
Strange how icy chips
can smolder and break out in quarrels or in war.
Wondering what the treasure or the peril is
that needs a wall, he walked beside a neighbor
long ago in Spring.

Our new neighbor stirs up quite a racket.
Why, we thought we'd worked it out and sat here
smug, with grumbling woes of snow or big mosquitoes.
Robert thought elves or spells worked on our walls.
But up here we were sure we'd won the battle, killed the dragon
some long time before.

Northern correctness and outrage
had won us human rights, a living wage.
Late in this winter afternoon must we again
dress, pull on our boots and venture out
to walk this other wall, perhaps to sabotage?
Incredulous, we see this old-stone savage like a dark mirage.
Cold stars creep out, a piercing wind,
something scrabbling in the crumbling stones.


Isobel Cunningham writes poetry and short fiction. Her first volume of poetry "Northern Compass" was published in 2015. Her poetry has been published four times in the past year in the electronic journal, Silver Birch. She is presently working on a collection of short stories. She lives in Montreal, Canada.


Go to List of Poets or Back to Top of Page


Melinda Luisa de Jesús


AN ENGINEER'S DREAM
For Srinivas Kuchibhotla, murdered by a racist on February 23, 2017,
and my father, Jose Maria de Jesús (1930-1999)

1.
I tried to avoid
this news
it was
too close to home/heart
The child of brown emigrants knows
danger is always around the corner
no matter the dreams
degrees
politics
one's parents held
All Amerikkka sees is
brown/black = alien/other

2.
My father had an American dream
a dream of coal and steel and "progress," as he liked to say
an engineering dream, to be exact
His own father told him, in order to be a successful engineer,
he'd have to leave the Philippines for the States
So my father made his way, on his own terms, as usual
to Lehigh University, in deepest Pennsylvania

His fashionable but overly thin khaki balmacaan
is no use against the autumn chill
of a Sunday evening in early October 1954
his dark curly hair ever unruly
slide ruler in his pocket
leather briefcase at his side
standing before the Alumni Memorial Building
the canopy of yellow leaves glowing in the dimming light
the clock in the chapel striking six
I'm finally here, he breathes, satisfied.

3.
I imagine him walking briskly across
the Hill to Hill bridge
marveling at the Bethlehem Steel plant slung dark and low
prowling all along the Lehigh
the railroad lines astride it
the trains chugging into infinity
the clamor of industry
fire and smoke
clanging,
singing a song of
Man over Nature
Man versus Time
Man versus Decline
A song of progress
where men of every color labor together
in the mill
making the steel
that makes
America

Oh, the possibilities it offered–
1954 and America is still filled
with love for its little brown brothers: "Remember Bataan!"
needing highways and bridges and steel
and civil engineers to make it all happen

My dad was supposed to leave upon graduation
But Industry enabled him to stay
Letter after letter from his professors
Ads in Baltimore papers attesting to his prowess
He was on his way to green card and citizenship

4.
My father saw opportunities
and made them his
Then he made us, his large family
also raised in Bethlehem
four of us at Lehigh, too
A Filipino family sown in Lenape soil

But Srinivas Kuchibhotla won't have this same chance
His American dream stopped by the bullet
of a drunk violent racist man
who saw Srinivas' dark skin and concluded
not
H1-B aerospace engineer with MSc from Texas

but
Middle Eastern
other
terrorist

All of this to say
Srinivas could have been
my father
He, who built America
and highways and bridges you travel on daily
who believed in the promise of America
as he was taught in English before the war
as it was brought to him by the GI's who liberated Manila
as it was sown in those engineering textbooks he memorized

5.
We, the brown and well educated
immigrants and children of emigrants
keep to ourselves
because we know the tenacity
and the fragility of these dreams
we know America's welcome is always conditional
we may be successful but are always uneasy
we know those bullets
are always
meant
for
us.


Melinda Luisa de Jesús is Chair and Associate Professor of Diversity Studies at California College of the Arts. She writes and teaches about Filipin@/American cultural production, girl culture, monsters, and race/ethnicity in the United States. She edited Pinay Power: Peminist Critical Theory, the first anthology of Filipina/American Feminisms (Routledge 2005). Her work has appeared in Completely Mixed Up: Mixed Heritage Asian North American Writing and Art; Approaches to Teaching Multicultural Comics; Ethnic Literary Traditions in Children's Literature; Challenging Homophobia; The Lion and the Unicorn; Konch Magazine; Rabbit and Rose; MELUS; Meridians and Delinquents and Debutantes. Her chapbook, Humpty Drumpfty and Other Poems, was recently published by Locofo Chaps/Moria Poetry.

She is a mezzo-soprano, a mom, an Aquarian, and admits an obsession with Hello Kitty.

More info available here: peminist.com.


Go to List of Poets or Back to Top of Page


Jess Huckins


AFTER DUSK ON WINTHROP BEACH

I clamber over the breaking wall with bare, brutalized hands.
The air's salty bite kisses my face and rifles my hair,
picking out a few strands with which to dance.

My nose runs. I lose feeling in my fingertips.
I perch on the edge of America, miles of deep, cold emptiness
between me and distant lands, and I suck in a breath.

The jetty is dotted with cement and seaweed. The world's
two halves, the real and the created, joined as one. This protrusion
speaks to an ocean and rises above the waves' destruction.

Broken shells. Mica. Rocks. Seaglass … a Coke bottle.
Cigarette butts. All rolling with the tide, the waves beating it into sand.
A cycle, as life becomes death becomes life, with a touch of poison.

The moon's smiling face has been abandoned for the thunder
of airplanes. Their headlights are not the same beacons
that once brought men to our shores. People come now

for the wires and bulbs, the fuel and the exhaust, the metal
and the money that soar through the air, flying over
the depths of the Atlantic for another shot at fortune.

Once, men came here for freedom. They came over this same water,
this same ocean, these same shores. They left this same cement in the jetties,
transforming wild waters into tame, broken beasts.

Though my hands shake with chill, I feel the land grow tamer still.

Jess Huckins is an editor and writer with a master's degree in publishing. Her work has appeared in Centum Press's "One Hundred Voices" anthology, Hello Humankindness, the Content Standard, and Redivider, among others. She lives in Massachusetts with her husband and a small menagerie of cats, and you can find her at jesshuckins.com or @editorjess on Twitter.


Go to List of Poets or Back to Top of Page


Tricia Knoll


MATTERS OF WHERE YOU SLEEP

That young boy from the Sudan, that refugee
pointed to a special home for our car. We call it garage,
where the car rests and mice sneak in to nest in rags.
In other people's bedrooms dogs have velveteen pillows
with curved arms to confine a canine spine curl.
Vizlas like blankets and burrowing. Their people know it.
Iditarod dogs get shacks, chains and dry straw.

You know this. Tired. Cold. Poor. A Swede's photos focus
on Syrian children asleep on crumbled sidewalks. An arm
stretches over a toddler's head on a dirty mattress. One snuggles
in half a blanket in the woods, her bare foot slides to the side.
One girl's head always rests on the right side, her left jawbone
is broken. My town? I drove by a tent of blue tarps propped
up against a chain-link fence. Two highway department
employees lopped down the knock-out roses
between the road and the fence. I was on my way
to hear how the Oregon Supreme Court works.

Place. Privilege. Food. Clothes. I am so sleepy I could
fall asleep at the wheel. My back aches. Stuff I own
for sleeping is eight times my body mass. Maybe more,
counting linens in drawers. Give me your tired.
Rest. Peace. What matters.


Tricia Knoll is an Oregon poet who is practicing resistance by sending five postcards a day to elected officials. Her collections include Ocean's Laughter (Aldrich Press) and Urban Wild (Finishing Line Press). Website: triciaknoll.com.


Go to List of Poets or Back to Top of Page


Joseph Lisowski


REMEMBERING LAST CHRISTMAS

For the promised new year
a catalog of ornaments—
five Santas
four Snowmen
seven Mice, and
one Pirate—
hang by the neck
from a dead tree
as tribute
to a Christmas
Trumped.


Joseph Lisowski wrote his first poem at the age of 13 after an aborted gang fight. He stopped fighting but kept writing, a secret he kept for years.


Go to List of Poets or Back to Top of Page


Steven Mayoff


THE NEW FAMILIARITY

The New Colossus has been replaced
by an old consensus:
"Wilkommen, bienvenue, welcome."

Three words that form a unanimous password
synchronizing all confiscated devices
and detained carry-on.

Making us safer isn't exactly
rocket surgery when X-rays scan
headscarves, fedoras, skullcaps, berets

to reveal a revolutionary brain science
that has less to do
with ideology than idiosyncrasy.

Each unique circuitry pathway
defaults to strategically
carry on as before, every anticipated

normalization of mounting distress
cordons off our
very own 2×4 happy place.

The line forms
on the right to a perpetual floor show
where the lack of seating

lets us know where we stand
and the emcee greets us
with the new familiarity:

"Fremde, ètranger, stranger."


Steven Mayoff was born and raised in Montreal, later on lived in Toronto and moved to the bucolic splendor of Prince Edward Island, Canada in 2001. His fiction and poetry have appeared in literary journals across Canada and the U.S. as well as in Ireland, Algeria, France, Wales and Croatia. He published two books of fiction: the story collection Fatted Calf Blues (Turnstone Press, 2009), which won a PEI Book Award, and the novel Our Lady Of Steerage (Bunim & Bannigan, 2015). Upcoming is a poetry collection Swinging Between Water And Stone to be published by Guernica Editions in 2019.


Go to List of Poets or Back to Top of Page


Christian McPherson


STANDING, SCREAMING OBSCENITIES AT THE SKY

There are those moments
when it all comes crashing down
in heaps
upon you

those moments
when everything is   too   much

buckling knees
and tears
and all the rest

it's in these moments
you find yourself
standing
screaming obscenities at the sky

after you have tired yourself out
panting
bent over
hands on your knees
after you have gotten it out of your system
you realize
you got one more guttural scream left in you
and you stand up
and yell an opera yell
a holy mother of God bellowing cry
of FUCK-YOU-YOU-FUCKING-COCK-SUCKING-UNIVERSE!!!

and after you finish
your whole being vibrates like a gong
that was hit inside a holy temple
on some remote mountain top
by the holiest of holy men

your whole being
has been cleansed
and you
are one
with
the asshole
universe

amen.


Christian McPherson is a Canadian novelist and poet who resides in Ottawa. He is the author of seven books, MSaving Her, Cube Squared, My Life in Pictures, The Sun Has Forgotten Where I Live, The Cube People (shortlisted for the 2011 ReLit Awards for Novels), Poems that swim from my brain like rats leaving a sinking ship, and Six Ways to Sunday (shortlisted for the 2008 ReLit Awards for short fiction).


Go to List of Poets or Back to Top of Page


Sage Shemroske


HILLARY CLINTON'S NUDE PHOTOS IN A MUSEUM:

Come see the ladies of history
A peep show sneak peak of history's enduring women
See Amelia Earhart strip for you while flying over the Atlantic
she died getting singles shoved in her g-string

Come one, come all,
Let the sadists come for the submissive Susan B. Anthony,
fresh from a suffragette rally
dressed in something sassy and frilly
While she mumbles something about voting,
she'll turn her ass to face you
and slip off her panties
She might've just said something racist
She's not here to speak

They call Clara Barton the "Angel of the Battlefield"
but tonight you'll just call her "Angel"
We know how you get when you see a gal in a nurse costume,
and every soldier will know how she waltzed into your bedroom like a star from a pay-per-view porno and looked at you with those eyes
She wants to help what hurts
so she'll just have to suck your throbbing cock
And my god, her mouth is perfect
No wonder she survived the war

Marie Curie has cancer
But you'll call her "Madame" for the night
She's got whips, chains, ball gags, and cuffs
so just sit tight
She'll sweep her test tubes and algorithms off her desk and lay you down on your back
Better listen up
because she's into pain
And I don't mean her own

We know about your Roman Catholic fetishes
so here's Mother Teresa to get slutty for you
She'll wash your feet, maybe suck on your toes
just wait until she takes off that habit
such perky tits she has underneath those robes
Her hands may be rough and calloused from years of servicing the poor,
so you'll have to excuse her sandpaper handjob
she'll just get right to fucking you
After all, she works miracles
And you're a lost cause

Search amateurs,
we've got the youngest American astronaut to orbit space
They call her Sally RIDE
and that's exactly what she'll do
You could say she has a gravitational pull
But she's no alien to getting it up, down, and dirty

If you're into age play,
then get ready for Ruth Bader Ginsberg to take the bench

If you're into race play,
then we've got Harriet Tubman and Rosa Parks just for you

Politics aren't a race for Hillary Rodham Clinton,
she keeps her policies under the desk
and flaunts a tight blue dress
Historical stains don't matter

Come see the ladies of history,
it doesn't matter what they have to say
We've embalmed their bodies and placed them inside a glass case
There's now a museum of women who want you
their mouths have been gently glued shut
they'll simply stare at you with doll glass eyes
And not even whisper


Sage Shemroske is a twenty-something college dropout living at home with their parents. Despite the financial struggles that took them out of the academic world, they continue to pursue art, much to the shame and disappointment of their entire family.


Go to List of Poets or Back to Top of Page


Ann Thompson


MONDAY AFTER THE MARCH

The fierce blood
of birth
in a narrow sky

heaves a gale
that is shaking
the sills.

It has shattered
the beach glass

I set on the sash
to amplify the sun.

This is not
another Monday.

I can no more
steel myself
with the same
plain brew

than I can wish
this struggle gone,
or not required.

I discarded
my map to home
during the march.

We are tracing

old blazes
in alternate woods

by the flare
of a charred-bone star.

– written Monday, January 23, 2017 after participating in the Women's March on Washington.


Ann Thompson is a poet/writer living outside Washington, DC. Her work has been published in Europe (acumen, here/there, The Journal, Lotus Eater, The North, Staple, Vine Leaves) and the U.S. (Ardor, Blast Furnace, Flyover Country Review, Literary Imagination, The Lost Country, Mezzo Cammin, Tulane Review). She has creative nonfiction in KYSO Flash; short fiction in Best New Writing 2014 (under her pen name, Hana Mystras); and Video remixes online.


Go to List of Poets or Back to Top of Page


Susan Thornton


PREPARATIONS IN A TIME OF WAR

It's seven o'clock and I would really like to call
it a day and go to bed. But it's a big
responsibility to manage chaos and destruction.
These two need a lot of supervision. Let
alone they can do some real damage.
It's hard work being the only sane one in the
group, the one others depend on to keep the entire
scene from going completely haywire. I know the supper
dishes are in the sink and they can stay there for all
I care. And yes, the capital city is still
burning but what can I do about it? We mezzos aren't
noted for our skills as guerilla (note spelling!) leaders and
street fighters. My theatre is different and so is my
materiel. Tomorrow I need to be prepared
with seating charts and my size ten armor
and the students need to distinguish between mine
and his and yours and ours and love and hate and yes, that's right,
it's all part of the curriculum. But if I could just crawl—right now—
between those burning flannel sheets I swear I'll get up
at four AM to polish my breastplate so the sun
blasts on it and blinds the Enemy as they rush to meet me
on the field of Battle.


Susan Thornton's poetry has appeared in Paintbrush Quarterly, The Denver Review and Rat's Ass Review. Her short fiction has appeared in The Best American Mystery Stories 2016, Blackbird (2016) and is forthcoming in the Flash Fiction Anthology (2017). She lives and works in Binghamton New York.


Go to List of Poets or Back to Top of Page


Peggy Turnbull


PATRIOT

Flags flutter over graves
but not over Jack's.
Each year Grandfather
finds miniature stars and stripes
stuck into his son's grave
and removes them.

At the Memorial Day Parade,
other children sit on the curb
with ice cream bars.
They bounce balls
and laugh. They don't notice
when an honor guard carries
a flag. My heart sinks
every time they bring one near.
I pretend I don't see it,
but Grandfather nudges me.
He removes his hat,
places it on his heart,
stands expressionless
until the flag is behind us.
I do the same.

The last time I visited, the old man
showed me a black and white photo
of his Navy ship, the U.S.S. Lincoln.
He acted out what happened, his hand
on the bulkhead, how he scrambled
to find a lifejacket while the ship listed,
sinking fast off the coast of France
in World War I. He floated
in a lifeboat in the Atlantic Ocean
for hours, until rescued by a destroyer.
His son, not as lucky, killed-in-action
in Leipzig, Germany, April 1945.
After 9/11 I think of him
on my morning commute.
Tattered Old Glories flap
past me on the highway, attached
to automobile hoods, faded
by months in the sun.

When Grandfather looked at the flag
he saw faces of family and friends
lost forever to war. Jack's sacrifice
was woven into our lives, how Mother
became an only child, why no cousins
lived nearby. But the world forgets
the cost of war, the rubble
of buildings, the way Grandfather
followed the 69th Infantry
in newspaper accounts all the way
to the Elbe for a historic meet-up
with Soviet soldiers, before he knew
that Jack was already gone.


Peggy Turnbull is descended from nineteenth-century German immigrants who found a new home in the state of Wisconsin, U.S.A. She has a B.A. in anthropology from the University of Wisconsin-Madison and an M.L.I.S. from the University of Texas at Austin. She worked as an academic librarian for many years until retiring to become a poet. Her poems have appeared in Rat's Ass Review Love & Ensuing Madness Collection, Post Heroin Chic, and are forthcoming in Muddy River Poetry Review.


Go to List of Poets or Back to Top of Page


Catherine G. Wolf


BUBBLELAND

Trumpeter blows a bubble and steps inside.
In Bubbleland, everything he says and thinks are facts:
alternate facts. From Bubbleland Trumpeter, our madman-in-chief,
declares Sweden had a terrorist attack "last night"
because of its lax, some say compassionate, immigration policies.
First Swedes are confused, then amused, then Ikea closes
its US stores in retribution. Blowing bubbles is fun for little kids,
but they don't inhabit Bubbleland.
I know the madman's bubble will burst
and he will suffocate in Facts: Real Facts.
But his tweeting about the surge of rapes and thefts
in Sweden keeps me sitting by the moon, a loon,
because I'm a first generation immigrant.
I go to the Swedish consulate, apply for refugee status.
I voted for Hillary in the state of New York,
now I am hijacked to madman's Bubbleland.


Catherine G. Wolf was an undergraduate and a graduate student in the Vietnam war era, and a graduate student during Watergate. She was an activist during these times. She participated in many protest marches and wrote for a paper committed to ending the Vietnam war. Now with Trump, she does what she can to resist his bigotry and lies. But she is limited by ALS. Catherine has published in Front Porch Review, Verse-Virtual, Cacti Fur, Rat's Ass Review, and Bellevue Literary Review. She uses assistive technology to communicate, and raises her right eyebrow to type.


Go to List of Poets or Back to Top of Page


Poems posted February 24, 2017


Marcus Bales


THE IDEA OF ORDER AT KEY POLLING-PLACES

He tweets beyond the genius of the web.
The cyber never formed to mind or voice,
Like an ocean wholly ocean, tidal in
Its ebb and flow; and yet its eerie echo
Reverberates, caused reverberation,
We liked his style because we recognized
It, human, in its artificial network.

The web is not a mask. No more is he.
The tweets so often mashed-up what he meant
As if his tweets and meaning had been blurred
As every tweet was scattered turd by turd.
It may be that in all his tweets he slurred
A blank misogyny with racist hate;
But it was jobs and not the hate we heard.

Although he re-tweeted from the Nazi sites
The troll-infested anonymizing net
Was merely the way by which he whistled dogs.
What whistle is this? we said, because we knew
It was the whistle that we sought and knew
That we would ask as often as he might tweet.

If it was only the dark voice of the net
That rose, that was flaming in many posts;
If it was only the deepest voice of real
People, of the sunken alt-right shouting out,
However loud, it would have been outraged,
The heaving speech of rage, a roaring sound
Repeated in a roaring without end
And sound alone. But it was more than that,
More even than his rage, and ours, among
The smug entitlements of women and blacks,
Their posturing righteousness, our stiffened arms
– To white horizons, the white race's purity
Of real and web.

It was his voice that made
The real real at its demographics.
He measured to the vote its angriness.
He was the power user of the world
Of tweets. And when he tweeted the web
Whatever self it had became the self
That was his tweet, for he was the user. Then we,
As we beheld the striding colossus,
Knew that there was not a world for him
Except the one he tweeted and, tweeting, made.

Kellyanne Conway, tell me, if you know,
Why the tweeting hasn't ended when he turned
Toward DC, tell why the glossy kids,
The kids on the gilded chairs in photographs,
As the kliegs glared, each tilting their head,
Mastered the pose, retweeted through the net,
Wearing expensive clothes and sale-priced jewels,
And posing, still as the resplendent kliegs.

Oh! Savage getting-even, blonde Kellyanne,
The maker's getting-even orders the web,
Orders the varied portals duly starved
Who of themselves and of their mockery,
In physical manifestations belong in jail.


Not much is known about Marcus Bales except he lives in Cleveland, Ohio, and his work has not appeared in Poetry or The New Yorker.


Go to List of Poets or Back to Top of Page


Joan Colby


AT THE RIGHT HAND
Bannon and Trump

Even the Lord had his bright angel
who solicited his son in the desert.

Cromwell and Henry, Rasputin and Nicholas.
The Lady Anne. The Czarevitch.

Always the justification. The whisper
and promises. The lies.

He rants and postures
goaded like the elephant. It's another

Reality show. The War Lover
with his advice.

Default position.
Judas and the silver kiss.


Joan Colby has published widely in journals such as Poetry, Atlanta Review, South Dakota Review, Gargoyle, Pinyon, Little Patuxent Review, Spillway, Midwestern Gothic and others. Awards include two Illinois Arts Council Literary Awards and an Illinois Arts Council Fellowship in Literature. She has published 17 books including Selected Poems from FutureCycle Press which received the 2013 FutureCycle Prize and Ribcage from Glass Lyre Press which has been awarded the 2015 Kithara Book Prize. Three of her poems have been featured on Verse Daily and another is among the winners of the 2016 Atlanta Review International Poetry Contest. Her newest book Carnival was published by FutureCycle Press in 2016. She has another forthcoming from Kelsay Press in 2017 titled The Seven Heavenly Virtues. Colby is a senior editor of FutureCycle Press. Website: joancolby.com. Facebook: Joan Colby. Twitter: @poetjm.


Go to List of Poets or Back to Top of Page


David Colodney


INAUGURATION DAY

I'm in a hotel bar, I've been here a week,
a writer's conference, my bartender knows
me so well by now she brings me a local beer
as she greets me. We watch Trump take the oath
on the big screen – reality TV at its worst
as we're all now part of the cast, like it or not –
and we look at each other with the same
look. The sound is down, and classic rock
blares. Her face, reflected by the neon and glass,
suddenly looks older. I see lines I didn't see yesterday.

She pours me a beer I don't remember ordering,
but bartenders are like that: mother hens protecting
their nest. Her sage eyes twinkle as the Obamas
board a helicopter. Mine do too.
I finish the beer and signal another.
There's mourning in America.


ROADHOUSE BLUES IN THE 21ST CENTURY

In the 21st Century, I can Google-stalk my first love
learn she married a rabbi, lives in California
and smokes weed with a prescription.
But if I close my eyes long enough she sparkles –
bangles dangling along her arms, pink skirt and yellow
leggings wrapped around my teenage spine.
I can look back and think Cheryl such a 70s name
for a girl born in the 60s that I loved in the 80s.

Did we know who Donald Trump was in the 80s?
I hadn't heard of him. Cheryl and I instead spent summer
looking for clues Jim Morrison was still alive
while my father walked endless miles in his mailman blue
shirt, leather satchel slung over his shoulder, dropping
letters in mailboxes that all looked the same, American flag
patched on one arm, union card stitched to the other.

In the 21st Century, I woke up this morning
realizing I never found Jim Morrison, wondering
what Cheryl was doing and why day destroys the night
why night divides the day. I woke up this morning
and I got myself a beer. I woke up with Donald Trump
in the White House, a future uncertain, an end always near.


David Colodney realized at an early age that he had no athletic ability whatsoever, so he decided to focus his attention on writing about sports instead, covering everything from major league baseball to high school flag football for The Miami Herald and The Tampa Tribune. He holds an MFA from Converse College, where he served as poetry editor of South85, the literary journal of the Converse MFA program, and also an MA from Nova Southeastern University. His poetry has appeared or will appear in St. Petersburg Review, California Quarterly, the New York School and Diaspora issue of Valley Voices, and Gyroscope Review, among others. David lives in Boynton Beach, Florida with his wife, three sons, and golden retriever.


Go to List of Poets or Back to Top of Page


Neil Creighton


THIS FOG

makes us love light

and it descends
thick
impenetrable

hiding
the mountain
the trees
and paths

and we huddle together
groping
despairing
longing for light

remembering
the clarity of the sun

yearning
for a glimpse
of the distant mountain's
foothills


Neil Creighton is an Australian poet with a passion for social justice and an awareness of how opportunity is so unequally apportioned. His poems have recently appeared at Praxis online, Autumn Sky Daily, Poetry Quarterly, The Ekphrastic Review and Verse-Virtual. He blogs at windofflowers.blogspot.com.au.


Go to List of Poets or Back to Top of Page


Patrick Theron Erickson


FORMER PEOPLE

If someone
is flying by the seat
of his pants

grab hold for a ride

especially if it's
over a no-fly zone

of which there are
many these days
to choose from

like funnel cakes
at a carnival

or funnel clouds
over the heartland

There are many here
flying by the seat
of their pants

but their flying
is short-winded

like the humming bird

their plumage
brilliant

their beaks
all atwitter.


Patrick Theron Erickson, a resident of Garland, Texas, a Tree City, just south of Duck Creek, is a retired parish pastor put out to pasture himself. His work has appeared in Grey Sparrow Journal, Cobalt Review, and Burningword Literary Journal, among other publications, and more recently in Right Hand Pointing, Tipton Poetry Journal, Wilderness House Literary Review and Danse Macabre.


Go to List of Poets or Back to Top of Page


John Lowther


EVERYBODY GETS SO MUCH INFORMATION ALL DAY LONG THAT THEY LOSE THEIR COMMON SENSE

Everybody gets so much information all day long that they lose their common sense.
The history of humanity is the long succession of synonyms for the same word.
Doofus.
Bullshit.
Wrong.
All of these are important interventions.
Education either functions as an instrument which is used to facilitate integration of the
younger generation into the logic of the present system and bring about
conformity or it becomes the practice of freedom, the means by which men
and women deal critically and creatively with reality and discover how to participate
in the transformation of their world.
The empty tic tac container is where it's at.


INTELLIGENCE IS NO LONGER ON THE SIDE OF POWER

Intelligence is no longer on the side of power.
It's kinda like a double-reverse jinx blocker.
Shout long enough and it doesn't mean anything.
That picture doesn't even look like I'm crying.
The cure for depression is a fall from a chimney.
It was good advice and of course I didn't take it.
But here, in one tie alone, and all together, knots abound, as they are twisted and
wrapped around each other; looping, constricting and obstructing, into one
mountainous, confused mess.
This is where hope comes to get fucked in the ass.


John Lowther's work appears in An Atlanta Poets Group Anthology:The Lattice Inside (UNO, 2012), Another South: Experimental Writing in the South (U.Alabama, 2003), and Stone, River, Sky: An Anthology of Georgia Poems (Negative Capability, 2015). Held to the Letter (with Dana Lisa Young) is forthcoming from Lavender Ink


Go to List of Poets or Back to Top of Page


Jeff Nazzaro


UPWARD SUN RIVER GIRL

Born at a standstill
or so they say
those three long years
you clung
to life on the tundra

you learned to walk on,
around the low shrubs
and the trees occluded
by mountains of ice.

The furs and the fire
warmed your feet
at night
and you got to taste
the salmon and the hare.

One of a precious
few million, scattered, adrift,
cleaving to Earth
in the last throes
of its last ice age—
in the cold, the dark.

And when you succumbed
in the black of the tent
to that fiercest privation,
they burned your bones

so you could live
in Earth
for almost twelve thousand years
to one warm day warn
us with your DNA about

one more thing
we never knew,
one more thing
to fight over
as we kill
what remains of your ice.


SHOPPING AT WAL-MART

I bought a big 'ol red, white and blue
Star-Spangled Banner made in China
and a lil 'ol red plastic Bic lighter
made with pride in Milford, Connecticut,
USA, and the rest is my own goddam,
God-given constitutional business.


Jeff Nazzaro teaches English at Loyola Marymount University in Los Angeles, where he also copyedits books for Tsehai Publishers and Harriet Tubman Press. His poetry has appeared or is forthcoming in ClockwiseCat, Ekphrastic Review, Donut Factory, and Aberration Labyrinth.


Go to List of Poets or Back to Top of Page


Miha Pintaric


VEGETABLES

Many countries disallow the importation
of foreign plants. The preservation
of botanical identity is crucial to a nation…

Miha Pintaric has been teaching French medieval literature at the University of Ljubljana since 1988 and writing poetry for the past ten to twelve years. Recently he has been writing short funny verse inspired by the general climate including the US situation.


Go to List of Poets or Back to Top of Page


Terry Severhill


TRUMP CARD

Where to start where to begin? Wear a smile, a grimace, a grin.

Someone's supporter got knocked on the chin.

So all the opponents and all the media types point their collective fingers and say it's Him.

Words, they say mean things, especially when said by Him.

Never what They say nor the spin. Ten thousand, nay, ten million words, decrying His First Amendment speech. So when a minor criminal shouts and rants and interferes, refuses to bend an ear, they will praise him and call him a martyr. The press and the politicos seem to think that "Free" speech is up for barter. If you would just agree with us we'll give you a pass. Good god! that idea gives me gas. An event by Him for supporters of Him infiltrated by others who would never vote for Him. "I just wanted to disrupt His event." Was the excuse given. Seems he was driven by the press, what a tangled inter-web was woven to spin such thoughts. They say he's racist, I don't know how. Mexican is a nationality not a race. And temporally stopping the importation of muslims is not a sin nor a crime. Time to stop this nonsense, If you come into my house and interrupt, You'll take one on the chin, the shin, the shoulder, the stomach, I think you get the picture. I did not vote for Him, but I'm damn sure I will always defend his right to be an ass in public.


Terry Severhill is a Marine combat veteran, '69-'70, in a CAP unit in Quang Tri Province, Vietnam. He has been published in a dozen journals and over a dozen anthologies including Proud to Be: Writings by American Warriors from South East Missouri University Press and in a small anthology Away for the Holidays, a first time venture by the Veterans Writing Group of San Diego County.


Go to List of Poets or Back to Top of Page


Mary Ellen Talley


TAKE A WHACK MARY MACK MACK MACK

Galvanize, hypothesize
wash the pink pussyhats
and they come out
blood red resistance
Persistence insistence
Right hands over our hearts
Knit stitches release endorphins
Such a stud muffin
dump him into melted paraffin
prep him for the wax museum
He's gonna make so many mistakes
before nailing his coffin
with error after error
Damn holy terror
Little orange hands to hold a pen
delight in signing aligning pieces of paper
to vaporize medical insurance and grease
pockets of CEOs wearing silk ties
they know how to bilk us
fill up their coffers with lucrative offers
we skeptical scoffers abhor
Such a lack lack lack
He won't have our back back back
Screw the indigenous immigrant ill
Oil them Soil them Roil against them
Stay calm place our palms
over hearts during the pledge
pray to conceive a reprieve
as he conspires to profit the rich rich rich
Call strong women bitch bitch bitch
code word the not so ghastly nasty
high impact with talk so trashy
Maybe the masses are doomed to consume
whatever the chef of distractions serves up
It'll take years to dismantle
Will the last liberal please blow out the candle
We can't grab his attention
because he's in another dimension
Each lie with its aura of alternate absurdity
The infidel grabs genitals
whines his divine opine
discounting miscounting our knitting needles
Brink of a stink over pink
Must thank him for his inspiration
while he's reaping wreaking havoc on our nation
The con man not welcome in his mother's native Scotland
Embarrassment for the kilt and tartan
We hold ideals he cannot rein in
We'll point fingers if he lingers
long enough to snuff the democratic process
No, we are not his apprentice citizens
tired but he can't fire us
He surely won't welcome any of us
to Mar-a-Lago unless we suck up bigtime
Is the President gonna be a welcome resident?
Want him as your neighbor?
Let him do the deplorables that favor
Skip the wall
How 'bout a fence to protect us
from the surcharge on our taxes
Broad daylight
the undocumented devil up his sleeve
Downfall Curtain call Neanderthal
The man collects his fool's gold
Surmise it's no surprise
the inaugural speech begins his demise
One day sale on merchandize
as we strategize
lest he monopolize and terrorize
until we can tweet his defeat


Mary Ellen Talley's poems have most recently been published in Typoetic.us and Kaleidoscope as well as in recent anthologies, The Doll Collection, All We Can Hold poems of motherhood and Raising Lilly Ledbetter Women Poets Occupy the Workspace. Her poetry has received a Pushcart Nomination. She has worked for many years with words and children as a Speech-Language Pathologist (SLP) in Washington public schools.


Go to List of Poets or Back to Top of Page


Hannah Warren


FEBRUARY 2017

In D.C., I pocket my husband
alongside my pictures,
open-mouthed and filled with teeth.
He says he doesn't remember
the city in the same way I do.
Everything's different.
I've noticed there's more water
in Kansas than D.C. It seems
like a lot of things
should be fountains here,
but they aren't.
Someone told me those words
would look nice in a poem. I agreed,
took a note. But I wasn't lying—
all the fountains are puddles at most,
their speckled granite or blue linings
dry and solemn as
the extra chain-link fence
that surrounded the White House
a short, empty time ago.


Hannah Warren is an MFA candidate at the University of Kansas, and her works have appeared recently or will soon appear in Soundings East and Jet Fuel Review. She often writes about death but hopes never to experience it.


Go to List of Poets or Back to Top of Page


Poems posted February 11, 2017


Sandra Anfang


LOVE TRUMPS HATE: AN ABORTED LETTER TO THE PRESIDENT-ELECT

I can't make my hand write "Dear" before your name,
poster boy for racism, misogyny, xenophobia, and hate.

We, the women of this country, hereby inform you
that we will not be quashed by your toddler fist or

your need to manipulate us like marionettes,
tweak our strings, or dress us up in gold lame.

We are not going back to beauty contests,
boob jobs, back alley abortions.

We are not going back to Yes, Sir! and sleeping with the boss
(though few of us actually did)

so we could climb the golden ladder
whose rungs lacerate our shins and pierce our hearts.

We are never going back to being shushed,
hushed, and blindfolded

or shouted down by viral old-boy cronies
with monstrous manipulating mouths.

We are not going back to low-paying jobs, cat calls,
or sex-typed division of labor on the domestic front.

We will never again be little women with marshmallow tongues
who carry handkerchiefs to blot the slime of your condescension.

We are not going back to spike heels and facelifts
lip plumping, body sculpting, boob jobs.

We are not going back to the Barbiefication
of our bodies, hearts, and minds

or to being putty in your tiny hands.
And did I mention, we are never going back to boob jobs?


Sandra Anfang is a Northern California teacher, poet, and visual artist. She is the author of four self-published poetry collections and several chapbooks. Her poems have appeared in numerous journals, including Poetalk, San Francisco Peace and Hope, West Trestle Review, two Healdsburg Literary Guild anthologies, The Tower Journal, Unbroken Literary Journal, Corvus Review, and Spillway. Her chapbook, "Looking Glass Heart," was published by Finishing Line Press in February, 2016. Sandra is a California Poet-Teacher in the Schools and the founder and host of the monthly poetry series, Rivertown Poets, in Petaluma, California. To write, for her, is to breathe.


Go to List of Poets or Back to Top of Page


Marcus Bales


TRUMPYMANDIAS
for Pino Coluccio

I met a traveler from an antic land
Who said: "Within his oddly orange-tanned
Visage puckered lips in childish need
Seek all attention all the time, his greed
Demanding more the more demands are met.
'Look at my crowds, you Democrats, and despair!'
He boasts, but photos show his Inaugural
Attendance thin and ersatz as his hair,
And when next day the women marched, the sprawl
Of half a million people filled the Mall.
The nations of the world observe his threat
Of id ascendant, super-ego lost,
And wonder what in blood, toil, tears, and sweat
Unquenched and quenchless avarice will cost."


GOLDEN SHOWERS / BOY / IN THE END

Once you got away with talking bullshit
Once you got away with talking bull
Bleat, little Trumpy, bleat and lie
And I will mock you as you cry.

Golden showers make you thrill,
Smile when you have seen it spill
Bleat, little Trumpy, bleat and lie
And I will mock you as you cry.

Once you got away with talking bullshit
Once you got away with talking bull
Bleat, little Trumpy, bleat and lie
And I will mock you as you cry.

Boy we're gonna talk about pee
Talk about pee for a long time.
Boy we're gonna talk about pee
Talk about pee for a long time.

And when I give you my urine
I want to send you my defecations
So in the middle of the celebrations
I squat down

Boy we're gonna talk about pee
Talk about pee for a long time.
Boy we're gonna talk about pee
Talk about pee for a long time.

Oh yeah, all right,
are you gonna be in my dreams tonight?

Putin, Putin Putin, Putin, Putin, Putin,
Putin, Putin Putin, Putin, Putin, Putin,
Putin, Putin Putin, Putin, Putin, Putin,
Putin, Putin Putin, Putin, Putin, Putin,
Putin, Putin Putin, Putin, Putin, Putin,

And in the end this kompmat thing
Is equal to a blackmail ring.


THE BATTLE HYMN OF THE BOWLING GREEN MASSACRE

No eyes have seen a massacre occur at Bowling Green
As non-existent soldiers met with students never seen
Where Kellyanne's imagination lit her silver screen
Her lies go marching on.

Dilatory allegory
Predatory oratory
Don't believe her lying story
Her lies go marching on.

Her fictional protesters faced her fancied fascist troops
Her tragic death-toll changed into a legendary 'Oops'
As all they did was wave their well-spelled signs in peaceful groups
Her lies go marching on.

Dilatory allegory
Predatory oratory
Don't believe her lying story
Her lies go marching on.

She said it went uncovered by reporters of the news
That stations pulled their on-air talent with their camera-crews
But worse, she's acting pouty that there's no deaths she can use.
Her lies go marching on.

Dilatory allegory
Predatory oratory
Don't believe her lying story
Her lies go marching on.

She has offered up her bullshit as if lying were a sport;
Each time she moves her lips she tells a tale that lacks support.
Is there no fact she won't traduce, no truth she won't distort?
Her lies go marching on.

Dilatory allegory
Predatory oratory
Don't believe her lying story
Her lies go marching on.

In the mists of ghostly silence such a massacre occurred
That its trumped-up date is celebrated by no deed nor word —
And to find that she's not fired for this kind of shit's absurd.
Her lies go marching on.

Dilatory allegory
Predatory oratory
Don't believe her lying story
Her lies go marching on.


ALT-RIGHT CHRISTMAS

Trump's dreaming of a white Christmas
That's not a metaphor for snow
He'll have White Committees in all the cities
To make the non-white people go.

Trump's dreaming of a white Christmas —
A white-supremacist alt.right.
They will burn their crosses through the night
So that all their Christmases are white.


Not much is known about Marcus Bales except he lives in Cleveland, Ohio, and his work has not appeared in Poetry or The New Yorker.


Go to List of Poets or Back to Top of Page


Devon Balwit


IN THE EVENT OF

A friend leaves today for Istanbul.
Aren't you afraid? I ask.

You are American, she said, gently chiding.
This is how today's world is.

This, I think, isn't like the weather—
It may rain, so carry an umbrella.

How does one prepare for Wherever you
are standing may explode?

How does one make fear light
enough to carry in one's pocket?


LONG-RANGE

In his photograph, the dictator looks pleased
that his missile is finally long enough
to reach my town,

to take these dogwoods, lilacs, and azaleas,
my dog digging in the yard, my son at his computer,
and smash them.

Today's sky shimmers like poured cream.
A jay chirrups and bobs on a neighbor's chimney
enthralling a mate.

I do laundry, bleach the tub, answer emails.
One more threat of death
doesn't stop Monday.


Devon Balwit is a teacher and writer working in Portland, OR. She has two chapbooks forthcoming in 2017: 'how the blessed travel,' from Maverick Duck Press, and 'Forms Most Marvelous,' from dancing girl press. Her recent work has found many homes, among them: The Cincinnati Review, Red Earth Review, Noble/Gas Quarterly, Peacock Review, Sweet, The Stillwater Review, Oyez, Timberline Review, Poets Reading the News, The NewVerse News, and Kindred.


Go to List of Poets or Back to Top of Page


Wendy Taylor Carlisle


EFFICIENT

When they executed the four in Kigali
they shot from left to right—
leaving the woman till last. The hooded prisoners
looked like target squares on a firing range.
It seemed like a long time until
all four bodies slumped. "It is over"
moaned the crowd and it was.


TATTERS

Fall tatters the body of summer
with endless flaking, leaves drifting
like dandruff, eyelash, fingernail,
the replicable cells, dura, cambium,
petals on the stem in August and
in the culvert beside the freeway
by November. Fall picks us clean,
sends us naked into winter.


AFTER THE ELECTION

These are the things I didn't know I knew—
that some hands can't be turned away
but clutch, sharp as bird-feet, with clammy
ruined fingers, restless and atap,

that there is skin that doesn't sweat or bleed,
that I would take my soreness to the stump,
take revelation to my breast and know

what happened next as if I always knew


Wendy Taylor Carlisle lives and writes in the Ozarks. While embarrassed by Arkansas politics as well as our national debacle, she has managed to publish two books, Reading Berryman to the Dog and Discount Fireworks and four chapbooks, most recently Chap Book from Platypus Press, UK. For more information, check her website at wendytaylorcarlisle.com.


Go to List of Poets or Back to Top of Page


Sheri Gabbert


SPECIAL MESSENGER

God sent me to warn thick-headed right-winged self-righteous conservatives
god is a black woman, lives in a worn out shack, hates church and republicans
and likes a well-hung man in her bed as long as he's gone by morning –
before her lover gets home from her job at the strip bar downtown.
She preaches King Donald is the anti-Christ not Obama so brace for damage.
The world will come to an end but not until fat buddha sings a dirge.

Sheri Gabbert lives and works in the Missouri Ozarks where she is a substitute teacher. Her work has been published in Moon City Review (2011/2017), new graffiti, Rat's Ass Review, 417Magazine, Street Buzz, and The Lawrence County Record.


Go to List of Poets or Back to Top of Page


Edward Harkness


AMERICA, GREAT ONCE AGAIN

Cops have slammed the woman with green streaks
in her dark hair onto the airport's marble floor.
I count eight from the posted video, whose eye peaks
blinking between protesters near a glass door.
She sobs, cries out, "Stop! You're hurting me!"
The eye moves to show a girl's head. She's ten,
I'd guess. Dreadlocks, hands on ears—that's all I see,
all I need to see, must always see—men
in riot gear, one boot on the woman's back,
one on her neck, while others tie her wrists,
twisting them till she shrieks, her body slack
from writhing against what it resists.
The recorder, as her video blurs and ends,
whispers in her phone, We're so fucked, my friends.


Poet Edward Harkness is the author of Saying the Necessary and Beautiful Passing Lives, both from Pleasure Boat Studio press. His most recent collection, Ice Children, was published by Split Lip Press in 2014. He lives in Shoreline, Washington. To hear Ed read his poem, "Union Creek in Winter," go to www.terrain.org/2017/poetry/letter-to-america-harkness/.


Go to List of Poets or Back to Top of Page


Shirley Jones-Luke


UNCOLOR ME

Drain from my flesh the hue of
my ancestors, the tint of the
African sun, the shade of an
old gum tree in the middle of
the savanna, the shadows from
the tall grass as they bend in
the mid-summer breeze over
the river Nile, past the pyramids
desecrated by robbers then by
those seeking their secrets,
hidden for thousands of years
when the tone of my skin did
not matter and I was a queen
on the throne of a Nubian empire,
and not a slave mistress, a maid
or the atypical angry, black woman
as portrayed by a biased media and
a color-obsessed society.


GET HERE

It doesn't matter if you have to go underground,
scurry around in the night under border guards
search lights, scaling fences or pulling apart
wires to squeeze through frightened bodies, tired
bodies, yearning to be free bodies, while the
Statue of Liberty weeps for those bodies who wish to
inhabit our land, carrying documents on flights,
green cards and work visas by train,
their legality no longer seems to matter,
but yet – still the bodies come,
in the back of a van, the trunk of a car or the
bowels of a ship, all with the same purpose –
these refugees, these immigrants, these aliens –
whose bodies matter & don't matter & still matter.


NO BARRIERS TO ENTRY

Nation or no nation,
immigrants barred,
unfriendly shores,
this land has folded
unto itself, no longer
brave, no longer free

Neither free nor brave,
cowards and knaves
bow to a flag that has become
foreign, we are no longer
proud to wave

Stars upside down
a shroud over the land,
pockets of light upon our
country, the stripes have become
prison bars, restricting
our hearts, the plights
of others go ignored &
the laws of humanity broken.


Shirley Jones-Luke is a poet and writer. Ms. Luke lives in Boston, Massachusetts. She has an MFA from Emerson College. Her work has been published by Fire Poetry, Mass Poetry and Poetry Breakfast.


Go to List of Poets or Back to Top of Page


Juanita Kirton


THE BACKS ON WHICH I STAND

I salute and pray for sons and fathers
knocked out, blocked out
Florsheim shoes and air-Jordans
A hoodie in the hood at the hoops
milk crates prop the unsupported
dried up tears
disguised

Scattered semen in mad black bowels
can't fill the pain of a thousand years
flesh of my flesh bears the mark

I wanna hear my grand mamma's song
music running down the salty walls
marching through cane fields
the sun beat skin into ash
the sway of black buttocks
pushing out babies and black pudding
fill me up, spit you out
my language
generations of brown sugar blood
planted inside the feet of men
she embraces their unshed sorrow

Peace collides with appeals and dissent
unheard, ignored, push back
did my anger keep you speechless?
matriarchal power between my legs
emancipates and balances paternal death

Patience and forbearance did not metastasize
stagnation became my middle name
along the jagged riverbed of grief
combined rage hums

I still pray for Black sons and fathers
in places made raw, petition for righteousness
robed defiantly in red, white and blue


Dr. Juanita Kirton earned an MFA from Goddard College in 2015 and is the recipient of the Spirit of Goddard Scholarship. She is a member of Women Who Write, Inc. and Women Reading Aloud workshop series. She facilitates Blairstown Writers Group in NJ, directs QuillEssence Writing Collective and she is on the editorial staff for Clock House Literary Magazine. Juanita is published in several anthologies including Chester H. Jones Literary Journal, Caribbean Writer, Goldfinch Literary Magazine, A Journal of Hope and Healing, Clevergirl, Exit 13 Magazine, Mom Egg Review, Persimmon Tree, Narrative and Stone Canoe. She won Honorable Mention in the 75 th Anniversary Writers Digest Poetry competition and a "Sisters in Script" self-publishing grant. Her Peace Haiku was published for Peace Mural in Philadelphia.

Dr. Kirton works for the Pennsylvania Dept. of Education and is a US Army Veteran. She resides with her spouse in Northeast PA. Besides writing, Juanita enjoys touring on her motorcycle.


Go to List of Poets or Back to Top of Page


Matthew Mutiva


AMERICA IS GREAT AGAIN, SO

You won't have to replace "dawn's early light"
with screw-in halogens that screw up in congress
we will repeal and replace the colorblindness mode
with whitening agents that will attack underlying problems
that cause irritation and bring decay into this country
just like the olden days when we rode in on horseback,
performing roundups on the western frontier
The American Dream is no longer a dream deferred
it is a dream come true
Stop soul searching for a third party and looking into crystal balls
we have other fortune telling objects
other media outlets contain meaningful information
America is now dripping in gold
surrounded by pictures of itself
doing successful things
that have been hugely successful
It will be the hugest vastly
jumbo mega ultra bulky
colossal whale of a super husky
largest lumping multistory business tycoon
that will grab today by the pussy
giving it a firm handshake
this translation of carpe diem
will be championed
It now represents our values
like speaking English if you are Muslim,
transgender, or disabled you will be unfriended
for saying your life matters on social media
you won't have to post statuses saying
"My vote is in a better place"
I'm sorry it's not,
but it will be truly missed
It was worth your everlasting love
for democracy
You'll have to find some other way

of reassuring yourself


Matthew Mutiva is that feeling you get when your favorite song comes on the radio, but when you listen to it, you realize you just caught the end of it, and now you're pissed. In his senior year of college, he is a Professional Writing major with a Creative Writing minor at the University of Wisconsin-Platteville. He is a former Assistant Editor for the literary journal The Driftless Review. His poem Hood Superheroes won first place in the 2015 Thomas Hickey Creative Writing Awards Contest. His poem What's your favorite color? won first place for the poetry portion of the 2013 Thomas Hickey Creative Writing Contest, and his other poem, Offended, was awarded second place for the poetry portion of the 2014 Thomas Hickey Creative Writing Contest.


Go to List of Poets or Back to Top of Page


Joey Nicoletti


MEMO TO DONALD TRUMP

RE: "Frederick Douglass is an example of somebody who's done an amazing job and is being recognized more and more, I notice."

As of February 20th, 1895,
Frederick Douglass is dead.
Frederick Douglass is dead.
Frederick Douglass is dead.
Frederick Douglass is dead.
Frederick Douglass is dead.
Frederick Douglass is dead.
Frederick Douglass is dead.
Frederick Douglass is dead.
Frederick Douglass is dead.
Frederick Douglass is dead.
Frederick Douglass is dead.
Frederick Douglass is dead.
So is your hair: the animal on your head.


Joey Nicoletti's most recent books are Reverse Graffiti (Bordighera, 2015) and Thundersnow (Grandma Moses Press, forthcoming 2017). His work has been nominated for a Pushcart Prize and has appeared in many magazines and anthologies. A graduate of the Sarah Lawrence College MFA program, he teaches at SUNY Buffalo State College.


Go to List of Poets or Back to Top of Page


Stephen Regan


JAZZ STYLE
Frederik's bar, Hope Street, Liverpool

Hey man it's serious now
in the world.
Let's improvise ourselves
out of this mess,
jazz style.

Do what we gotta do,
rhapsodise in blue,
me, you, the rest of the crew
in this bar on the Boulevard of Hope.

We're a bit broken but not lost;
we trumpet hope,
dreaming on, playing through,
changing the rhythm,
keeping humanity living
as the Trump of despair
sounds across the pond
in the home of jazz.

We the people in New Orleans,
Chicago, New York, Liverpool,
we play on, play up, make music
as humans, it's what we do
here inside this jazz bar.

While out on the pavement
young hipsters talk, smoke, flirt
with their own kind, as from inside
the music wafts out and over them,
jazzing up the mix.

These people smile sadly,
give alms to passing mendicants,
moonlit, Hogarthian, and why, why, why
does it have to be
like this?

Improvise that holy rhythm.
Come on, man! Let's cool the world
in laidback liberty,
in hope of full-lipped, brass-necked justice.
Jazz style.

For all that's wrong with the world
this band plays on, it plays on, braving elements,
raising heartbeats, anthemising
the plights of these times.

Hep cats with a conscience.
They've got rhythm.
They've got love for sale.

Life will go on, get better.
As we've been told,
It's a wonderful world.


NOW WE'RE RICH

Now we're rich we've time to see
the squalor all around.
Sights and sounds we once rushed by
dirtily demand our attention; make us
wonder about justice in this broken world.

So, as we leave the Bistro Belle Époque
we each toss a quid to the beggar.
Justice is important, we decide,
and we'll pay sterling service to it –
now that the street mendicants
have reached Knutsford (*).
This much we know
in Cheshire
now we're rich.

Note: Knutsford and Cheshire people are regarded as 'up themselves', pretentious. They wear 'fur coats, no knickers', it is commonly said of them.


Stephen Regan's poems have been published in: Envoi; Best of Manchester Poets Vol 2 anthology; Reach Poetry; Killing the Angel; The Provo Canyon Review and DoveTales. His poem 'Red-bricked' is part of a permanent art display at Wallgate rail station in his home town of Wigan, Lancashire. He lives in Liverpool and is the founder of city poetry group, The Liver Bards.


Go to List of Poets or Back to Top of Page


Sage Shemroske


I WON'T SAY "GREAT"

I live in this county,
even though this country doesn't love me

I wake up everyday believing that my life is going to change,
even though my own experiences in this system have taught me otherwise

Whatever happens in the next four years
I am used to things not going my way

And I'm sorry that now is when we begin our revolution

Because for the first time white men feel the fear I have felt my whole life,
excuse me if I am not impressed by your outrage

I have been branded angry since birth
Since I was brought into a culture where I am an unequal,
where my love is unrequited,
where my voice is quieted

We have wiped away the messes after men decide to go to war and bring disease into our homes
we have been maids never martyrs,
been traded never barterers,
nurses never soldiers,
Even though we sit at the front lines
and when we say "no"
we face gunshots
And then such heavy silence

The man who sexually assaulted me will go unreported,
now a rapist is running my country
Yes
I say "my country"
Because for every man who broke the glass ceiling, there was a woman sweeping away the glass
And for every straight woman who broke the glass ceiling, there was a gay woman sweeping away the glass
And for every white woman who broke the glass ceiling, there was a black woman sweeping away the glass

Since women were hanged for being witches
since women jumped out of the windows of burning factories,
I have bent and broken my neck trying to succeed when suppressed
fought for my sisters even when congressmen say "woman" like a dirty word
instead of a song
When men discuss abortion as if we want access to healthcare like we want access to a limo
instead of like how animals stuck in traps want access to hacksaws

When they say female instead of woman do they mean
female pigs
female dogs
female cows?
Because animals can be female but "woman" implies humanity

Yet I am expected to call a country great
to pledge my allegiance to an institution founded on exploitation
to sing the star spangled banner when I have signed without reading the fine print
There is an asterisk after "with liberty and justice for all"

America hasn't been great since men were the only ones to sign their names on the dotted line
Since property owners were the only people
Since the constitution decided black people were only 3/5ths human

My revolution didn't end when Britain ceded
It began


Sage Shemroske is a twenty-something college dropout living at home with their parents. Despite the financial struggles that took them out of the academic world, they continue to pursue art, much to the shame and disappointment of their entire family.


Go to List of Poets or Back to Top of Page


Michael Dwayne Smith


YES

if by Yes you mean
the nude gentleman high diving

off a Trump Tower 52nd story ledge
in Midtown Manhattan
in order

according to the note left behind

to illustrate the absurdity
of believing in an
American Dream

then Yes by all means Yes


INDICTMENT
After Eileen Myles

The beautiful universe
of refrigerator noise. The looming
importance of Iceland.
How many ears in the silence.
How many eyes underground.
Passion was never enough.

To love a machine forsake
a manatee. To fuck a glacier
plug in the TV. This many wagging
tongues in a trap. This many wire
hangers in the womb. Compassion's
ambition never keeps up

with jackboots and engines.


UP LOOKING FEELING

It's a Parisian night
up in Hollywood, California,

where a wedded pair
of Caucasian lesbians in a
new, cherry-red SUV

cruise ass up Mulholland
and nobody notices
in their reality TV world.

How everything's worked out!
Human cruelty, frailty,

and stupidity adding up
to the smell of
Donald in the morning,

the smell of victory,
of toast and coffee, kids
up and safely off to school,

you left gazing
into the vast industrial park

from a Trump ghetto window
wishing the moon were up
on the sallow-blue sky

and humming,
as if morning were a song.


Michael Dwayne Smith lives near a Mojave Desert ghost town with his family and rescued animals. Twice nominated for the Pushcart Prize, recipient of both the Hinderaker Award for poetry and Polonsky Prize for fiction, his work haunts 150+ literary houses, including Skidrow Penthouse, Cortland Review, Gravel, burntdistrict, Chiron Review, Word Riot, New World Writing, Heavy Feather Review, decomP, WhiskeyPaper, FriGG, and Monkeybicycle.


Go to List of Poets or Back to Top of Page


Paul Smith


NO MATTER HOW STEEP

I like how you hold up your head
you don't cringe
you keep your chin
in the air instead
not in arrogance
more in resistance
insistence
that what you believe
will come to pass
in spite of all that's said
what are words?
a poet's tools
and a crook's
just things twisted
to fit the ears and minds
of those nearby
I'll make it brief
it is better to live by words
we hold true
than to shout them
through a bullhorn
this day is not ours
let us put our fingers and tongues to sleep
work quietly as one
we'll climb that hill no matter how steep


Paul Smith writes poetry & fiction. He lives in Skokie, Illinois with his wife Flavia. Sometimes he performs poetry at an open mic in Chicago. He believes that brevity is the soul of something he read about once, and whatever that something is or was, it should be cut in half immediately.


Go to List of Poets or Back to Top of Page


David Spicer


THAT'S THE WAY IT IS

Walter Cronkite ended his newscasts
with the snappy quip, That's the way it is
and a matter-of-fact tone that spoke to truth
the way a satchel of money marches into a bank
or a pitcher delivers a knuckle ball for the strike
to finish a game that enthralls and enriches humans.

And now we've arrived at the brink: a madman
the President and hence on every evening newscast
we stare in disbelief as he launches a preemptive strike
against somebody and all we can say is That's the way it is
as he squats like a catcher and kisses the cheeks of bankers
who love him less than their money, more than truth.

By now we're asking each other, What's the truth?
Don't red wolves deserve to survive more than madmen?
But something we never thought possible or banked
on: a narcissist in the White House with a brand new cast
of sycophants who snicker and sing, That's the way it is
before deciding with their boss where they want to strike

next and how: against North Korea with a nuclear strike
or with another set of alternative facts replacing the truth
that tries to convince us, That's the way it is?
But let's remember: we outnumber this crazy man
who believes he's our god and his own newscaster,
one who, as he stands gazing from the beautiful banks

of the Potomac, asserts he's anything but a mountebank.
Let's remember the countless number of historical strikes
that battled tyrants who killed people to make news,
who forced the masses to accept their words as the truth,
let's display to this mere man with small hands our humanity
by shouting at him in the millions That's not the way it is!

David Spicer has had poems in The American Poetry Review, Ploughshares, Gargoyle, Rat's Ass Review, Reed Magazine, Slim Volume, The New Verse News, The Laughing Dog, Chiron Review, Easy Street, Bad Acid Laboratories, Inc., Dead Snakes, among others, and in the anthologies Silent Voices: Recent American Poems on Nature (Ally Press, 1978), Perfect in Their Art: Poems on Boxing From Homer to Ali (Southern Illinois University Press, 2003), and A Galaxy of Starfish: An Anthology of Modern Surrealism (Salo Press, 2016). He has been nominated for a Best of the Net twice and a Pushcart, and is the author of one full-length collection of poems, Everybody Has a Story (St. Luke's Press, 1987), and four chapbooks. He is also the former editor of Raccoon, Outlaw, and Ion Books. He lives in Memphis, Tennessee.


Go to List of Poets or Back to Top of Page


Gabriel Thomas


SCREAMS

Northside,
downtown,
outside my window,
across the street,

a woman screams at the night,

and there she is,
and here I am,
up in my
little
cell
room,

and I turn and listen,
and I turn and watch her,
and I stick my head out.
I feel San Diego hit me.
She's insane,
I think.
This woman…

She's BATSHIT,

and I watch her
dive through trashcans,
seizing the neighborhood's aluminum,
pushing a cart of garbage,
towing a backpack of rags,

as she screams at shadows,
as she screams at light posts,
as she looks up at a no star sky
and screams at it.

screams LOUD at it,

screaming inside this concrete kingdom,
on these asphalt trails,
where the rules are made by those
who've never missed a meal,
never been scarred,
never had to fight,
who keep the game rigged,

and this woman screams
at the night,
and I think,

maybe she's not crazy.


Gabriel Thomas was born and raised in the Midwest and he currently lives in San Diego. He maintains and provides all content for www.astheworldbolts.wordpress.com, a blog of fiction and poetry. His prose have appeared in Degenerate Literature, Nugget Tales and Sisyphus Quarterly.


Go to List of Poets or Back to Top of Page


Poems posted February 3, 2017


Layne Calabro


NEW REALITY TV

With nervous laughter we watched a contentious, pink-tied TV daddy
skilled at demeaning many an apprentice's dream,
promote privilege and famed life.
The ratings increased as sensibility ceased and powered
by the economy of greed, a new reality started to steep.

From inside the boob tube there is an obstructed view, creating an
easy breeding ground for the bacteria of segregation.
Claiming to feel our pain while maintaining minimum wage,
he touts his brand and building walls will pull us
together to make us great again.

Cocooned in an easy chair of fake news,
an interruption in service jolted American perceptions and now
tweeting from the presidential post, a
patriarchal persona with billowing comb, is starring
in a new-age sitcom set to fire this free land.

Since this head of household reveal,
alliances formed and strategies weaved.
Striking quickly to place blame,
the construct of limited freedoms began.
Because Big Brother knows,
suppression remains, when fear reigns.

Coast to coast housewives, supportive prime-time glam,
fit in nicely with his women's plan.
Stay toned and tucked; giggle while groped;
and there will be a place in his world-wide locker room,
where he can roam without reprimand.

I can't watch anymore.
Survival is all I see –
searching for secret immunity granting idols,
like minds move in small agile packs, creating
havens with no conditional entrance fee.
We provide water to revive, flint for sparking dreams,
wind to cleanse the stuck, and protection for love's roots
to take hold, amongst this new reality TV.


Layne Calabro has been writing for over 30 years and her voice continues to grow. Recently she participated in Dress Codes, a project focusing on all stages of a woman's life that combines wearable art and poetry. Her work focuses on relationships and the impact of our choices. She resides in north Texas, is a steadfast yogi and activist, and strives to spread compassion and foster understanding through all her actions.


Go to List of Poets or Back to Top of Page


Neil Creighton


AT THE HUSTINGS

Citizens, I say to you:

Shed no tears for children caught in war.
There is no money in that.

Think not upon your children's future.
Take your profit here and now.

Ignore questions about neighbours.
Your responsibility is to yourself alone.

Poverty and inequality are always with us.
Your wealth is only yours.

Fools worry about the state of the earth.
I say you cannot bank beauty.

You cannot live on bread alone,
The only real wealth is money.

Come.
I set you free.
Accept liberty.
Insularity
is security,
honesty
a mere commodity.
Gather to yourself
beautiful wealth.

Go forth.
Exploit, exploit, exploit.


Neil Creighton is an Australian poet with a passion for social justice and a love of the natural world. His work as a teacher of Drama and English made him intensely aware of how opportunity is so unequally proportioned. Recent publications include Silver Birch Press, "Prosopisia", "Poetry Quarterly", "Praxis Online Mag", "Social Justice Poetry", "Whispers in the Wind" and "Verse-Virtual", where he is a contributing editor. He blogs at windofflowers.blogspot.com.au .


Go to List of Poets or Back to Top of Page


James Fowler


ELECTORAL SONNET

The results of the 2016 election
drag behind me like a trailer full of trash.
Last night a nightmare gate screeched open
and he appeared in a billow of orange smog.

I need to escape into the woods for a hike,
to embrace the solitude, find cleansing calm,
but rain swaddles the earth, attempts to quench
the blaze before the world rises up as ash.

Still in the doorway, I stare at the blanket of clouds.
Lightning makes me blink and the transformer
on the pole across the street explodes.
The neighborhood falls into darkness.

I slam the door, tear off my soaked clothes,
go back to bed, seek the warmth beneath the covers.


James Fowler lives in Charlestown, NH, and has over two-hundred fifty poems published in various journals and anthologies. He edited the poetry anthology Heartbeat of New England (Tiger Moon Publication, 2000). Finishing Line Press published a chapbook of his Japanese forms, Connections to This World, in March, 2012. A book of his Japanese forms, Falling Ashes, was volume VII in Hobblebush Press's Granite State Poets series.


Go to List of Poets or Back to Top of Page


Vicki Iorio


INAUGURATION

Trump day and I
am 30,000 miles high
The pilot says there is turbulence over DC

as if we need him to tell us
passengers have a good laugh
turbulence- more like a fist bump
more like a rock a bye

After landing, while unpacking I watch
Melania; gorgeous in powder blue,
to die for matching gloves

I could almost love this Slovenian deer
in the headlights
brunette among all that blonde

He will weed me out for my mousy brownness
so much for America
he will come for me


Vicki Iorio is the author of the poetry collection, Poems from the Dirty Couch, Local Gems Press, 2013 and the chapbook, Send me a Letter, dancinggirlpress. You can read Iorio's work in Hell strung and Crooked, I Let Go of the Stars, (Great Weather for Media), The Brownstone Poets Anthology, The San Pedro Review, The Mom Egg, Crack the Spine, The Painted Bride Quarterly, The Fem Lit Magazine, Redheaded Stepchild Magazine, Concise, Cactus Heart and Rattle on line.


Go to List of Poets or Back to Top of Page


Jacqueline Jules


MY ONE RELIEF, SUMMER 2016

1933 Berlin. My Jewish father is a teenager,
curious, sneaking into a rally.

"Hitler's voice, his gestures. He whipped
the crowd to a froth like cream."

Dad said it was contagious. His arm rose, too.
Like a reflex from a rubber hammer.

Mobs chanting, cheering, waving wildly.
Not wary of the words, the promises, the blame.

"Know what to watch for," my father gripped my wrist,
his German accent rising. "Always be ready."

But I wasn't when the hospital called to say
Dad had been moved to intensive care.

I had to pack in a hurry, plot the fastest
way out of the city, resembling a refugee.

Though far from Dad's repeated stories.
Not in my lifetime, not in my country.

Or so I believed until I saw a large man in a red cap
screaming slurs on the screen in my living room.

Now I feel Dad's heart quicken, his brown eyes
widening, wincing, as I click on headlines.

Crowds flocking to stadiums, chanting for a wall,
to keep certain people out, send others away.

My one relief. Knowing Dad sleeps beneath a stone,
unable to witness what he often warned
could happen here, happen anywhere.


Jacqueline Jules is the author of the poetry chapbooks, Field Trip to the Museum (Finishing Line Press) and Stronger Than Cleopatra (ELJ Publications). Her work has appeared in over 100 publications including Inkwell, Killing the Angel, Soundings Review, Innisfree Poetry Journal, Gargoyle, Potomac Review, Imitation Fruit, Calyx, The Broadkill Review, and Pirene's Fountain. Visit her online at jacquelinejules.com where you will see that she is also the author of 40 books for young readers including the Zapato Power series and Never Say a Mean Word Again.


Go to List of Poets or Back to Top of Page


Rainbow Wohali Medicine-Walker


OUR ADDICTION TO NICE

Sometimes it takes rude and crude to break through the ice of nice.
I have frustrated sailor mouth and I so wanna let 'er rip!

A spectacularly stupid asshole now inhabits the white house,
yet I am still expected, as an esteemed human being, (not my words) and
especially, especially as a woman, to continue to toe the line.

Fuck That Shit!

Smile and nod, placate and de-escalate,
give out lots of reassuring pats on the back and
don't forget to practice random acts of kindness
in your increasingly spare, spare time. REALLY??????

We got tricked into believing
Miss Manners could soothe the savage beast,
somehow rescuing us from the Machiavellian machinations
of the sociopathic moguls who hold our collective fate
in their greedy little hands.

Wake Up Folks! We are in a war for the survival of this planet.
There is no time to be pulling our punches.
When they go low, going high may or may not be effective.
Our attachment to ideal images of cooperative goodness
leaves us vulnerable to exploitation by the cunningly unscrupulous.

In other words, we get sucker punched.
We need access to a full toolbox of responses if
we are to win the game which none of us, at this point, can afford to lose.

I hugely admire those who hold the world together
through dedication, generosity and self-sacrifice.
But sincerity and compassion become like buzzing flies,
easily swatted away, to those
who are heavily armored in their own agendas.

Granted, gather enough flies and attention must be paid,
but the most deadly and intransigent will just keep on
pushing us over the edge of the cliff out of sheer cussed meanness!

As the warrior explained to the healer,
you have to first prevent the enemy from killing you
before you can reach out a helping hand.


Rainbow Wohali Medicine-Walker is an enrolled member of the Western Cherokee Nation. She is an Earth Warrior Ceremonial Teacher and Leader. Rainbow is the granddaughter of Cherokee Admiral JJ Clark and in 1977 she was selected to be admitted to the US Naval Academy with the second class of women ever allowed in. Rainbow has been writing poetry to tell the truth to herself for over thirty years, but is new to submitting her work. Her first submission to a poetry contest won the popular vote and was chosen to be read at The Women's March On Bellingham Washington in front of a crowd of 6,000 plus. This was a wondrous and terrifying debut which she is still recovering from!


Go to List of Poets or Back to Top of Page


Dion O'Reilly


HELLO POETS: HERE'S TODAY'S LESSON

End Rhyme:
What to make of shitty Trump?
The heartland taking a mighty dump.

Internal Rhyme (also a slant rhyme):
The election was a giant shit that emerged from the body politic.

Slant Rhyme (sometimes called imperfect, partial, near, oblique, off etc.):
This can't be real, this can't happen
a giant shit in a Cheetos wrapping.

Rich Rhyme
He's like a steaming dump
found at the dump
who in four years we WILL dump
(Please god, please god, please Joseph Smith)

Identical Rhyme
The problem with the electoral college
Is that a few without any college
bent over the liberal coastal states
and dropped a steaming dump.

Perfect Double Rhyme
Not to say college graduation
stops one shitting on the nation,
and there are some who have diplomas
who still exude that strong aroma.

Eye Rhyme
Cleaning up a stinking steaming dump is rough.
We can do it though.


Dion O'Reilly has spent much of her life on a farm in the Santa Cruz Mountains. She studies with poets Ellen Bass and Danusha Leméris and attends an MFA program in Creative Writing at Pacific University. A retired high school English teacher, she workshops poetry with her ex-students. Her work appears or is forthcoming in Atlanta Review, Porter Gulch Review, Bellingham Review, Caesura, The Sun, Redwood Coast Review, Existere Journal, Marin Poetry Center Anthology, Cerise Press, and a variety of other journals. Her essay on the death of Michael Jackson was anthologized in the text Goodbye Billie Jean. She is the creator and publisher of the PMS Coloring Book and is currently working on the sequel.


Go to List of Poets or Back to Top of Page


Fred Pollack


WITH THANKS

Most of those who did the work
were on meds of some sort; those
who didn't, on downers and/or hung over.
Proportions varied. Neither group
liked her. She announced
tests, got them through tests,
ensured that no one (or only the fraction
the principal and administration
had decided was safe) failed.
When the cheery bong
that had replaced the industrial buzzer
sounded, she enjoyed the brief
stillness that followed
the out-rush, the occasional
forgotten pink or skulled and camo'd
backpack. Still, once or twice
each year, she tried
to tell them something, but had learned
never to reminisce. And each year
menarche and puberty
or something like them sifted lower and
the girls, even those who professed
to despise them, blew boys
who broke things and brought knives. Later,
few thought of her or voted for Hillary.


CHRISTMAS 2016

We do what Jews do: movie, Chinese food.
The film is one that all the reviews
called good or great, and my wife's friends
have seen, and I owe her a chickflick.
But after ten minutes I'm carefully still,
not looking at my watch. Someone's unfaithful,
someone cries; a dog runs into woods
at the edge of an impossibly nice park.
A grandma advertises all her progressive
attitudes, a kid acts out.
There's a black friend, and an Inner City
like a fever dream. I think
of how the rending metal and explosions
of orbital battle in Rogue One could
be justified, though there's no sound in space,
as being heard inside the doomed warships.
I think about feelings, and how many senses
can be ignored. I wait.
Our usual place is closed; perhaps
they took to heart the big point
the President-Elect is making
at his rallies of wishing his supporters
"Merry Christmas," not "Happy Holidays."
They're great survivors, the Chinese.
We're not such great survivors.
We find another place. My wife
discusses the film, though she admits
it wasn't good. Outside
it's cold and everything, of course, is closed,
but surprising crowds enjoy
the lights. They're not all Jews or Moslems.
Some have that look I've noticed all my life:
a pro forma softening, a performance
of good will that would not withstand
the least bump. But this is
a liberal town: there's a menorah
in front of the bookstore, one of the last
of the last chain; one could feel,
if one tried, at one with the land,
fresh air, complimentary sentiment,
and sixty million fools.


Fred Pollack is the author of two book-length narrative poems, The Adventure and Happiness (Story Line Press), and a collection, A Poverty of Words (Prolific Press). Another collection, Landscape With Mutant, is scheduled to be published in 2018 by Smokestack Books (UK). He has many other poems in print and online journals.


Go to List of Poets or Back to Top of Page


Adrian S. Potter


FREEDOM ISN'T FREE AND NEITHER ARE WE

We are lifelong investors in the dying business
of survival. We know where all the landmines are
and how long before they'll detonate. Racism
isn't hypothetical to us. We're expected to ignore
insults, systematic struggles, the slow smolder
of anger under our skin. We swallow society's
hatred like sour medicine. Side effects include
unwarranted bullets, nightstick contusions, loss
of breath due to chokeholds, ligature marks from
handcuffs. Social media erects a virtual platform
where people lob threats at a man who sits quietly
during an anthem that was penned by a slave owner.
New tragedies weekly, innocents shot and falling
so fast even gravity has to be surprised. Hope is left
behind to drown in the pool of grief puddling
underneath the bodies on the pavement. Each news
story teaches us liberty is a variable in an intricate set
of equations. Hoodie equals suspect. Minority equals
guilty. Fits the description equals black. Protesters
equal rioters. Nothing in the streets or on the Internet
is safe. Everything is hazardous, even this poem.
We covet independence without danger. We want
to reclaim our destinies without cost. We get distracted
for no good reason. Overlooked and underpaid,
too wrapped up in our salaried gigs and side hustles
to recognize the static movement of change.
There is a source code for survival based on race,
religion, class, gender, and sexual preference.
Tolerance is an idealistic tangle of knots casually
tossed in the garbage. Like a bitter neighbor,
society knocks and asks me to turn down the volume
of my outrage. But instead, I scream. Louder.


Adrian S. Potter writes poetry and short fiction. He is the author of the fiction chapbook Survival Notes (Červená Barva Press, 2008) and winner of the 2010 Southern Illinois Writers Guild Poetry Contest. Some publication credits include North American Review, Jet Fuel Review, Obsidian and Kansas City Voices. He blogs, sometimes, at adrianspotter.com.


Go to List of Poets or Back to Top of Page


Sherry Rind


THE RECORDING ANGEL BLOTS HER COPYBOOK

Goddamn fountain pens, they're either impacted
like a kid who ate nothing but Matzoh for eight days
or they gush like the Red Sea
over the Egyptians seeking to re-enslave the Hebrews.
And now somebody thinks I'm going to record the name
of every Muslim in America? They've got another
think coming. That's my advice:
use your brain, not an eggplant.

This blot looks like an eggplant,
the purple ink still glossy with damp,
a curved shape that pleases the hand with its smoothness
and heft, like a young woman's breast.
So much for appearances.
Inside an eggplant, it's tasteless and bitter
unless you fry it in enough oil to drown a slaver.

I am at sixes and sevens today.
How am I supposed to track the messages
from people tangling each other
amid the bulldozed Dakotas?
Dead shoots, scattered bones, the network of roots
broken. I need lamp oil as much as the next angel
but I don't trade oil for water.
I'll drop another blot on the lines people draw
and call it accident.


Sherry Rind is the author of four collections of poetry and editor of two books about Airedale terriers. She has received awards from the National Endowment for the Arts, Anhinga Press, Artist Trust, Seattle Arts Commission, and King County Arts Commission. She teaches at Lake Washington Institute of Technology.


Go to List of Poets or Back to Top of Page


Barbara Foster Schutz


TEACHING AMERICAN HISTORY TO DONALD TRUMP

Teaching American History to Donald Trump – I

One of ten children
whose father was blind,
whose mother rose before the sun
to chop the wood,
to build the fire
in the big black, iron stove,
to fry the eggs
collected from the chicken coop
at dawn,
he often said that Christmas
brought a special treat,
an orange in his stocking.

Teaching American History to Donald Trump – II

She sold the farm and moved to town
to educate the lot, and so she did
for each of nine,
before the youngest, Chester,
failed and died before his time.
A teacher of chemistry, one became,
another, a Principal, who set about
the task of blending race
with race beneath one roof,
one more a Professor,
his task to enlighten
and remind.

Teaching American History to Donald Trump – III

In calamitous 1942,
students brought quarters on Mondays
to purchase savings bonds,
sang From the Halls of Montezuma
without knowing exactly
where it was, along with Bataan
and Iwo Jima. On Saturdays,
they watched Movietone News,
two feature films, a cartoon
and a weekly serial, all for
the price of admission:
a coupon for a treat: coffee or meat.

Teaching American History to Donald Trump – IV

And they were proud
to be Americans, saluted the flag
and recited the Pledge of Allegiance
every single day – it was enough.
No need for gold to adorn success;
no need for credit or applause.
No doubt about the goal: to be free,
to free the world from the Swastika,
the symbol of hatred –
to help the victims find liberty,
to put an orange
in each stocking.


Barbara Foster Schutz is in her 85th year and could teach DJT a thing or two about almost everything, but especially about America and the enduring values that shaped our country. Her grandmother recited poetry, as was the custom. Her mother wrote poetry, as does she, her daughter, her granddaughter and her grandson.


Go to List of Poets or Back to Top of Page


Devon Shapland


CHICAGO
After Carl Sandburg

Mudslinger of the free world
Billionaire, Businessman
Candidate with a Brand, and The Apprentice of Chaos
Republican, Misogynist, Comedian
Man with the Big Ego:

They tell you he is wicked, and you do not believe them, for he will Make America Great Again.
And they tell you he is crooked, and he answers: "I could stand in the middle of 5thAvenue and shoot somebody, and I wouldn't lose any voters."

Supporters of Trump's Chicago
Our City
You stand behind your candidate bragging and laughing against
ad hominem attacks, and humanity is on its knees, swollen-jaw and cadmium spit.
You say not to judge the ideology of the many by the actions of the few,
so that is what our delegates do for us.

Protestors of Chicago –our Republicans, our Democrats– with violence in your voices and brass-knuckle fists, who shut down rallies with stubborn shoving bodies –
All of you assure me that we have a power:
the power to lead and to follow, to listen and to speak.
And I have considered for the first time that maybe Freedom of Speech should be a privilege.
But because that would be un-American, and because there is laughing and sneering at hate crimes like cackling at battered dogs,
Chicago –laugh back. Grin with Capitalism. Sue him for slander.
Roar, for our city has turned against itself.

Come and show me this candidate who will make a great but flawed, but humanly flawed, but persistently great country by
Building walls, breaking, bombing.
Come and show me and witness this country
Where Deception is synonymous with Speaking His Mind
Where Degradation is synonymous with Empowerment
Where Love for the Uneducated is synonymous with Love for Ignorance
Where my Whiteness is synonymous with Intolerance, Apathy, and Violence
Where Patriotism is synonymous with Loving to Hate.

People of Chicago –Our Chicago
Fear this fear.


Devon Shapland is an undergraduate student originally from Chicago who is pursuing a degree in English Education. Shapland wrote this poem in March of 2016 in response to the protests held in Chicago which shut down a Trump rally. Shapland modeled "Chicago" after the poem of the same name by Carl Sandburg to contrast the rhetoric of pride in one's city and country with the current overpowering nationalism that borders on fascism.


Go to List of Poets or Back to Top of Page


Robin Wright


HOW TO UNITE PEOPLE
For Roderick Bates

Secure a position as editor of a journal
Solicit submissions from poets the world over
Sift through poems from Sergio and Mare.
Neha, and Baisali. Karlo and John.
Ingrid and Jim. Vernon and Wendy.
Peggy and Cathy. Crystal, Rebecca.
Alicia and LJ. MD and Ashley.
Chris and Raji. Sheri and Sherry.

Publish their work for all to see
Start a critique group, organic and free
Invite poets who grace the journal's pages
Kick back on the couch with scotch and soda
Check the group; note their advice
Watch friendships form and poems grow

Call Trump; let him know


AMERICAN CENSUS

Instructions: Answer appropriately and return.

What is your annual income?
Over $100,000
$50,000 to $100,000
$25,000 to $50,000
Under $25,000

Answer: Yes

What is your ethnicity?
American
Hispanic
Japanese
Other

Answer: Yes

What is your race?
Black
White
Asian
Other

Answer: Yes

What is your religious affiliation?
Catholicism
Judaism
Islam
Other

Answer: Yes

What is your sexual orientation?
Heterosexual
Homosexual
Bisexual
Other

Answer: Yes

Fold census, insert in envelope, mail.
Who will America be in four years?


Robin Wright's work has appeared in various literary journals, including Lost River Literary Magazine, See Spot Run, Rat's Ass Review, Quatrain.Fish, Foliate Oak Literary Magazine, and Amarillo Bay. Two of her poems were published in the University of Southern Indiana's 50th anniversary anthology, Time Present, Time Past. She has also co-written two novels with Maryanne Burkhard under the name B. W. Wrighthard, Ghost Orchid and A Needle and a Haystack.


Go to List of Poets or Back to Top of Page


Sherri Wright


TODAY I CRY

Today I cry
for Muslims labeled terrorist
for their clothes and their prayers   I cry
for Mexicans clawing on a fence
for their children on the other side   I cry
for women who dare to complain
when grabbed by their privates and told to
shut their mouths   I cry for the woman to marry
the woman she loves the trans who asks only
to be who he is   and I cry for the Supreme Court   I cry
for the poor kid in the city who needs
a school where its safe to learn   I cry
for the mother working for minimum wage
choosing medicine or food for her kids I cry for
health care hanging by a thread the women at Planned
Parenthood closing its doors   I cry for our earth
crust fracked   skies fowled   glaciers melting into the sea
nuclear energy in the hands of a man who is
surprised   education in those of a woman who's ok
with guns in schools an AG who leans alt right
I cry for our country in charge of a man who
cares first for himself and his towers of wealth
and came on a promise of jobs for
the middle class whose unions he long ago
threw under the bus and whose benefits
he slashes with the stroke of a pen
I cry for the respect nurtured and handed
to him by a statesman with dignity due the highest
office in the land   today I cry   tomorrow I march
with others who thought that we would never
see a man who praises Putin dismisses NATO
ignores security briefings   refuses to reveal his taxes
divest his businesses speaks trash of   women   Muslims
African Americans and gays
inaugurated
president of the country we thought
was great before the election of 2016


Sherri Wright lives in Rehoboth Beach, Delaware, after a career in education at universities and the Federal government in Washington, DC. Running, yoga, and volunteering at a center for homeless, all figure into her writing. Her work has been published in the Hill Rag, Letters from Camp Rehoboth, Inspired by the Poet, Aspiring to Inspire, Words of Fire and Ice, The White Space, Clementine, Panoply, Rat's Ass Review,, and recently in two books: Our Last Walk and What I Didn't Know.


Go to List of Poets or Back to Top of Page


Sarah Yasin


FOR BU AZIZI

In the winter of 2011 Tunisian officials vandalized the wares of an impoverished street vendor named Bu Azizi for operating without a license. He set fire to himself at the governor's gate, and by his immolation began the Arab Spring.

you are
a hero
for the ages:

successor to
saints
and soldiers,

a model
for nations
and nations.

jeanne d'arc
herself
must have

guided the flame
that set fire
to your paschal body.


TANKA FOR TRUMP

Yasin is the 36th part of the Qur'an. It's said to give good fortune for a full day to anyone who reads it out loud.

A female with an
Arabic name, I marked my
X for Trump to stop
the hateful extremists who
smear my beneficent name.


Originally from the idyllic coast of Maine, Sarah Yasin presently lives inland where she studies world literature in translation using the public library. Year-round she works at the checkout counter of a convenience store, and seasonally she facilitates writing retreats. Her stories and poems can be found in Truancy, J Journal, The Horror Writers Association Poetry Showcase, and Lovecraft Me.


Go to List of Poets or Back to Top of Page


Brenda Yates


NIGHTMARES

No lullaby's sweet good night
and gone is the innocent sleep

in the rocking skulls of children
still dreaming of the fairy tale

woes or the even somewhat grim,
though exceedingly just,

fabled comeuppance
accorded each and every

man, woman or child,
all the naughty fools, the unkind

or selfish, the haughty ones
too, no matter how rich,

nor even if a prince or princess,
—until now's ill-fated, sour orange

hella days, extending oh, no, no
into long nights that go on and on

after unbelieving eyes try to close.


Brenda Yates is the Pushcart-nominated author of Bodily Knowledge (Tebot Bach 2015). She received Beyond Baroque's Literary Arts Prize, a Patricia Bibby Fellowship and was a finalist in the Robinson Jeffers Tor House Contest, Her poems appear in The American Journal of Poetry; Askew; Blueline; Brain of Forgetting; Chaparral; Cider Press Review; Coe Review; DASH; Eclipse; great weather for MEDIA; Ilanot Review; Illuminations; In Posse Review; Kattywompus; Mason's Road; Mississippi Review; Mixitini Matrix; Naugatuck River Review; Princemere; Sliver of Stone; Spillway; StepAway Magazine; Surreal Poetics; as well as anthologies including Beyond the Lyric Moment (Tebot Bach), Angle of Reflection (Arctos Press); City of the Big Shoulders: Chicago (University of Iowa Press), Manifest West (Western Press Books) and Southern, Volume VI: Tennessee (Texas Review Press).


Go to List of Poets or Back to Top of Page


Poems posted January 27, 2017


Rachel Caruso-Bryant


OSTRICH DEMOCRACY

The needs of the masses
carry no weight.
Our debate calendars
are filled with
April Fools,
who confuse rants
for rhetoric
and money
for votes,
squirreling away
campaign donations
because the winner
is the one who
has the most nuts,
and an appetite for war
mongering.
We greet
our neighbors
with bricks
and mortars
and shrug our
shoulders
when women
lose their faces
to those who
mistake acid
for religion.
If the news
of another forest
turned to dust
and another
species laid
to rest makes you
sad –
take a Prozac
and chill
take an Ambien
and close your eyes
take a Vicodin
to stop the suffering;
then join the
War on Drugs.
Vote because it's
your right –
who do you think
you are,
a delegate? or
just a mass,
an annoying tumor
smothering society
with your needs,
your wants, your rights.
Dream the American.
Dream of all jobs
getting sent to China,
so we can get obese
off the state
of our corn-fed, fast-food
agriculture
infrastructure.
Chow down
on sightless, flightless
breast-enhanced chickens;
and with your bellies full
and your lips full
and your jeans full
and your pockets empty,
fight over the
existential crisis
of when life begins,
while the drones
decide when lives end;
then persecute those
who would make
government transparent
because
we don't want to see
that shit on TV
while we're trying to eat
our KFC.


Rachel Caruso-Bryant is from Florida and is now an English language lecturer at a university in Saudi Arabia. She lives with her husband and cats and travels the world whenever she gets the chance. When she is not busy thinking about writing, she enjoys writing about cultural identities and displacement, her experiences abroad, and what it means to be a woman of the world. She misses the smell and sound of rain storms terribly. Her poems have appeared in the Red Eft Review, The Stark Poetry Journal, Rat's Ass Review, The Skinny Poetry Journal, A Lonely Riot, and more.


Go to List of Poets or Back to Top of Page


Alan Catlin


IT CAN'T HAPPEN HERE

The novel written by Nobel Prize winner
Sinclair Lewis, the novel thoughtful, worried
people are reading now because: it has happened here.

The novel that was written in response
to Huey Long Populism during the Depression
that voiced the fears that fascism was taking control
of the country in the guise of anti-communist rants.

That it could happen here, as in the novel,
rules of law suspended, military / police
state established, "if you see something,
report it," neighborhood watching; the fear
you had yesterday, is today's reality.

So when people start talking about re-establishing
the HUAC, and there has been talk of this,
remember: the people who were called on to
name names: screenwriters, directors, and actors,
people pointed fingers and careers were ruined,
lives ended, prison sentences handed down.
Remember, among the instigators, the finger pointers,
was future president of the United States Ronald Reagan,
President Trump's hero.

Remember this is 2017 and what can't happen here,
is happening now. That Trump learned from the best,
McCarthy's right hand man, Roy Cohn,
who believed: if they hit you, hit them back,
twice as hard. Even if you are wrong.
Especially if you are wrong.

It doesn't matter that McCarthy was voted out
office, his committee shut down and he died
shortly thereafter of alcoholism.

Or that Cohn was later disbarred and disgraced,
his legacy lives on.


Alan Catlin has been publishing since the seventies. He is convinced we are determined to relive the sixties and have learned absolutely nothing since then; welcome to deja vu all over again. His last full length book of poetry is American Odyssey from Future Cycle Press.


Go to List of Poets or Back to Top of Page


Marion Deutsche Cohen


ELECTION NIGHT, 2016

5:00 AM I awaken relieved.
That nightmare isn't real.
But that other nightmare, the one on the TV
that one is.
And no, they aren't the same nightmare.
Not yet.

At the polls the previous day my friends behind the desk had waved "Hi Marion"
and one of them had told me "your son was here earlier"
and in a voice not much softer, "I think he voted Republican".
As I had walked through the curtain I called out "Don't judge parents by their children."
"We're all parents," I added. "We know"
and the women behind the desk all called back "yes".

Well, of the four that my womb contributed to the world two voted correct
one doesn't believe in voting, and the other….
well, all told, the math says my womb contributed one correct vote. At least that.
And the one who died, I don't know how she would have voted.

Yeah, sure, my vote counted.
Like the probability of winning the lottery.
Not very much.

Back in 1969 an old white man smiled at Marielle in the backpack.
"She could be president," he said.
I don't even believe in presidents
but I still remember that.
I'll keep on remembering that.

Never in my life have I thought, I don't have a country.
Never in my life have I wanted a country.
But now I have even less of a country than before.


Marion Deutsche Cohen's latest poetry collection is Truth and Beauty (WordTech Editions), about the interaction among students and teacher in her course, Mathematics in Literature, which she developed at Arcadia University in Glenside, PA. Her books total 27, poetry and prose, including two controversial memoirs of spousal chronic illness, and including a forthcoming collection, We Who Merely Know.


Go to List of Poets or Back to Top of Page


Joan Colby


BETSY DEVOS' CONFIRMATION HEARING

Grizzly bears are apt to unspool
their massive claws at the doors of a school,
thus education must be blessed
with religious cant, so she stressed,
and guns are also sorely needed
to defend against wild beasts and unheeded
cautions against the threat of thinking
for oneself when the state is sinking.

So hang that shotgun in the halls of learning
loaded to repel anybody yearning
to read Tom Paine, Whitman or Voltaire.
Stand ready to part the hair
of dissidents with a bullet for the Bible
where students shall memorize the new tribal
lexicon of the guiding light
to the land of Trump and the Alt-Right.


Joan Colby has published widely in journals such as Poetry, Atlanta Review, South Dakota Review, Gargoyle, Pinyon, Little Patuxent Review, Spillway, Midwestern Gothic and others. Awards include two Illinois Arts Council Literary Awards and an Illinois Arts Council Fellowship in Literature. She has published 17 books including Selected Poems from FutureCycle Press which received the 2013 FutureCycle Prize and Ribcage from Glass Lyre Press which has been awarded the 2015 Kithara Book Prize. Three of her poems have been featured on Verse Daily and another is among the winners of the 2016 Atlanta Review International Poetry Contest. Her newest book Carnival was published by FutureCycle Press in 2016. She has another forthcoming from Kelsay Press in 2017 titled The Seven Heavenly Virtues. Colby is a senior editor of FutureCycle Press. Website: joancolby.com.
Facebook: Joan Colby. Twitter: @poetjm.


Go to List of Poets or Back to Top of Page


Glenna Cook


ELECTION

While Justice dithers on the mountain top,
a crowd below has forged a golden calf
and circles around it in trusting allegiance.

Seeds of rancor, forced to wait
dormant in sullen ground,
seize this moment to burst
through rough husks and push
into the light. With newfound vigor, they
proclaim fake news to quell our hope,
inflate our fear. Their unchecked lies
insinuate through social media, echo
in marble halls of once-hallowed institutions.

Cocky Phaethon now takes over the reins
of the mighty, winged steeds that draw
the golden chariot of the sun across the sky.
Will his lighter weight be ballast enough
to prevent the car from rocking?
Will his proud bravado be able to steer
those powerful hooves in a safe middle course?
Or, will they veer up into high treachery,
or plunge to grim disaster?


Glenna Cook is a resident alumna of Hedgebrook. Her work has appeared in Raven Chronicles, Spindrift, crosscurrents review, Avalon Review, and others. She began writing poetry in her fifties, while attending University of Puget Sound for a degree in English Literature. She is in her eighties, has been married 62 years, and is matriarch of a robust family.


Go to List of Poets or Back to Top of Page


Michael Coolen


GANDER

the orange gander
steps like a goose
his gaggle of crap-filled
fascists skein together
plump Trump's Plump
smothers the nation
with its lily white shit

Michael Coolen has been published in Oregon Humanities, The Gold Man Review, Clementine Poetry Journal, Synesthesia Magazine, Broken, The Poetry Quarterly, Oregon Poetry Association, the Rats Ass Review, et al.

He is also a published composer, with works performed around the world, including at Carnegie Hall, MoMA, and the Christie Gallery in New York. For more of Michael's work go to the Love & Ensuing Madness page.

Go to List of Poets or Back to Top of Page


Sara Dailey


THINGS YOU SAID TO ME ON ELECTION NIGHT

I was 19 when I learned
that my body was not a mountain
one had to put in work to summit,
that I was instead avalanche, ruin caused by force.
how, sufficiently scared,
you can exhaust yourself enough to sleep
in the halo of your own blood
as if it were birth
instead of brokenness.

19, when I learned my tongue
no longer fit my mouth, everything edged,
as if I were swallowing shards,
my body a stopper-less jar of glass,
cracked.

I am 37 on election night when you speak to me
with that man's voice,
and I can feel again the heaviness,
the stark, starless sky,
and his hands,
holding me down.


Sara Dailey is the author of Earlier Lives, finalist for the Backwaters Prize in Poetry in 2012 and The Science of Want, winner of the 2009 Shadow Poetry chapbook competition and a finalist for the Flume Press prize. She has been nominated twice for Pushcart Prizes, for her poem "That Summer" and for her essay "The Memory Train," and two of her poems have been turned into music by award winning composer Paul John Rudoi. Sara's poems and essays have also appeared in Creative Nonfiction, Asheville Poetry Review, New South, Cimarron Review, and Calyx, among others.


Go to List of Poets or Back to Top of Page


Juliet Delgado


ELECTION NIGHT: 2016

The hands of the clock pressed onward,
even when we didn't want to.
My brother said his next day of
school was the quietest he had ever seen.
My German friend said even her professor was
too upset for class.
And the faces of hopefuls fell heavy
with the dust glass ceilings collect
when they are not broken.
A flag waves on the moon,
one that used to wave for us,
will keep waving for the world.
The stars shone bright
on the night I sat on my porch and ate dinner,
looking to the sky.
We may see differently, at times,
but the gasses and light disturbances of the star Vega
always make it shine
red
then white
then blue.
And we can all see that.


Juliet Delgado lives in Simi Valley, California and is currently an English and psychology student at Moorpark College. Her writing and art have been used as example pieces in the Moorpark College Library, and her work has also been exhibited in Ventura County's Literary Treasures event. She has been writing poetry since her childhood, but she also enjoys comedy writing, crafting of all sorts, and partaking in anything involving theatre. Juliet is currently a part of the Troubadour Classical Theatre Company and often pairs her love of poetry with her love of plays in Shakespeare shows each year.


Go to List of Poets or Back to Top of Page


Chelsey Everest


WOMEN'S MARCH

tiny orange fists
punch at the sky
point at reporters
make the "okay" sign
open-palm
interrogation,
refuse to comply
threaten life as we know it,
straighten a red tie.

duck bill lips
pursed like a leech
every day swear
to eliminate free speech
implore us
to Google
"how to impeach"
remind every girl, woman, and mom
the history of men
who lingered
and
fingered them wrong

that boss at that firm
walls covered in heads
of African beasts, hunted
mounted
and dead
his old man trousers
age-spotted knuckles
those frat boys in college
who grabbed us and chuckled
those lust-induced strangers
who cat-called and suckled
men in the shadows
times our knees buckled

it's locker room talk
nothing bad happens there
unless you're Sandusky
and ass is left bare
there's space for reason
if you're a guy
but no room for women
who demand to know why

why saying no makes us all cunts
why consensual sex makes us all sluts
why owning our bodies goes against God
why old rich white men live above law

how do we distinguish
one from the other?
the first, our new president,
the other, his brother
joined in their effort
to maintain their stock,
their power, their influence
the weight of their cock.

they mine our wombs,
colonize the dregs
of sacrificial blood
that runs down our legs
extracted like oil
drilled from the land
of places they've bombed
and covered in sand

so we keep circling
seeking out north
on a compass of morals that
tilts back and forth
episodic memories
his breath, hot like steam
whistling convictions
of unattainable dreams

and yet.

Mothers' hands
cup rosy cheeks
eye to eye
quivering voice speaks
time to march,
come, take my hand
can we survive it?
yes,
yes we can.


Chelsey Everest has her MFA in nonfiction from the Stonecoast low-residency program at the University of Southern Maine, and recently founded The Writing Sangha, a writing workshop for college women to address issues of sexual assault through meditative memoir. The workshop is backed by the CultureTrust of Philadelphia and The Pollination Project, and was presented at the 2015 Winter Wheat Festival of Writing conference.


Go to List of Poets or Back to Top of Page


Monica Flegg


ON THE EVE OF THE 45TH PRESIDENTIAL INAUGURATION

Of course my dog had a UTI
the night before the inauguration.

Constantly he paced, swiping at the slider
crazed for the freedom of terra firma

so he could shamelessly eliminate
drop after drop, time after time.

I didn't demean him
or call him a pussy.

I slept on the sofa and opened
the door a dozen times.

I opened the door a dozen times.


Monica Flegg lives on Nantucket Island where she has taught creative writing and poetry. She walks dogs of various breeds, reads poetry of all creeds and generally has a lot of fun. Her writing has been published in numerous journals including: the Aurorean, Mothers Always Write, Postscripts and Unbroken.


Go to List of Poets or Back to Top of Page


Jennifer Lagier


THE EMPEROR HAS NO CLOTHES

Putin's puppet demands adulation,
military hardware as accessories,
redecorates the White House
to include golden curtains.

In his post-factual,
fake news embracing reign,
black becomes white,
deception the norm,
science and statistics supplanted
by self-serving fictions.

He insists we embrace fear,
accept repression,
normalize dismantlement of democracy,
approve attacks on political scapegoats.

Millions of women around the world
demonstrate, refuse to recognize
an illegitimately installed groper-in-chief,
his exaggerations and falsehoods.

Resistance breaks the spell,
reveals naked truth:
the emperor has no clothes
there is power in numbers.


Jennifer Lagier has published thirteen books, taught with California Poets in the Schools, co-edits the Homestead Review, helps coordinate Monterey Bay Poetry Consortium Second Sunday readings. Newest books: Scene of the Crime (Evening Street Press), Harbingers (Blue Light Press), Camille Abroad (FutureCycle Press). Forthcoming: Like a B Movie (FutureCycle Press, 2018). Website: jlagier.net


Go to List of Poets or Back to Top of Page


Robbi Nester


NEW YEAR

Life as usual continues under the frozen
surface of the pond. The water bear
dives into a cloud of minnows,
snags one in its pincers,
then rises on a pearl of air.
On land, other strategies apply:
cicadas split up the center,
unzipping their overcoat
of eyes, antennae, jointed legs,
a whole new being
a fraction larger than the old
emerging from the husk.
Tarantulas, the lowly crab,
king snakes in their shiny skin
all grow a new self,
a matter of the calendar.
Let us do the same, quell the echo
of an ugly year, rise renewed.


Robbi Nester is the author of a chapbook and a collection of poetry and the editor of two poetry anthologies. She has published many individual poems, reviews, articles, and essays in journals and anthologies and on web blogs and websites.


Go to List of Poets or Back to Top of Page


Sharon Scholl


THE MUTE

She never spoke again
after the rape,
the trial,
the exoneration.

Not because of fear,
for what worse might she suffer?

Not for lack of sympathy
for those whose tears and pleading
turned silence to despair.

She simply had nothing to say
to a world in which
such things can happen.


GATHERING PETITION SIGNATURES

The elderly I can't forgive:
how they shuffle up, drooping
like gray cranes poisoned on pollution.
How they peruse the proposal
and declare it futile.

Too many defeats, too many
passionate ideals gone to seed.
They care too much about being
fooled to care about being foolish.
Whatever the cause, it will cost too much.

I want to yell at them, SIGN
because you have lost so much,
because you enable the robbery,
because you need to be angry.
Sign because you aren't dead yet.


Sharon Scholl is the usual retired professor who finally has time to write. She has the usual publications (Clementine, Cahaba River Literary Journal, Heron Tree) with several collections: Message on a Branch (yellow jacket Press) All Points Bulletin (Closet Books). A practicing musician, she maintains an extensive website that gives away music free to small, financially struggling groups. Otherwise, she serves on too many committees and boards and has a growing allergy to meetings.


Go to List of Poets or Back to Top of Page


David Spicer


ON THE EDGE OF THE PRECIPICE: PRESIDENT-ELECT DONALD TRUMP ON POINT IMPERIAL, SUNRISE, DECEMBER 2016

Goddammit, I did it. Beat the hell out of sixteen
losers and Crooked Hillary. I've proven
I'm greater than the Greatest, my dear friend
Muhammad Ali. Believe me, he was magnificent.
Now, my own retinue will follow me to the most
beautiful cities on this fantastic planet. Thank God
the jackal lackeys aren't with me now. You know,
I'm the loneliest man in the world, but I showed
them and everybody: I skipped out on my Tower
party, lost my detail and hired my favorite pilot,
Bambi, to fly me out here in one of my jets.
Then I strapped my chute around my shoulders
and landed perfectly on this overlook.
I love it here, my secret hideaway, the only place
on Earth that can contain my ego, my baby blues,
my marvelous self. I can cry and nobody'll see me,
I can scream in terror and nobody'll hear me.
Best of all, I can laugh at everybody and not a soul—
if there's such a thing—can fathom the despair I carry
at the thought of being the most powerful motherfucker
in the universe. I love it. I hate it. I love that everybody fears
me now, how—deep down—everybody despises me more than
the thought of Hitler. The thought of surpassing his evil
is a burden I'll carry, the only feat I may not want to accomplish.
Yes, I'll build the mighty wall and call it Trump Wall.
The second day of my reign I'm going to rename
Obama's last home Trump House and paint it gold.
Who the hell can stop me now? If I could eradicate his
name from history, I'd do that, just for my satisfaction—
not for the minions who lapped up my malarkey like spilled
Dom Perignon, not for those racist hoodwinkers in Louisiana.
Duke might be a duke, or a wizard, or whatever the hell he
is, but I'm the President. And I'll show Putin who God is,
I'll shove Isis up his bare-chested, barebacked, horse's ass.
Or maybe I'll give him all those broads that had the balls
to lie about me. Who knows what the hell I'm gonna do
next year? I sure don't. Rudy and his polished head doesn't.
He's just chompin' at the bit to persecute that blonde, nasty
woman and throw her into the deepest hole his Feds can find.
I don't know, though, I may not even make him AG.
And Jabba the Hutt, I'm not sure what I'll do with him.
Maybe I'll send him to the best French restaurant
in Paris and he can eat his heart out. And if he
lives, maybe I'll force him to lose a hundred pounds
before he returns. He'd make a good Secretary
of Transport, I think. Ah, why think about that stuff?
I just wanna look at these buttes, the cirrocumuli,
and sop up this beautiful panorama that's mine. Right now,
I'm gonna uncork this Chateau Mouton-Rothschild 1945:
look at it, Donnie Boy, taste it! Take a big swig!
Sonofabitch, that's good! My old man gave me this bottle
on my twenty-first birthday. I promised myself I'd drink
it alone or with one of my bimbos when I became President
of these great United States of America. I know, I'm a little
early, but who cares? I can do any damn thing I want.
Here I can take off my wispy rug and not feel less of a man.
Here I can brag to myself like a little boy. Nobody can touch
me on this high ground. Not the media, not a man, not a woman
alive can know what I know now: I truly love women, I do,
until they become cows, that is. Then on to a new model.
I don't care what anybody says. Well, that's a lie, isn't it?
But I knew I could do this because I'm a winner.
I think I'll buy a dog—maybe a pit bull—like they all do
when they hit the West Wing and name it Machiavelli,
or Donald the Third. Yeah, that's it. Fuck, this stuff's good.
I think I'm drunk. I'm glad my copter's coming. Fuck you,
Hillary! Fuck you, Ivana and Marla! Fuck you, Pocahontas!
Fuck you, World! Fuck you, God, because I'm God now!


David Spicer has had poems in The American Poetry Review, Ploughshares, Gargoyle, Rat's Ass Review, Reed Magazine, Slim Volume, The New Verse News, The Laughing Dog, Chiron Review, Easy Street, Bad Acid Laboratories, Inc., Dead Snakes, among others, and in the anthologies Silent Voices: Recent American Poems on Nature (Ally Press, 1978), Perfect in Their Art: Poems on Boxing From Homer to Ali (Southern Illinois University Press, 2003), and A Galaxy of Starfish: An Anthology of Modern Surrealism (Salo Press, 2016). He has been nominated for a Best of the Net twice and a Pushcart, and is the author of one full-length collection of poems, Everybody Has a Story (St. Luke's Press, 1987), and four chapbooks. He is also the former editor of Raccoon, Outlaw, and Ion Books. He lives in Memphis, Tennessee.


Go to List of Poets or Back to Top of Page


John L. Stanizzi


TRANSITION

Winter enters gently
the wrecked and furious world,
the dissonance of lewd laughter and gunfire,
books blank and soft as skin.

When it's time to run the streets aflame with anger
let us not say it was reckless,
the stars flaring with the silence of futility.
Let us say it was necessary,
the stars hissing
with the intoxication of breathing and bearing,
and maybe even that fugitive, hope.


John L. Stanizzi is the author of the collections Ecstasy Among Ghosts, Sleepwalking, Dance Against the Wall, After the Bell, and Hallalujah Time! His next volume, High Tide – Ebb Tide, will be out in 2017. John's poems have appeared in Prairie Schooner, American Life in Poetry, The New York Quarterly, Rust+Moth, Tar River Poetry, Rattle, Passages North, The Spoon River Quarterly, Poet Lore, Hawk & Handsaw, and many others. A former New England Poet of the Year, John has read at many venues throughout the northeast, including the Sunken Garden Poetry Festival. He teaches literature in an adjunct capacity at Manchester Community College in Manchester, CT and lives with his wife, Carol, in Coventry.


Go to List of Poets or Back to Top of Page


Heather Steadham


A GREAT, GREAT WALL ON OUR SOUTHERN BORDER

Broken links of Mexican ingenuity
rust like a motherfucker

Politicians plaster posters
immigrants inscribe information
muralists layer images
and artists nail coffins

Three years and
Two point four billion spent
Six hundred seventy miles and
Numberless apprehended
missing
or dead

You can stage poetry readings
and dance performances
and yoga classes
and volleyball games
and ecumenical communions

You can hang art on it
or make piñata border patrol agents
or craft pretty ladders from cane
or drape inner tubes from it
or paint it azul cielo to blend in with the sky

But it will always be there

doing what it does.

Reducing illegal entries to the United States
by fivehundredfiftythousand
over five years.

Ellis Island welcomed in an average
of ninehundredsixtyseventhousandsevenhundredfortytwo
over five years

before

rusty

fences

swayed

votes


Currently in her third and final year as a creative writing MFA candidate at the Arkansas Writers Workshop in Conway, Arkansas, Heather Breed Steadham's nonfiction has been published by Narratively, The Toast, and Pembroke Magazine, and her fiction has been featured on Lockjaw Magazine. The writer of Arkansas Life Magazine's Hometown column, which earned her a 2016 Diamond Journalism Award and a 2016 Great Plains Journalism Award, Steadham is working on the final drafts of both a middle grade and an adult novel. You can see her work on hsteadham.moonfruit.com and follow her on twitter @hbsteadham.


Go to List of Poets or Back to Top of Page


Alarie Tennille

THE DEATH OF REASON

Slip into the library. Your old friends
line up to greet you in their bright
jackets. Breathe the comforting
scent of ink on paper, as soothing
as the earthy smell of petrichor
after rain.

Walk past stacks and hear a quiet rustling.
Think, White noise from the heating vents,
until the sound becomes a moan. Books
quiver, then leap from shelves.

An earthquake? No, clocks still cling
to the walls. Windows display the day's quiet.
Pick up one book, then another. Open
them. The ink has bled out.


Alarie Tennille was born and raised in Portsmouth, Virginia, and graduated from the University of Virginia in the first class admitting women. Alarie serves on the Emeritus Board of The Writers Place in Kansas City, Missouri. She's the author of Running Counterclockwise and Spiraling into Control, and her poems have appeared in numerous journals including I-70 Review, Poetry East, Midwest Quarterly Review, and Southern Women's Review. She hopes you'll visit her at alariepoet.com.


Go to List of Poets or Back to Top of Page


Michelle M. Tokarczyk


AMERICAN PREDATOR

I.
Take and feel, this
is my body, the body you
will sized up squeeze in the name
of the rusted-out factories of Ohio.
In the name of the unemployed miners
of West Virginia. Men
inhaling promises like tar and nicotine.
While the mountaintops shudder
in a pock-mocked landscape

Take and swipe this pussy
as a credit payment for the wall
blocking the Mexicans, the people
you say take our jobs as you take
Our healthcare our immigrants
our water   our air   as you take
as you take   as you take

II
How many land grabs?
The golden prairies? the Manhattan
skyline? How many begin
with cleavage overflowing:
irresistible.

How many massacres?
How many women ripped open?
Men bludgeoned down.
Populations almost erased away.
Begin with pressing hands
into women?

III
This is my body. This is our body.
This is my blood. This is our blood.
Which will be shed for a mirror image.
This is not a sacrament.
This is the beginning. This is the end.


Michelle M. Tokarczyk is the author of the recently-published Bronx Migrations Cherry Castle Publishing. Her previous book was The House I'm Running From (West End Press). Her poems have also appeared in numerous journals and anthologies; including the minnesota review, Third Wednesday, The Literary Review, and For a Living: the Poetry of Work. She was born in a working-class family in New York City and earned a doctorate in English at SUNY Stony Brook. In addition to writing poetry, she has published in working-class studies and literary criticism. She is a professor of English at Goucher College in Baltimore. An avowed urbanite, she divides her time between Baltimore and New York.


Go to List of Poets or Back to Top of Page


Poems posted January 20, 2017


Kelli Allen


RESOLUTIONS ARE HORSES CORRALLED TOO LONG

How many stories
does a culture audition
before coal weds the wall?

Salmon eggs last only
four days in warming water.
Bears have sovereignty in times
when ancestors are sent quietly
into exile. This is courtship

under and above lily pads, greater
than any condition. In the presence
of a maiden's rice smile, no lizard
leaps directly into blue flames. Grief

between an aging king and his queen
means covetousness quakes and screams
slacked-jawed from nest to burrow.
Dusk-time is never the same for ravens

and hares. Gentleness will not come.
Eventually, anything loved is going to drown.


Kelli Allen's latest book is Imagine Not Drowning (C&R Press, 2017). Allen's work has appeared in numerous journals in the US and internationally. She served as Managing Editor of Natural Bridge, is the Poetry Editor for The Lindenwood Review, and directs River Styx's Hungry Young Poets Series. She is a Professor of Humanities/Creative Writing at Lindenwood University. Her chapbook, Some Animals, won the 2016 Etchings Press Prize. Her chapbook, We Disappear, won the 2016 Damfino Press chapbook award. Her poetry collection, Otherwise, Soft White Ash, arrived from John Gosslee Books in 2012 and was nominated for the Pulitzer Prize. www.crpress.org/shop/imagine-not-drowning/

Look for other work by Kelli elsewhere on the Rat's Ass Review site.


Go to List of Poets or Back to Top of Page


Patrick W. Andersen


ONE TWENTY SEVENTEEN

One twenty seventeen
The cloudy sky can only mean
Unprophesied and unseen
The fateful time has come

Yes, here is that dreaded hour
Peacefully handing reins of power
From White House to Trump Tower
Beats a lonely drum

Throngs cower in their fear
An elder statesman sheds a tear
Sorrows drown in lukewarm beer
The guitar cannot strum

But in the shadows underground
A spring of hope does abound
A straining ear picks a sound
A steadily growing hum

A hint of hope—if just a ray
And resistance grows by the day
America will yet find a way
Join the song—don't stay mum


Patrick W. Andersen is a writer and editor in San Francisco.


Go to List of Poets or Back to Top of Page

Nicholas Christian


BELL-RINGER

We sit beneath Montfaucon, gathering mothballs
for angels. Sometimes this means lying

in sheaves on the American threshing floor. We think:
today is outside of us, is the naked, wart-blind story

that could be true, a bastard of circumstance
exchanged in the foundlings' bed. Intention is like that.

We're deaf from its crack'd, overturned crystal vase ringing
above the steps of Our Lady only screaming Sanctuary!

So the withered flowers grow in the common pot—we turn inside out,
carrying the mangled bird of burden growing out of being as we are,

always craning necks to a sky bruised with the ligature marks
of our own hands praying to be hurled

into some time different. We forget how to dance nothing spins at the still point
the garden does not catch fire the entangled skeletons both crumble in the grasping

but in the gibbet we've been given a flail to play with anyway.
Stafford was right, when home and identity walk away with the chaff

in the wind saying you were empty but that changed nothing
maybe then we will not miss the whisper.


Nicholas Christian's poetry has appeared or is forthcoming in The Lindenwood Review, Cobalt Review, Off the Coast, Poetry Quarterly, Gravel, Dămfīno, and Panoply. He lives in St. Louis with his stuffed sea lion Gerald, and his coyote Loki that thinks it's a cat. He studies at the University of Missouri-St. Louis.


Go to List of Poets or Back to Top of Page


Santino DallaVecchia


Bad Stars

It was the year the shepherds lost their minds.
It was a bad year to be Arabic or Persian
or Hispanic or queer or a woman or black
or brown or merely someone like me,
someone who writes poems as a series
of endless love letters to the world.
It was the year the rich started looking
at their money like maybe it'd start biting back.
It was the year the shepherds lost their minds
and let the slick erect wolf right on in
for some goddamn pot pie. It was the year
I knew I couldn't believe in god and the year
god overshadowed the forest behind the library
and said Shhhh, I am with you. Strange ecstasies.
If you're wondering how it came to this,
look no further than the bad stars. If that doesn't
satisfy, fair, can't fault you– look at human history.
The shepherds have always been losing their minds.


Santino DallaVecchia is a poet from Michigan. His work has appeared in The Timberline Review, Heron Tree, Transcendence, and Peculiar Mormyrid, among others.


Go to List of Poets or Back to Top of Page


Caroline DeLuca


MY BEST EERIE SHRIEK

God, damn me to hainthood, banshee freedom, spook work
ghost life, poxing houses, vengeful trajectory of evil spirit
at last. Awakened, time and time again aflame, lamp rubbed
and spitting my wraith wrath. Smell the smoke, oh, rub the hot metal,
God. I'm emerging, like it or not. When I die don't You dare
let me rest in peace. Peaceful pales to even scales: I want justice.

With perfect permission of death, I have scores to settle. Justified
grudges, coals clutched and smoldering close. Yes, I'm a piece of work
but take a hard look at history's scaffolding, inscribed against women. I dare
You to differ once You pick apart the garden gates that locked out Spirit
Fatale Lilith, she who got painted warty, wicked, all for the mettle
it took to tell the First Man and You, Don't tell me what to do. Rubbed

You and men the wrong way, right? That she thought. Rubbed
her own clit and burst star-like by herself. That she wouldn't adjust,
refused to be body parts first, person second. To polish metal,
cook, take blame, submit. That she could say no! Women's work
is never done until we die. So, Lilith got cast as feral spirit
killing infants; guard against her, forget your prayers if you dare.

Classic crazy ex. Mama Maleficarum. I'd be pissed too. If You dare
dismiss that, You're not paying attention. Oh, but there's the rub!
No one believes us. What better speaker on the grit and truth spirit
of female experience than your average man? It's unjust
the jury we face in courts. Needing uncles and fathers to testify. Work
forty years in a field and we're still ingénues, no? The metal

of men's word is iron. Somehow our truths are seen as softer metal
malleable, murky, what can we even build? Curves. If we dare
strut outside, we deserve what we get. Slut. Head down all the way to work.
Wear sunglasses, headphones. Not that skirt. Smile. Have the powers that be rubbed
the mud in our faces hard enough yet that this world is not for us? So just
take me to the next one. Absolve me of woman-body. Free my spirit

and let me take out my best eerie shriek for a whirl. Fear me. In the spirit
of Big Bangs, solder me chains of Your heaviest metal
to rattle! It's my time to make some noise in the meeting where I was just
interrupted fifty-five times. I'll hiss corrections to the men who dare
doubt the blisters from these miles. Poison the restaurant customers who rubbed
me down to smithereens, asked if I was on the menu while I tried to work. (Tip for tit! )

Wondered how someone' else's medicine might taste? Give my spirit wide berth. Dare
touch me or hush me and You'll taste burnt metal blood. Let he who's rubbed
his hard-on on an unaware dancing girl just wait to see what my fury wreaks.


900 HATE CRIMES IN HIS NAME

He wants heads on platters.
Fists pried open and forced to clutch bars.
My therapist says anger is not an emotion,
rather an echo, a yowl in reply

to fists. Pried open and forced. To clutch bars,
to spill beer foam as we shook and shouted and cried—I'd
rather an echo, an opponent to fight. A yowl in reply
would give the whistle, prey to my claws, finally.

Our mouths would spill foam as we shook and shouted and cried. I'd
heard he drowns newspapers until they bleed.
Gave the dog whistle, prey to claws finally
again sanctioned. Swastikas. Black students invited to luncheon dates,

to herd token cheers. (He drowns newspapers until they bleed.)
My therapist says anger is not an emotion.
The man sanctioned swastikas—black students invited to lynching dates.
He wants heads on platters.

BUT WHERE TO DUMP THE TURKEY GUTS?

What are girls made of? Sugar and spice,
mercury rising, irk disguising, flushed faces, white-knuckle graces,
and what is the price?

Young, my one hand learned to dismantle and dice
up anger like an onion, while the other hand took up too much space.
What are girls made of? Sugar and spice.

Wasn't the Thanksgiving I made you so nice?
But where to dump the turkey guts I wrangled? Out of burial places.
And what is the price

of false smiles for men who leer, lecture, yell? Of endless advice
on how to stay so scared, if I carried, it wouldn't occur to me to use mace?
What are girls? Made of sugar and spice,

supposed to burn to caramel or cool to ice,
to comfort anyone else. Clenching my jaw changed the shape of my face.
And what is the price!

Rage conflated, cloaked and blurred beyond recognition, my raised voice an alien device.
Are there places with enough air and airspace, where we don't have to self-erase?
What are girls made of?
Sugar and spice? And?
What is the price. What is the price.


Caroline DeLuca lives in Brooklyn, working as a freelance editor and educator. She has taught creative writing at Stony Brook University, the NY Memory Center, the UVa Young Writers Workshop, and My Sister's Place. Her writing has appeared in Local Nomad, The Bridge, Seven Deadly Sins, Greek Fire, Verbaleyze, Zeniada, and on carolinedeluca.com.


Go to List of Poets or Back to Top of Page


Alice O. Duggan


ABOUT THE ELECTION

It had to happen, say 19 percent of men,
while 30 percent of women couldn't
get out of bed. Just in time for Christmas,
ear plugs in the stores, and I bought mine.

Jesus, what do you expect from me?
Seventy three and can't remember which way
is up. The dentist says for two crowns twenty eight
hundred, pearly new molars no insurance and I

must stir my stumps and show I care because
you know, four new Justices, they're for life, but
I would rather read a novel set in Botswana.
I bought blinders, too. I heard that it's bad

to lose, bad to be a loser, John McCain
a captured soldier — total loser. I heard it's bad
to gain weight, doesn't make him look good,
if you're a female attached to him.

O Little town of Bethlehem, can we make a deal?
I'll stop eating chocolate, if he will be still. What
was I doing? Reading statistics. Seven percent
of voters believe he was sprinkled with fairy dust,

eight percent say they're going to wait and see.
Three percent say none of this ever happened.


Alice O. Duggan has published in Sleetmagazine, Waterstone Review, SAND, Tar River Poetry, Sugar House and other journals; also in a chapbook, A Brittle Thing, from Green Fuse Press and an anthology, Home, from Holy Cow! Press. She's interested in dailiness, now and in previous generations, in conversations and colloquial language, in the idiosyncratic corners of life.


Go to List of Poets or Back to Top of Page


Howie Good


EXPLOSION IN THE PUZZLE FACTORY

What I'd like to do if I could is grab a policeman and walk him on a leash down the avenue. Instead, a guy leaps out at me. "What'd you say?" he demands. The more I stare at his face, the more it resembles a carnival mask, green, violet, and pink. Clocks can be heard to howl. I guess we have to learn to love the dark. We're all up to our necks in it. E. Dickinson, in a ultra-black pinafore, approaches on a sleepwalk with the alphabet prowling around her. It just happens. No one planned it. And then? And then the deer are fat and ready for eating.

Howie Good is the author of Dangerous Acts Starring Unstable Elements, winner of the 2015 Press Americana Prize for Poetry. His other books include A Ghost Sings, a Door Opens from Another New Calligraphy and Robots vs. Kung Fu from AngelHouse Press. He co-edits White Knuckle Press with Dale Wisely.


Go to List of Poets or Back to Top of Page


Mike Jurkovic


NEPHRITE JADE

I may not be the brightest bulb
but I know it's a shell game
which, by high definition, is a con we should
all be used to and on the orange alert for
given the nature of politics. Given our propensity
for swindle. Our eagerness to take
each other to the cleaners and turn
the same trick over n over
in the name of democracy. Freedom,
The intentional perversity of truth.
A circumnavigation of fact. Fiction.
And the pursuit of happiness.
I mean what's more sleight of hand than voting?
Like Ancient Greece. Like old New York.
Sharps play the urban decay. Stoke the diaspora.
Stalk the unwashed and un-imagined.
Voting. Fey! It's a gesture at most.
Nothing conclusive. A tally the big boys ignore
cos they know better or at least they say they do
and we believe. Bereft of higher ground,
they meet our standards. Exceed expectations.
Give birth to new devils. Say our voice matters
then punch mute.
What's it gonna take, huh? How much of how little
do you want them to divide? Despoil? Maraud and plunder?
There's gotta be a breaking point. Everyone has one and
thus too, each mob. Must we resign to camps and
shit in dark holes? Our children and elders
their soldiers and whores,
pushing their product down the old Silk Road.
Over the grand peaks we once called our own
until they blew them up for coal and passage.
And we marched in line. Our burden, their trade.


Mike Jurkovic is a 2016 Pushcart nominee. His poems and music criticism have appeared globally but have yet to generate any reportable income. Full length collections, smitten by harpies & shiny banjo catfish (Lion Autumn Press, 2016) Chapbooks, Eve's Venom (Post Traumatic Press, 2014) Purgatory Road (Pudding House Press, 2010) Anthologies include: WaterWrites & Riverine (Codhill Press, 2009, 2007) Will Work For Peace (Zeropanik, 1999). President, Calling All Poets, New Paltz, NY. Producer of CAPSCASTS, archival recordings from Calling All Poets, available at callingallpoets.net. Music features, interviews, & CD reviews appear in Elmore Magazine & the Van Wyck Gazette. mikejurkovic.com


Go to List of Poets or Back to Top of Page


Jennifer Lagier


THE NEW DARK AGE

On inaugural day, skies rebel.
Nature vomits
deluge and debris flow.
Storm swollen king tides
rip shoreline away.

Our illegitimate usurper in chief
promises a crack-down
on women, Muslims, minorities,
vows to defund the arts,
dismantle Wall Street oversight,
erase scientific evidence of climate change.

A new dark age spreads its shadow
over a divided, increasingly violent land.
Winter withers American democracy.


Jennifer Lagier has published thirteen books, taught with California Poets in the Schools, co-edits the Homestead Review, helps coordinate Monterey Bay Poetry Consortium Second Sunday readings. Newest books: Scene of the Crime (Evening Street Press), (Blue Light Press), Camille Abroad (FutureCycle Press). Forthcoming: Like a B Movie (FutureCycle Press, 2018). Website: jlagier.net


Go to List of Poets or Back to Top of Page


Mary Leonard


THE SITUATION

It's gonna be tough because this one,
starved for adulation, lives in a golden castle
safe from the world where he tweets
at 2:00AM, while munching on burgers.

He lusts for a human leg, arm or the hand
that reports the truth. He has a plan:
the media will be cooked into silence
in a Crockpot of alphabet soup:
CNNMSNBC they'll have to sputter false news.

Even Hollywood's Meryl Streep
has been reduced to a fallen souffle.
"She's overrated" he tweets–
it's easy to dismiss in 140 characters,
so satisfying to consume the elite.

Mary Leonard has published chapbooks at 2River, Pudding House, Antrim House Press and RedOchreLit. Her poetry has appeared in The Naugatuck Review, Hubbub, Cloudbank, The Chronogram and most recently in Red River and Ilya's Honey, and she just recently published "Love Letters" in the fall issue of Compose. She lives in an old school house overlooking the Rondout Creek in Kingston, NY. Away from her own personal blackboard, she teaches writing workshops for all ages through Bard College.


Go to List of Poets or Back to Top of Page


Leslie Linder


TEN WAYS TO PLAY THE "WOMAN CARD"

1) Ask to be called by your name rather than Baby, Honey, Doll, Sweetheart, Sweetie, Dear, Hot Stuff, or Sugar.
2) Refuse to let fathering be known as "babysitting."
3) Raise your hand in co-ed classes (not just Women's Studies).
4) Take Women's Studies!
5) Object to being asked if it is "that time of the month" whenever you stand up for yourself.
6) Call it a vagina rather than a bang-hole, fur burger, axe wound, prison purse, meat wallet, or a Penis Fly Trap.
7) Talk about your vagina! And not just as a punchline.
8) Demand equal pay for equal labors. Ask for affordable childcare, while you're at it.
9) Buy a timeshare instead of a cemetery plot when you learn you have entered menopause.
10) Go about your life and don't give a shit about being told you play the "Woman Card."


Leslie Linder, M.Div., lives and works in Downeast Maine. She contributes a regular column entitled, "Child of Artemis" to SageWoman Magazine. Her poetry has appeared in the Project Intersect Zine, Wicked Banshee, and Forage Poetry.


Go to List of Poets or Back to Top of Page


Liùsaidh


A RESPONSE AND A POEM THAT EXPRESSES
WITH ELOQUENCE AND DIGNITY HOW I FEEL
ABOUT THE AMERICAN SITUATION

Fuckity fuckity fuckity fuck
Fuckity fuckity fuck.
Fucking fucker fuckity fuck
Fuckity fuckity fuck.

FUCKity fuckity FUCKity fuck
Fuckity fuckity fuck—
Fuckity fuckity fuckity fuckity
FUCKity FUCKity FUCKITY FUCKity
Fuckity
Fuckity
Fuck.


Liùsaidh is a poet, author and literary critic from the impoverished west of Scotland. She writes from a crack-ridden council estate and her words are always strange. Her formal poetry and short fiction has been published or is forthcoming online and in print, most recently in Poets & War, Unlost Journal, and Thank You For Swallowing. As LJ McDowall she writes speculative fiction and is poetry editor at The Quarterday Review and Trigger Warnings. Find out more about her work at her Facebook page and ljmcdowall.com.


Go to List of Poets or Back to Top of Page


Jennifer Martelli


SEVEN DAYS AFTER THE ELECTION, WATCHING HILLARY CLINTON

I've had to let go of much: had to submit

and admit to this obsessive flow in me. I get it. My life
was saved. Yeah, yeah, sure. My friends,

I can't see the whites of your eyes
under the color. I can't see

for the life of me
how to love you. I saw

her last night, shaken, ashy
ashen, all words

that say shhhhhh

shhhhhh. For the life
of me I can't see

my friends' eyes, my kins'
eyes. I can't see.


PSYCHOPOMPADOUR

1. The psychopompadour is gold as the sand in Death Valley. He lands on the cross wires and perches, thirsty, his lips pursed ready to kiss or spit.
2. Around his neck over his heart hangs the golden head of Christ cushioned on the psychopompadour's chest hair. He had the eyes fitted with emeralds, then onyx, then rubies.
3. These are the first four songs that play when you press shuffle on his iPod: "Hey Joe," "Run, Joey, Run," "Run For Your Life," and the theme song from Baretta, "Keep Your Eye on the Sparrow."
4. The psychopompadour loves women but not his own inner female, the anima, the x chromosome. He ejaculates four-armed death stars.
5. He is daughtered: a gorgeous girl, beautiful. He would date her. Date her, and then fuck her. Unlike Oedipus, reversed, he would not pluck out his own eyes. Unlike Electra or Antigone, no one will die or be buried alive.
6. Your head will spin, says the psychopompadour. Don't confuse him with Elvis's pompadour. Elvis, who covered his blonde bouffant with black shoe polish.
7. The psychopompadour is ancient. Let's look at the Bible: he is not the snake in the garden, not Adam, not Even, not the apple, he's not Cain–he's the angel guarding Eden. He's not Judas; he might be Peter who hated women and couldn't deliver at the end. Probably not, as Peter was crucified, too.
8. Queen Elizabeth I painted herself with white lead and this made her bald. She wore a red wig. She became a virgin again for England. Behold. If you look at the old portraits, behind her, in the shadows of the palace, holding a lute in one hand and a sparrow in the other, is the psychopompadour.
9. Psychopompadour has all the channels. And he can stream.
10. Sometimes, in the middle of the night, when most of us are very still, sparrows fly out of the psychopompadour's head.
11. Some say the ego has to die. But it never dies.


Jennifer Martelli's debut poetry collection, The Uncanny Valley, was published in 2016 by Big Table Publishing Company. She is also the author of the chapbook, Apostrophe. Her work has appeared or is forthcoming in Thrush, [Pank], The Baltimore Review, Tinderbox Poetry Journal, and The Pittsburgh Poetry Review. Jennifer Martelli has been nominated for Pushcart and Best of the Net Prizes and is the recipient of the Massachusetts Cultural Council Grant in Poetry. She is a book reviewer for Up the Staircase Quarterly, as well as a co-curator for The Mom Egg VOX Blog Folio.


Go to List of Poets or Back to Top of Page


Joan Mazza


PREP

Under the dark clouds of January, amid
the news of hacking and blackmail, into
the world of revolution, crowds assemble.
Beyond tired, past angry, outside in the cold,
they stamp their feet and won't be trumped
regardless of a ceremony. Away from
that view they turn their faces, above
the lies and ignorance, beneath a banner
of democracy: One person, one vote.
Equal justice under the law for all.

Near frantic, between worries, from dawn
to dawn, I ponder possibilities of food
shortages, power outages, homeless
hordes knocking down doors. They will
climb over each other, under anything
for shelter, into barns and sheds, beneath
porches, inside abandoned houses.

The preppers will say, I told you so,
and those off the grid will hide supplies
among trees and bushes if they can.
The world lives within its prepositions—
among all kinds, against extremes,
holds hope within, remembers before.

Joan Mazza has worked as a medical microbiologist, psychotherapist, seminar leader, and has been a Pushcart Prize and Best of the Net nominee. She is the author of six self-help psychology books, including Dreaming Your Real Self, and her poetry has appeared in Rattle, The MacGuffin, Mezzo Cammin, and The Nation. She ran away from the hurricanes of South Florida to be surprised by the earthquakes and tornadoes of rural central Virginia, where she writes poetry and does fabric and paper art. www.JoanMazza.com


Go to List of Poets or Back to Top of Page


Marsha Warren Mittman


DÉJÀ VU, USSR 1989

the shrivelled grey old man said
in heavily German accented English

no worry, I watch over you
as I, traveling alone, obsessed

over my two young children asleep
in the sealed Soviet train car

while doberman attack dogs and
military guards with machine-guns

patrolled the station's platform
where'd you learn English? I asked

british POW camp, he answered
then sadly added few bad people

anywhere in world, just bad
governments everywhere in world

MAN-CHILD NURSERY RHYMES

I.
Ring around a rosy…
TRUMP   PENCE   BANNON
A pocket full of posies…
GINGRICH   SESSIONS   CARSON
Ashes, ashes
SUPREME COURT CHOICES
Women all
f
a
l
l

d
o
w
n

II.
humpty trumpty
built a great wall

humpty trumpty
paid for it all

all putin's hackers
and all of his men

couldn't put trumpty
atop it again

III.
Trump and Jill
climbed Capitol Hill
To fetch
a pail of favors
King Trump fell down
and lost his Crown
His empire
Came tumbling after

IV.
Hickory dickory dock
Trump is quite the jock
The jock stroked one
Down they flung
Hickory dickory dock

V.
london bridge is falling down
brexit gone
u.s. gone
london bridge is falling down
my fair lady
take the key and lock her up
lock clinton up, call putin up
take the key and lock her up
MY FAIR LADY


Originally editor of an international company's in-house magazine, Marsha Warren Mittman has had numerous poems, essays, and short stories published in American and British journals, magazines, and anthologies – most recently Novelty (London) and her fourth Chicken Soup for the Soul tale in Angels and Miracles. Her chapbook, Patriarchal Chronicles – A Global Tour of Female Injustice, was accepted by Finishing Line Press. You Know You Moved to South Dakota from New York City WHEN… is forthcoming from Scurfpea. An earlier chapbook, Message from a Goldfish, was used in meditation/human potential programs in twelve states. Mittman is a recipient of eight poetry awards (mid-west, Atlanta), and distinctions in three short story competitions (U.S., Ireland). An avid traveller, she's visited over 125 countries on six continents and forty-six American states.


Go to List of Poets or Back to Top of Page


Jocelyn Moore


In Celebration of N.A.S.T.Y. Women

N.A.S.T.Y. women paint concentric rings on their breasts when they speak up,
a target for every nitwit with an EQ smaller than his shoe size,
who views a verbal query as an assault; on him.

N.A.S.T.Y. women know he parrots "nasty" because Mom,
said it when he fondled his tiny parts in front of family,
and he's still mad; at Mom.

N.A.S.T.Y. women raise boys to view girls as more than tits and slits.
"Don't let your little head tell your big head what to do," she warns,
though sons roll their eyes and pretend not to hear.

N.A.S.T.Y. women teach their children that cheating,
to win means you're a loser and that smug,
winners are double dog losers.

N.A.S.T.Y. women salute their soulmate sisters who,
also brave belittlement by being born female, then,
mourn those who flee the fight and forsake the feminine Self.

N.A.S.T.Y. women brawl for identity as subservience doesn't serve a:
Newsworthy – Authentic – Self-assured – Tenacious – Young-at-heart,

Winning – Original – Magical – Adroit – Nasty woman.


Jocelyn Moore is an outdoor enthusiast and Trout fishing aficionado who cherishes the open spaces, clean waters and mountain-like deposits of snowfall at her home west of Wyoming's Wind River Range. Her poems and writings have been published by Rats Ass Review, Round Robin, WyoPoets, The Avocet, Kaleidoscope, Wyoming Writers Inc., Fifty Word Stories, Writing Women of Zurich, Hydroquest, American Planning Association and an upcoming eco-poem to be published in the Open Earth II edition of Pudding Magazine. Her favorite haunt is a 1953 log cabin in the Bridger-Teton wilderness with a Catahoula-mix, blue-eyed pup by her side.

Look for other work by Jocelyn elsewhere on the Rat's Ass Review site.


Go to List of Poets or Back to Top of Page


Leah Mueller


POLITICAL APNEA

There is nothing
sexy about politics.
It drags on forever, while
I stare at the ceiling.

Just when I think politics
can't continue much longer,
it finishes abruptly,
rolls over on the mattress,

and goes to sleep, then grunts
and snores with tortured gasps.
I try desperately to rest,

while I lie with my ass
in the puddle.

One day I will leave
politics for good,

but for now I am beholden
and need the security.
I roll on the sagging mattress,
twist my pillow against my ears,
clench my jaw
until the noise subsides.

I have no other place to go:
just this uncomfortable bed
with no promise of improvement,

and the morning is years away.


Leah Mueller is an independent writer from Tacoma, Washington. She is the author of one chapbook, "Queen of Dorksville", and two full-length books, "Allergic to Everything" and "The Underside of the Snake." Her work has been published or is forthcoming in Blunderbuss, Memoryhouse, Outlook Springs, Atticus Review, Sadie Girl Press, Origins Journal, Silver Birch Press, Cultured Vultures, Quail Bell, and many others. She was a featured poet at the 2015 New York Poetry Festival, and a runner-up in the 2012 Wergle Flomp Humor Poetry contest.

Look for other work by Leah elsewhere on the Rat's Ass Review site.


Go to List of Poets or Back to Top of Page


Sergio Ortiz


NO TIME TO LOSE

It's cold here.
Its color, a ninja turtle orange,
and only 5 days left
for el Presidente Electo
to inaugurate his burned hair,
his head de mal parío,
his enano politician tweets.
People say it's worth the trip
to his Swearing In,
that this kind of shit makes you grow.
The thing is my body
cannot stand another Jetblue seat,
another Greyhound cafe.
Besides, winter hurts.
Its whiteness rusts the snow.
Its racism confuses me,
makes me feel small,
like a very distant echo.
Fuck it, if I go back to D.C.
It'll be because I want to visit
the Smithsonian's
African American Collection.
Where merchant ships loaded
with slaves are still shipwrecked
in my memory.


Sergio A. Ortiz is a gay Puerto Rican poet and the founding editor of Undertow Tanka Review. He is a two-time Pushcart nominee, a four time Best of the Web nominee, and a 2016 Best of the Net nominee. He is currently working on his first full length collection of poems, Elephant Graveyard.

Look for other work by Sergio elsewhere on the Rat's Ass Review site.



Go to List of Poets or Back to Top of Page


Pab Roberts


NOW LEROY HE A GAMBLER

A man,
could be a woman,
case in point, it is not,
defined by grossness,
hyperbole it is not.
This man,
could be a mis-count,
case in point, it is not,
awakens the underground,
bestirs the sleeping
Revolution.

A man,
could be a puppet,
case in point, it matters little.
Outcomes are the point,
thoughts are not crimes.
This man, this polezni durak,
could be all bluster,
case in point, let us hope it was.
Slashes the moorings,
destroys the safety lines.
A blimp, a disastrous event unfurling.


Pab Roberts grew up on a Scottish Island and much of his writing concerns the natural world, humanity's place in it and isolation. He performed two of his prose pieces at the Edinburgh International Book Festival 2015 as a guest of Edinburgh UNESCO City of Literature's StoryShop programme. His writing has been published in Freak Circus, The Pygmy Giant, The Leither, The Guardian, and accompanied the exhibition All Washed Up by Moira Buchanan. Pab has also performed over 80 hours of self-penned stand-up comedy and performance poetry in London and Scotland. Twitter @pab_roberts.


Go to List of Poets or Back to Top of Page


Karlo Sevilla


THE ANSWER

I climbed
and climbed
and climbed.

Upon reaching
the wise man
atop the cliff,

he preached,
"The Answer is,
there is none."

Then he jumped.


Karlo Sevilla is a freelance writer who lives in Quezon City, Philippines. His poems have appeared or are forthcoming in Philippines Graphic, Sub-saharan Magazine, Rat's Ass Review, Radius Lit, Yellow Chair Review, Antarctica Journal, Communicators League, Peacock Journal, Spillwords, Kitaab, and elsewhere. In his spare time, he coaches wrestling, trains in Brazilian Luta Livre, and does volunteer work for the labor group Bukluran ng Manggagawang Pilipino (Solidarity of Filipino Workers).

Look for other work by Karlo elsewhere on the Rat's Ass Review site.


Go to List of Poets or Back to Top of Page


Catherine G. Wolf


TEMPERATURES RISING

"Bad man!" two year old grandson Sam said
pointing at the TV during the second presidential debate.
"Donald Trump is too angry to be president,"
five year old granddaughter Maya earnestly told me.
"Hillary Clinton killed one hundred people!"
Kevin shrieked on the playground.
"Fake news!" seven year old granddaughter Rose responded.
Kevin kicked Rose in her stomach, pushed her down.

Now we have Trumpeter, President Tweeter.
His cabinet so soiled with fossil fuel Clorox can't clean it.
Scott Pruitt, nominee to head the EPA,
climate change denier like his boss who tweeted, "Chinese hoax."
Rex Tillerson, choice for Secretary of State, CEO of Exxon Mobil,
who has a 500 billion deal with Russian oil.
Rick Perry, nominee for Department of Energy,
Texas politician, wants to destroy the department.

Once the monster of climate change is unleashed,
it will eat up the planet.
I am freaked out with fear for my dear grandchildren.


Catherine G. Wolf was an undergraduate and a graduate student in the Vietnam war era. And a graduate student during Watergate. She was an activist during these times. She participated in many protest marches and wrote for a paper committed to ending the Vietnam war. Now with Trump, she does what she can to resist his bigotry and lies. But she is limited by ALS. Catherine has published in Front Porch Review, Verse-Virtual, Cacti Fur, Rat's Ass Review, and Bellevue Literary Review. She uses assistive technology to communicate, and raises her right eyebrow to type.

Look for other work by Catherine elsewhere on the Rat's Ass Review site.


List of Poets

Jonel Abellanosa
Kelli Allen
Patrick W. Andersen
Rose Anderson
Sandra Anfang
Jane Attanucci
Anon>
Marcus Bales
Marcus Bales (again)
Devon Balwit
C L Baran
Darrell Barnes
Tiffany Lee Brown
Michael Brownstein
Layne Calabro
Wendy Taylor Carlisle
Rachel Caruso-Bryant
Alan Catlin
Judy Catterton
Yuan Changming
Nicholas Christian
Cathy Clay
Marion Deutsche Cohen
Joan Colby
Joan Colby (again)
David Colodney
Glenna Cook
Michael Coolen
Joe Cottonwood
Joe Cottonwood (again)
Neil Creighton
Neil Creighton (again)
Isobel Cunningham
Sara Dailey
Santino DallaVecchia
Amy Marie D'Apice
Melinda Luisa de Jesus
Juliet Delgado
Caroline DeLuca
Lisa DeSiro
Antigoni Dimopoulos
John Dorroh
Alice Duggan
Marcia Eppich-Harris
Patrick Theron Erickson
Chelsey Everest
Jim Feeney
Irene Fick
Ryan Quinn Flanagan
Monica Flegg
Ryan Forsythe
James Fowler
Sheri Gabbert
Sheri Gabbert (again)
Jade Gibson
Marissa Glover
Howie Good
Beth Gordon
Carole Hall
Peter Halpin
Edward Harkness
Byron Haskins
Robin Helweg-Larsen
Erica Hoffmeister
Jess Huckins
Vicki Iorio
J. H. Johns
Summer Jones
Shirley Jones-Luke
Jacqueline Jules
Mike Jurkovic
Shelley Kahn
Babo Kamel
Richard Kenney
Jemshed Khan
Jemshed Khan (again)
Jim King
Margaret Farrell Kirby
Juanita Kirton
Phyllis Klein
Tricia Knoll
James Kowalczyk
Robert T. Krantz
Craig Kurtz
Diane M. Laboda
Jennifer Lagier
Jennifer Lagier (again)
John Laue
Mary Leonard
Sherry Leonard
Michael H. Levin
Michael H. Levin (again)
Nancy Smiler Levinson
Kyle Liang
Leslie Linder
Joseph Lisowski
Liùsaidh
David Lohrey
John Lowther
Billy Malanga
Bruce Marsland
Jennifer Martelli
Elizabeth Martin
Elizabeth Martin (again)
Steven Mayoff
Steven Mayoff (again)
Randy Mazie
Joan Mazza
Connie McKenna
Christian McPherson
Rainbow Wohali Medicine-Walker
John Meyers
Marsha Warren Mittman
Marsha Warren Mittman (again)
Jack Moody
Jocelyn Moore
Alice Morris
Christopher Moylan
Leah Mueller
Matthew Mutiva
Jeff Nazzaro
Robbi Nester
Joey Nicoletti
David Morgan O'Connor
Robert Okaji
Dion O'Reilly
Sergio Ortiz
Sergio Ortiz (again)
Marsha Owens
Emma Paling
Margaret Parker
Yamini Pathak
Karlee Patton
Kathryn Paulsen
Darrell Petska
Penny Peyser
Katie Mazza Phillips
Marc Pietrzykowski
Miha Pintaric
Fred Pollack
Adrian S. Potter
Jeanette Quick
Tala Ra
Heenal Rajani
Stephen Regan
Sherry Rind
Pab Roberts
Sharon Scholl
Barbara Foster Schutz
Terry Severhill
Karlo Sevilla
Devon Shapland
Sage Shemroske
Sage Shemroske (again)
Kiara Smith
Michael Dwayne Smith
Paul Smith
Tayler Smith
Crystal Snoddon
Alec Solomita
David Spicer
David Spicer (again)
David Spicer (and again)
Mark Spitzer (Cover Art)
John Stanizzi
Katie Staten
Heather Steadham
Cindy Stewart-Rinier
Mary Ellen Talley
Alarie Tennille
Larry D. Thacker
Gabriel Thomas
Ann Thompson
Melinda Thomsen
Susan Thornton
Michelle M. Tokarczyk
Jane Travis
Peggy Turnbull
Andrew Wallace
Alan Walowitz
Hannah Warren
Ferral Willcox
Anni Wilson
Pamela Murray Winters
Pamela Murray Winters (again)
Catherine G. Wolf
Catherine G. Wolf (again)
Catherine G. Wolf (and again)
Robin Wright
Sherri Wright
Sherri Wright (again)
Sarah Yasin
Brenda Yates
Kit Zak
Sally Zakariya
Sally Weston Ziph


Go to Top of Page

Edited by Roderick Bates
RAT'S ASS REVIEW Such an Ugly Time 2017 ALL RIGHTS RESERVED